After an eventful beginning to the summer offseason for the Pittsburgh Penguins organization, all has gone silent in August and September. How silent has it gone? So much so that people were restless and started a rumor that went viral that said Sidney Crosby had been arrested… Sidney Crosby has not been arrested and as far as anyone knows, the Penguins are silently preparing for the 2014-15 season… legally.
Recapping the Offseason
Here's what you need to know about what happened after the Penguins blew a 3-1 series lead in the playoffs:
General Manager Ray Shero is fired, May 16th.
Three weeks later, June 6th, Penguins hire Jim Rutherford as new GM.
Rutherford fires Dan Bylsma immediately.
Sidney Crosby wins NHL MVP award.
June 25th, Rutherford names Mike Johnston new Head Coach.
July 1st, Matt Niskanen and Brooks Orpik sign with the Washington Capitals, Jussi Jokinen leaves for the Florida Panthers, and several other notable Penguins leave for new teams.
August 5th, Brandon Sutter is resigned.
The Penguins lost a lot of talent in the offseason, and will look very different when they open the preseason at the end of the month.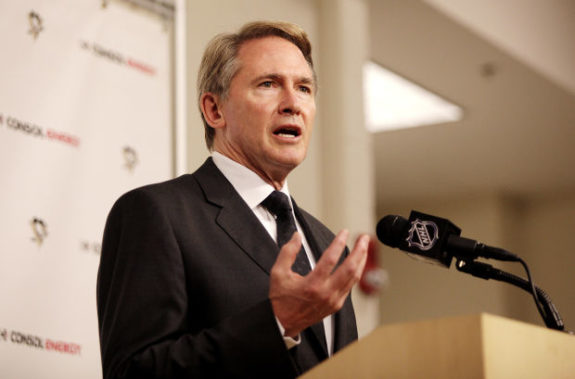 Here's what we know: James Neal is gone and so are his goals (and his attitude), Pascal Dupuis is healthy and ready for a comeback season, Johnston and Rutherford are building this team for the playoffs and have added more grit to the roster, and this will be the year (or the end) of Simon Depres in Pittsburgh.
But who is going to play with Evgeni Malkin? Who's going to pair up on defense? The Penguins brought in several players that have potential, but they've failed to bring in a top six forward to play alongside Malkin. It can only be assumed that Kunitz-Crosby-Dupuis will make up the first line, but the other three are open to speculation as we near the end of this offseason.
Way to Early Predictions:
The Penguins will still be competitive and they'll make the playoffs. The last time they had a new coach, they won the Stanley Cup. I think they're capable of making a Cup run, if they can stay healthy, but that's best-case-scenario.
For now, all is silent with the Penguins and I suppose that's better than negative headlines. Media can only speculate so much, but in just a few short weeks, our questions will begin having answers.