In 2015-16, the Montreal Canadiens saw an influx of new faces step into their lineup. This was mostly all due to the injury-riddled season that the Habs had, which saw the likes of Carey Price, Brenden Gallagher and Jeff Petry out of the lineup for extended periods of time. This gave many prospects a chance to step in and show the Canadiens what they could do.
Forwards Sven Andrighetto and Daniel Carr made instant impacts in the NHL and are presumably locks to be on the roster this upcoming season. Players like Lucas Lessio and Bud Holloway, however, didn't pan out at the NHL level.
For the 2016-17 season, there is essentially one spot open on the roster and it's at forward. However, a prospect's play could very well determine the future of NHL players currently on the roster. For example, if a defensemen should make the team, it would give general manager Marc Bergevin the opportunity to trade one of his larger contracts (Markov at $6 million and Emelin at $4.1 million) to boost his lineup in other ways. The same idea goes for the forward group with a player like David Desharnais ($3 million).
So with saying that, who are the five prospects that have the best chance to crack the 2016-17 Montreal Canadiens lineup?
5. Artturi Lehkonen, LW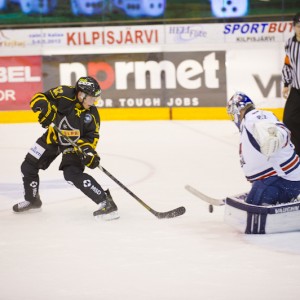 Age: 21/Height: 5'11/Weight: 179
This one is a wildcard. The Canadiens love what they have with Artturi Lehkonen. He has continually improved as he increased his point total more than double from his first season with Frolunda HC (16 to 33 points) of the Swedish Hockey League. Although he never made it to development camp, he should be at training camp and in a few preseason games. The Canadiens are in need of another scoring winger and there is a possibility that Lehkonen could come in and help fill that spot. In my mind, it's a long shot, but keep your eye on him in training camp. He's an exciting prospect.
4. Charles Hudon, LW
Age: 22/Height: 5'10 /Weight: 195
Charles Hudon has been a very interesting player. He has shown abilities to dominate in the American Hockey League with 47 goals and 110 points in 142 games, but when he gets called up to the big club, he looks nothing more than a third line player at best. It's a small sample size but in my opinion, Hudon is a prime trade-bait candidate to throw into a package deal. It's no secret the Canadiens need another scoring winger and although I don't agree with it, they could try Hudon there to start the season. They could also try a player such as Andrighetto and have Hudon take his spot on the third line. There are countless possibilities but Hudon is a potential player to target from the AHL to impact the Canadiens' roster in some form next season.
3. Nikita Scherbak, RW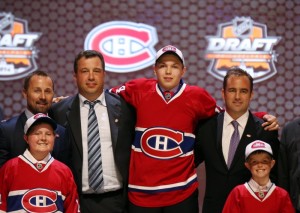 Age: 20 /Height: 6'2 /Weight: 190
Scherbak is arguably the most exciting Canadiens forward prospect. Picked in the first round of the NHL Entry Draft two years ago (2014), Scherbak spent his first season in the AHL this year, posting seven goals and 16 points in 48 games. It's not an overwhelming stat line but St. John's wasn't the best team in the league last year and it was his first pro season. The draw for Canadiens management here could be his ability to score. Hudon had many more goals than Scherbak but has had troubles in his games in the NHL finding the net. Scherbak is a wildcard and I'm sure the Canadiens would love to see what they have in him. Pay close attention to Scherbak during the exhibition games as he could find his way into a couple Canadiens' games this season.
2. Mikhail Sergachev, D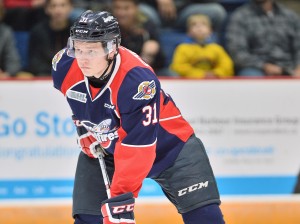 Age: 18 /Height: 6'3/Weight: 220
Sergachev is the most intriguing player in the Canadiens prospect pool. He's only 18 years of age but he looks as pro ready as anyone in the 2016 NHL Entry Draft. During his first development camp, he dominated the rest of his peers, which really put him on the map for management. There are no spots currently open on the Canadiens' blue line but if Sergachev is good enough to make the jump, Bergevin will surely make room. On the other side of the debate, if the Habs think he needs to marinate for another year, he'll go back to Windsor of the Ontario Hockey League, where he won defenseman of the year this past season.
1. Michael McCarron, C/W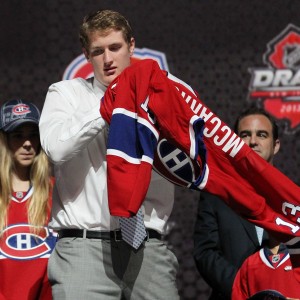 Age: 21/Height: 6'6/Weight: 231
Michael McCarron is the prospect most ready to play in the NHL next season. McCarron participated in 20 games during the 2015-16 season and steadily improved his play toward the end of the year. Now with NHL experience under his belt and another training camp coming up, McCarron should be ready to take on a full-time role next season with the Habs. The 6-foot-6 power forward will add grit and some scoring to the lineup to make the Canadiens that much harder to play against.
My Prediction
You can make a case for many prospects in the Canadiens' system to get a shot at the NHL this coming year. Unfortunately, the reality is that there are only so many spots and only so many players have the ability to play at the highest level at such a young age.
For example, a centermen like Jacob De La Rose needs more seasoning. There are currently five centers on the roster (Galchenyuk, Pleckanec, Desharnais, Mitchell and Danault). There isn't room for another. He could play on the wing, but he's better served to develop his game properly in the American Hockey League.
Out of these five players on the list, I'm going to predict that McCarron and Sergachev will be on the Montreal Canadiens roster come the start of 2016-17.