It's rare the youngest player in the organization comes into his first development camp and dominates. That's exactly what Mikhail Sergachev did in his first Montreal Canadiens showing at the ripe age of 18. The Canadiens drafted Sergachev with the ninth overall selection in the 2016 NHL Entry Draft from the Windsor Spitfires of the Ontario Hockey League. Many reported that Sergachev was Edmonton's target at fourth overall but when Jesse Puljujärvi slipped by Columbus, the Oilers jumped on him which started Sergachev's slide all the way down to the Habs at nine.
The Canadiens didn't nessecarily need a defencemen with their first choice. It was well documented that the Canadiens scoring power wasn't up to par with the rest of the league. Many thought they would take the big center Logan Brown, Sergachev's Windsor teammate or one of Tyson Jost or Michael McLeod for some skill up the middle. But when Trevor Timmins and Co. stepped up to the microphone to make their selection, they wanted to nab who they felt was the best available player left on the board; defenseman Mikhail Sergachev.
2016 Development Camp
Development camp started on July 3rd and ran to July 7th. Mostly all the Canadiens prospects including Zach Fucale, Nikita Scherbak, Charles Hudon and Michael McCarron attended the camp. Development Camp is about introducing newly acquired drafted and undrafted players to the organization. Prospects go through testing, practices and team bonding exercises to get familiar with their new surroundings. Additionally, the organization can give prospects feedback on what they need to work on over the summer to get better.
After testing, practices and team bonding is out-of-the-way, prospects are split into teams to play exhibition games. Since it's the first time on the ice together for all prospects, usually there is average gameplay and players are at or around the same level of play. That wasn't the case this year; Mikhail Sergachev was a "man among boys".
Sergachev knocked down twice in the o-zone, still kept the puck and got a scoring chance. Really impressive.Looks like a man among boys here

— Eric Engels (@EricEngels) July 7, 2016
Sergachev is the youngest of 45 players at #Habs development camp. No question he was the best player on the ice on Thursday.

— Eric Engels (@EricEngels) July 7, 2016
He dominated every game he played. For example, on day two of development camp, Sergachev really stood out netting three beautiful goals. Each goal got prettier and prettier as he used his skill to dance around defenders to get to the net. Another notable event was on the last day of development camp, he showed his passion by almost getting into it with the big Michael McCarron. Later in that game, Sergachev would go on to score the winning goal to give his team the Prospect Cup win.
I understand we have to put this camp into perspective but how can you ignore a performance of that magnitude from the youngest and newest prospect in the organization?
By the end of the camp, Sergachev put Canadiens Management, media and fans on notice. He made it clear that he doesn't fit in with the prospects, he clearly needs a higher level of competition. So the next step is training camp, how will he fit in with the big boys?
2016-17 NHL Season
The Canadiens current defence core looks like this: Shea Weber, Nathan Beaulieu, Andrei Markov, Jeff Petry, Alexei Emelin, Mark Barberio/ Greg Pateryn. There aren't any open spots on the blue line which poses a dilemma for Marc Bergevin. Surely if Sergachev makes the jump from Junior to the National Hockey League, he can find a way to make it work but there are a few elements involved.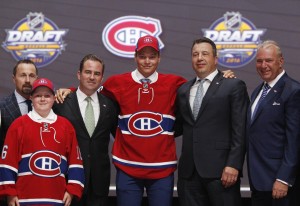 Sergachev is allowed to play 10 games in the NHL before a decision has to be made with regards to his future. If he stays up longer than that period of 10 games, a year off of his entry-level contract will be burned which would essentially force management to keep him up and not go back to Windsor. They could always swallow the year but I don't see that happening, it's bad business.
Secondly, if Sergachev has a strong camp, it's likely the Canadiens will indeed give him that 10 game audition which would take a regular defenseman out of the lineup. The defencemen that could be taken out would most likely one of Barberio or Pateryn. It might not seem like a detrimental action however it's important for the team to start creating chemistry early in the year and 10/82 games is a good part of the season.
My Prediction
It's a bit too early to start projecting which prospects can make the roster come training camp but Mikhail Sergachev has certainly given Marc Bergevin something to think about. If Sergachev can come in and make an impact at both training camp and through the first couple games of the season, there is a very good chance he stays with the club. If he does stay with the Canadiens, it gives Bergevin the ability to move out one of Andrei Markov ($6 Million) or Alexei Emelin ($4.1 Million) in a trade in order to free up cap space or to find more offensive help.
Martin Lapointe: "Certainly not crazy to think Sergachev can play in the NHL next season."

— Eric Engels (@EricEngels) July 7, 2016
I think the Sergachev situation is a win-win. If he doesn't make the Habs he goes back to Windsor and develops in the CHL for another season before making the jump next year when Markov is (presumably) gone. If he stays with the Canadiens, he allows Bergevin to improve the Canadiens elsewhere by trading one of the two named defensemen above and give the Habs a young dynamic option from the point to possibly pair with mentor Shea Weber.
It's only been one development camp so let's not get too excited, but as a fan you can't help but think what Mikhail Sergachev can bring to the Canadiens lineup either in the immediate or long-term future. It's clear by the comments made by Director of Player Development Martin Lapointe that you could say there's at least a chance.