Heading into free agency, Colorado general manager Joe Sakic let it be known he wasn't going to be pursuing any big-name free agents. Despite their point total decreasing in each of the last two seasons, the Avalanche felt the answer to their postseason drought could be found in the natural progression of younger players. However, while the team didn't reel in any big fish on July 1st, they were able to secure a few role players who can contribute next season.
Patrick Wiercioch
To shore up their blueline, the Avs first signed defenseman Patrick Wiercioch. Formerly of the Ottawa Senators, Wiercioch is a 25-year-old reclamation project with plenty of hockey left in him. Signing a one-year, $800,000 contract, the left-handed defenseman may even be looking to crack the Avalanche's top four come training camp.
Quite lanky at 6'5" and 202 lbs., he can play a strong two-way game when healthy. He recorded his best season in 2013 when he tallied 23 points (19 assists) in 53 games. Struggling with injuries, Wiercioch fell out of favor in Ottawa and only participated in 56 and 52 regular season games in 2014 and 2015, respectively.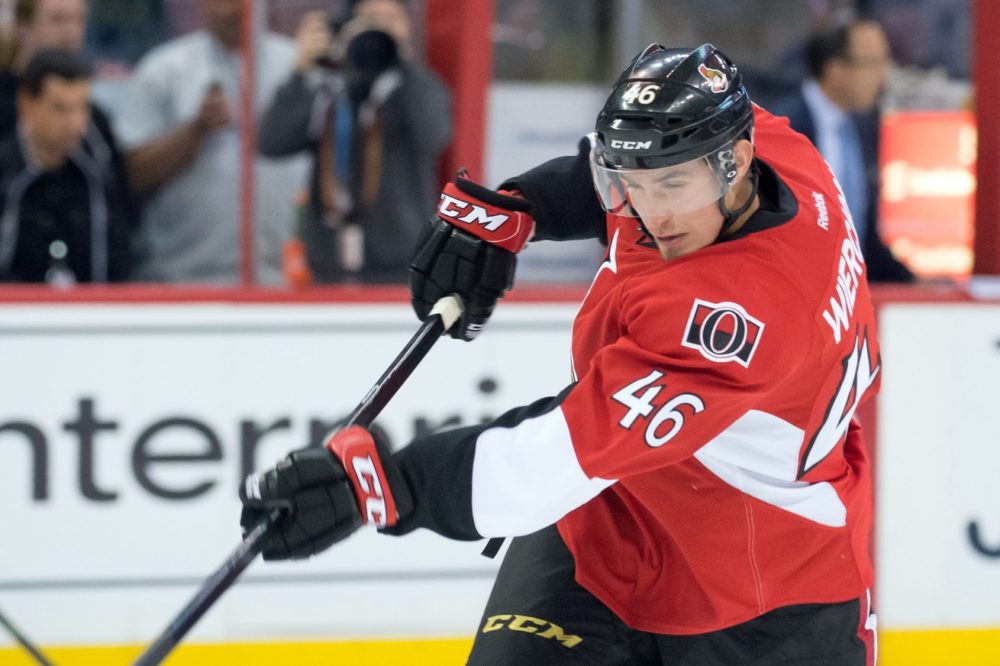 Posting a disappointing five assists last season, the Senators decided against resigning him. Joining a surplus of left-handed defensemen, Wiercioch will compete for a spot as either a top four or top six defenseman against the likes of Fedor Tyutin, Chris Bigras, Duncan Siemens, Eric Gelinas and Nikita Zadorov.
Fedor Tyutin
Tyutin was another signing for Colorado during free agency. An experienced veteran, the 32-year-old was bought out by a cap-strapped Columbus Blue Jackets in the offseason. Once a top two, minute munching defender, Tyutin is now expected to produce less. He recorded only three points in 61 games last season and had a difficult time adjusting to new coach John Tortorella. Like Wiercioch, he will compete for either a top-four or top-six spot.
Although this is an uninspiring move to many fans, it demonstrates a learning curve for Sakic. After dealing out bigger, longer deals for older defensemen Francois Beauchemin and Brad Stuart in recent offseasons, Sakic managed to reel in a veteran defenseman who is under 33-years old and on a short-term contract.
Joe Colborne
While it was disappointing the Avalanche were unable to resign former rental player Shawn Matthias, the team replaced him center Joe Colborne. Signing a two-year contract with an average cap hit of $2.5 million, Colborne brings a complete game and scoring touch to Colorado's bottom six forwards. At 6'5", 221 lbs., he fits the profile of bigger players the Avalanche have been targeting in recent years.
Although he'll be hard pressed to duplicate his 19 goals and 19% shooting percentage from last season, he should be able to contribute a solid 30-40 points and play on the penalty kill. Colborne will be reunited with his former teammate in Wiercioch, who played with him at the University of Denver in 2009.
AHL Signings
The Avalanche's AHL affiliate, the San Antonio Rampage, was restocked with some new faces. While most additions won't sniff the Avalanche roster, an improved Rampage team could do wonders for prospect development within the organization by fielding an overall more competitive team.
New forwards Mike Sislo, Jim O'Brien and Joe Whitney are all established AHL players who could form the team's new top line. Journeyman defenseman Ryan Stanton and goaltender Jeremy Smith can also help the team immediately. After hiring a new head coach in the offseason and now committing to some AHL-level scorers, Colorado is showing a dedication to its farm team's success and future players' development.
Moving Forward
With $13-$14 million in cap space to sign forwards Nathan Mackinnon and Mikhail Grigorenko, as well as defenseman Tyson Barrie, Colorado should be right up against the cap. Sakic didn't make many moves in free agency because his previous signings had handcuffed the team's spending. Large cap hits from Jarome Iginla ($5.3 million) and Stuart ($3.6 million) kept Colorado from being too active in free agency.
The Avalanche are putting trust in their young players' development for next season, though they had little alternative. Sakic used free agency to acquire some depth players at short term contracts, which is sometimes better than overpaying in dollars or term for high-profile names. Instead of overpaying in dollar amount or term for past-their-prime players, management is demonstrating a commitment to the Avalanche's core and making low-risk signings to complement them.