If there was one thing Philadelphia Flyers GM Ron Hextall could have added to his team when free agency commenced last Friday, it probably would have been a top-six winger at a good price. As it turned out, the first part was feasible – the second was not.
Within minutes of the clock striking 12 noon on the Eastern seaboard, Milan Lucic, Andrew Ladd and Kyle Okposo signed with new teams and gained bigger wallets. Each signed seven-year deals worth more than $38 million.
The Flyers, with just over $12 million in cap space, but with Brayden Schenn and Nick Cousins among others to re-sign, settled on some bargain-bin signings in the forms of Dale Weise and Boyd Gordon. The pair have a combined 92 NHL goals. Ladd has 210 by himself.
However neither Weise nor Gordon were brought in to score goals. They were brought in with the purpose of stopping them. But through that process, it may just lead to more scoring, specifically for Claude Giroux.
Weise and Gordon's Roles
Weise's name probably rings more loudly to hockey fans. Despite never scoring more than 14 goals in an NHL season, he's scored some big ones and has endured some death threats during his stints with the Rangers, Canucks, Blackhawks and most significantly, with the Canadiens.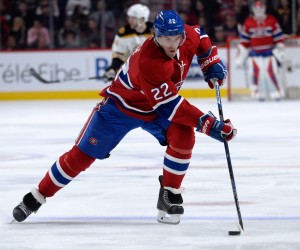 He figures to slot in somewhere on the third line, most likely in a forechecking role with some mix of Nick Cousins, Matt Read or Scott Laughton. His 14 goals last season would have placed him fifth on the team last year, so there's some hope for more than just forechecking this upcoming season. Besides that, Weise can play on the penalty kill.
However, it will be Gordon who will be counted on the most for killing penalties. The veteran center has been excelling at it his whole career during tours with the Capitals, Oilers and Coyotes.
Weise was originally expected to take Ryan White's role on the fourth line, but with the addition of Gordon and his 57.9 faceoff percentage (good for third in the league last year), expect him to take that spot.
A winning percentage that high will be a welcomed addition to any defensive draw, especially on the penalty kill, which means less defensive time and more attacking time for Giroux.
Claude Giroux's Changed Roles
Because of a lack of talent on defense and a still developing bottom six, Giroux was counted on for a ton of responsibility in his own end last season. It's no surprise to anyone that watched the Flyers last year that the 28-year-old finished with his lowest points-per-game average since his sophomore year.
In return, Giroux helped stabilize the defense and earned the team an unexpected berth into the playoffs. On the other edge of the sword, Philly finished with the ninth-lowest goals for in the NHL.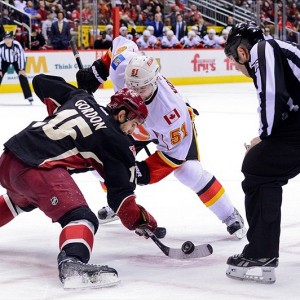 Giroux started only 51.9 percent of his shifts in the offensive zone according to behindthenet.ca. Not great for a team's best offensive player.
With Gordon, the 32-year-old can take more of those defensive draws. Coach Dave Hakstol will probably still want Giroux out for some of them but it gives the team one more option that seemed to be lacking last year.
Giroux, Sean Couturier and Pierre-Edouard Bellemare shared the faceoff tasks last season. All three are back and Gordon will fall into that mix also, meaning less time for Giroux on the PK. Weise can also eat up some time, though likely not at center.
Besides being taxed less with those defensive responsibilities, Giroux will probably see less time on the penalty kill and more at even strength. That means a more rested Giroux during actual scoring opportunities than one that had to be played more conservatively last season.
Even though Weise and Gordon aren't scorers, their presence will help open some for Giroux. Expect him to improve on his 67-point season and the Flyers to increase their goal scoring.