WHAT? The Leafs are undefeated? Yes, it's only been three games, but hey, would I be a proper Leafs fan if I wasn't prematurely throwing around the absurd idea of going 82-0? All kidding aside, the reality is the Maple Leafs sit number 1 in the NHL with a 3-0-0 record, which has to count for something. Right? Well, even if it doesn't, here are five reasons why I think the Leafs have rocketed to the top of the NHL standings, for now…
1) Off-season acquisition #1: Jonathan Bernier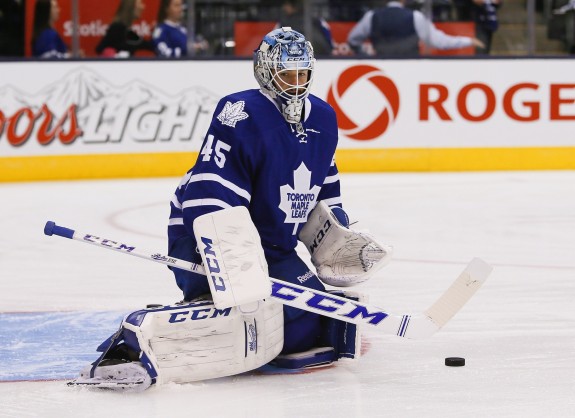 Stats don't always tell the whole story but here they might as well: two games played, two wins; 46 saves on 47 shots for a .979 save percentage; 0.64 goals-against average.
On Saturday night, Bernier came into the game off the bench after Reimer allowed four goals on 21 shots. Without a warm-up, Bernier nevertheless looked as cool as a cucumber, stopping 15 shots before going 2-for-2 in the shootout to secure the victory. Did I mention that when he entered the Leafs were down 4-2? Bernier gave his teammates the confidence they needed to complete the comeback after Reimer failed to do so.
Reimer flopped around and looked lost on the Sens third goal. Moments later he let a terrible rebound from a Mark Methot shot go right out into the slot before getting beaten between the wickets by Jason Spezza. Bernier meanwhile, made a number of great saves including this great one on Spezza.
On Wednesday night against the Flyers, Bernier was even better, stopping 31 of 32 shots. I'll let his saves do the talking…
2) Off-season acquisition #2: Dave Bolland
With Bernier stats told pretty much the whole story but with Bolland they don't. Yes, he has two goals and an assist through three games, including a game-winner to go along with a plus-3 rating and seven shots on goal. But what's surprised me the most is how smart a player he is. It just seems every time Bolland is out there he is in the right place at the right time, which is more of a skill than people realize. Both offensively (watch his goals below) and defensively, he anticipates plays before they happen, which is hard to do at  such a high speed.
His one assist also came on a brilliant no-look backhand pass to Mason Raymond. Yes, the goal below was thanks to the effort of Bodie to win the puck back but the second Bolland gets the turnover he already knows that Raymond is sitting at the side of the net and he gets it to him as fast as he can.
There's also the lesser-known stats of his that are paying off; seven hits, 52% on face-offs and he's had almost two minutes of shorthanded ice-time per game. The best part is he has two cups under his belt and he is a leader in the dressing room so when the going gets tough (which it will), he will surely be a calming influence.
3) Off-season acquisition #3: Mason Raymond
He came to training camp without a contract and left with a million bucks in his pocket (well not exactly all at once but you get the picture…). Even so, did anybody think Mason Raymond would lead the team in scoring to start the season? I had a feeling it was a worthwhile signing, but didn't think he'd be so good so quickly.
Two nights ago in Ottawa he started on the third line with Bolland and Troy Bodie, but eventually got time with Lupul, first on the powerplay but eventually at even strength as well. Raymond produced with both lines, being in the right place at the right time just four minutes in (see above goal) with the third line, before adding two powerplay assists later in the game; one on a slick cross-crease feed to Kadri, and another on a pass to the high slot to Lupul.
But he wasn't done there. When the shootout rolled around, Raymond reached into his bag of tricks and pulled out the good ol' spinorama (a move he had successfully pulled off before). Coach Paul MacLean complained the move was illegal (and at first glance he has a bit of a point), but when you see the reply it appears the puck is in continuous motion towards the net, so the goal rightly stood up. On a side note, just remember that last year Tyler Bozak was the ONLY Leaf to score in the shootout all season long, so Raymond's career 8-for-27 in the shootout is more than a welcome addition.
Here's Raymond's shootout goal from seven months ago as a member of the Canucks:
And here's the exact same move from last night:
4) Coach Randy Carlyle
Carlyle has coached quite well thus far, from the decision to pull Reimer Saturday night (though an obvious one it still had to be done), to putting the right people in the shootouts (Raymond and Bozak both scored),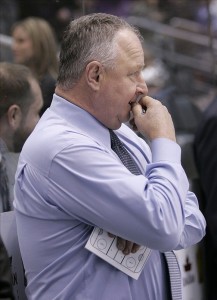 to giving the right players appropriate ice-time. Now, I realize a lot of former Leafs players have a bone to pick with Carlyle about ice-time (Grabovski, MacArthur etc.) but what I am saying is that thus far the right players have been on the ice at the right times (I hope this continues to be the case).
James van Riemsdyk is playing some of the best hockey of his career and he is being rewarded with over 20 minutes of ice-time per game. Sticking with Morgan Reilly on Saturday despite an ugly minus-3 rating was in my mind a good decision, as I actually thought he played better than Jake Gardiner, and needed to get his feet wet. As mentioned above, moving Mason Raymond up the depth chart at the appropriate time paid off. Giving Bolland more opportunity has paid off so far as well.
5) James van Riemsdyk
I say JVR is playing some of the best hockey of his life and I mean it. For one, where did his wheels come from? All of a sudden he's flying out there! Combine a big body with lethal speed and it becomes that much more difficult to defend. He's also standing his ground in front of the net and making it difficult for goaltenders to see pucks.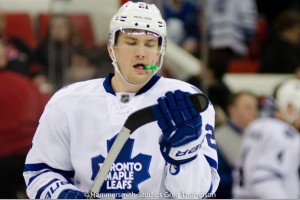 van Riemsdyk is also doing something few other Leafs have done thus far; NOT give the puck away. Through three games, he is one of few Leafs with zero giveaways, something that plagued the Leafs against the Sens Saturday and could have had more dire consequences (giveaways were 33 for the leafs vs. just 14 for Ottawa in the game).
Before the season I had an inkling JVR would break out in goal scoring. I believe he will hit 30 for the first time in his career and I believe that the line of JVR-Bozak-Kessel will continue to be a dangerous line as Kessel once again finishes top-10 in the NHL in scoring. But through three games, it's not because of Kessel. Through three games, it's the supporting cast; three off-season additions, a former 2nd-overall pick finding his game, and a coach who has shown he can make adjustments at just the right time. That is why your Leafs are undefeated.