The results are mixed but that's to be expected with a team under a new head coach & his coaching system, comprised of a few new players that has to integrate with the veterans in that new system, and having to deal an ongoing but nagging distraction (the goaltending saga) that could & should be put to rest once and for all.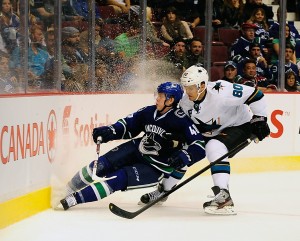 Okay, so the first game of the season against the San Jose Sharks on Thursday didn't go exactly as planned. Sure, Jason Garrison started the scoring, but the experienced San Jose roster answered back with four unanswered goals. The Sharks are touted as one of the favorites to come out of the revamped Western Conference and challenge for the Stanley Cup.Vancouver? Wait and see perhaps…
Although Roberto Luongo stood on his head for the most part, the turnovers by the players in front of him cost them the game. Shot blocking was dominant as expected under Torts, however Alex Burrows was injured sacrificing his body doing so. Clearly, the Canucks have a long way to go if they want to match the Sharks and their relentless attack. At Saturday's home opener against the Edmonton Oilers, they worked on improving their play. Despite a surprising start by the Oil, the Canucks pulled through with five unanswered goals for an impressive 6-2 victory.
It was great to see an all-around effort from the Blue & Green. Ryan Kesler played like his old self again as did the Sedin Twins with their fancy playmaking skills against the inexperienced Edmonton defence. The new guys have also stepped up. It was nice to see Brad Richardson pop a shorthanded goal to start the onslaught, Tom Sestito rough up some of the Oilers around, and even new coach Torts get into it with Oilers Assistant Keith Acton for jawing at the Canucks players near the end of the first period.
"I just think that a coach shouldn't be yelling at an opposing team's players and that's what was happening," said Torts. "He's yapping at my players and I can't sit there and watch that. I'm not interested in yelling back and forth with coaches but I just don't think that coaches should be yelling at players.
"I don't care what CBC, or anyone has to say, quite honestly (about his behavior). They don't know what's happening so I don't really give a sh-t what they say."
Well said, Torts. Well said.
On Sunday, October 6, the Canucks played against the Flames at their home opener. Backup goaltender Eddie Lack started against the young Kiprusoff-less Flames squad and stood up well to earn his first win, albeit barely. Had it not been for the heroics of Mike Santorelli and his impressive two-goal performance, including his overtime game winner, the Canucks could have blown it and started week 2 on a down-note.
To summarize week 1 and the start of week 2, the Canucks are sitting as expected: smack dab in the middle of the Western Conference. Their dominance over the lowly Alberta teams have earned them their current spot, but the top contenders like Chicago and San Jose may keep them where they sit unless Torts and his crew make some adjustments after Calgary. It's still too early to tell how they'll do but a 2-1-0 record to start week 2 is all you could ask for.
Canucks Rating: B-
Highs: Luongo standing on his head for the most part (plus a little help from Eddie Lack goes a long way)
Lows: Canuck turnovers, especially against San Jose
Outlook: The Canucks need to continue their strong effort and defensive play going into week 2
The NHL regular season schedule was released on Friday. Check out our partners at TiqIQ for the best deals on Vancouver Canucks tickets for all 2013-14 games.