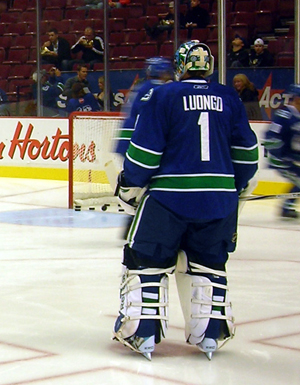 For goaltender Roberto Luongo, the '13-'14 season was supposed to be a fresh start to his storied career. Unfortunately for him, it did not start the way he or the Vancouver Canucks hoped.
Facing the rival Edmonton Oilers, Luongo was beaten four times in the first period, and ended the night with 14 saves on 18 shots (.778 S%). He played 40 minutes of the game before being relieved by Joacim Eriksson, who is battling for the backup position with Eddie Lack.
Luongo showed flashes of brilliance at times, especially on a crucial stop on Ryan Smythe with the pads after a 2-on-1 odd man rush. However, Luongo wasn't as sharp during the rest of the game, and most of the goals that he allowed could be thought of as the "soft" variety. One goal was especially damning – a David Perron wrister from far away that was completely unscreened.
Call it bad luck or call it rust, but Luongo's play does not especially inspire confidence for a team that many experts have pegged as on the decline. The Canucks have dropped both preseason contests so far, and new head coach John Tortorella is still looking for his first win behind the Canucks' bench. Nobody is clamouring for Canucks tickets refunds yet but the air is getting filled with some nervous tension.
Even the Oilers felt a little bit for Luongo;
""Obviously, Luongo didn't have too much help back there," said Devan Dubnyk, Oilers goaltender. "I don't care who was in net. I don't think it would be much different of an outcome with how hard we were going." (via National Post)
Perhaps we should not too much into this game. After all, few veterans with Luongo's experience would care too much about an exhibition game that essentially means nothing. However, one would think that after a summer of turmoil, the goaltender would motivated to prove doubters wrong as soon as possible.
Summer Drama
Luongo's name was constantly in headlines this summer after the shocking trade of Cory Schneider. The move blindsided both goaltenders, and shocked the hockey world. Hindsight is 20/20, but it's pretty clear now that there were no teams in the market for Luongo's massive contract, especially with the threat of the new salary recapture clause.
Following the trade, Bobby Lu holed up in his Florida retreat, refusing to speak to any members of the media. At various times, Tortorella, GM Mike Gillis, and owner Francesco Aquilini all visited the netminder to try and console him on the situation. It does not take an inside expert to see that Luongo was not happy.
In a candid interview with TSN's James Duthie, Luongo voiced his opinion on the whole situation, and it did not seem as if the goalie was quite yet ready to forgive and forget.
One particular portion of the interview drew extra attention – Luongo had looked into voiding his contract following the news that Schneider had been traded. This news is became even more interesting following Luongo's parting with long-time agent Gilles Lupien, who had served Luongo for 19 years. Lupien was replaced by superagents Pat Brisson and J.P. Barry. Generally speaking, a sports agent's primary role is to assist in the negotiation of contracts. While they can serve other purposes, it does serve as a red flag and a potential indicator to Luongo's plans. Perhaps he is not entirely done with the plan to void his contract after all.
Different Names, Similar Situation
While the majority of hockey fans probably already sympathize with Luongo, the truth is that he is far from in the clear just yet. Sadly, if Luongo stays with the Canucks for the entirety of his contract, he will likely soon be pushed for playing time again. Vancouver has some of the most promising goalie prospects in the league, and it won't be long before one of them is knocking on the door.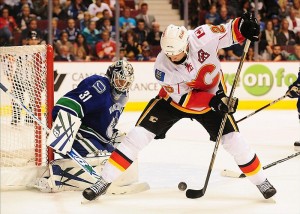 At 6″4, the 25-year old Eddie Lack is poised for his NHL breakout season. He is the favorite to back up Luongo this year, and has had significant success in his career thus far. The '12-'13 shortened season was not kind for Lack, who posted a .899 S% and 3.00 GAA. However, he had two brilliant seasons in the AHL prior, recording .926 S%, 2.26 GAA in '10-'11 and .925 S%, 2.31 GAA in '11-'12. His emergence as a potential NHL starter was one of the main reasons Schneider became expendable.
The newly signed Joacim Eriksson also brings a great amount of talent to Vancouver's crease. The 23-year old posted fantastic numbers in the Swedish League last year playing for Skelleftea AIK, winning 21 out of 30 games while posting a 1.67 GAA. He brought his play to another level in the playoffs, winning all 10 games he played while posting a ridiculous 1.06 GAA.
With two young netminders with plenty of potential, it may not be long before we see the Luongo sweepstakes all over again. The veteran is truly stuck between a rock and a hard place.
Alex is a Lead Writer for the Toronto Maple Leafs. Since joining the Hockey Writers, he has also briefly covered the Carolina Hurricanes. He also currently works as an assistant for the Western Mustangs at the University of Western Ontario. Follow him on Twitter @alexmai11.