The Toronto Maple Leafs announced today that they have invited 79 players to this year's training camp. Players have been instructed to report on September 16 to the club's training headquarters in Peterborough, Ontario.
The roster of players includes seven goaltenders, 24 defensemen and 48 forwards.
Toronto general manager-coach Punch Imlach says that 13 exhibition games have been scheduled, with the possibility of several more games being added. Most of the games will be against NHL competition. It had been reported in several quarters the Leafs would reduce their exhibition schedule this fall.
Pay for players participating in exhibition games has been a sticking point, and Imlach refused to comment on whether he has reached any sort of agreement with his athletes on this issue. The players, who do not have a union, had sought to have the number of exhibition games reduced to 10. Some say that this is the reason Imlach has scheduled a number of games significantly higher than 10 this fall.
NHL president Clarence Campbell had said earlier that he did not expect any NHL team to play more than 10 pre-season matches this year.
Of the nearly 80 players invited to camp, there are many interesting names competing for jobs with the Leafs for the first time.
Goaltenders
Newcomers to the organization in goal include Dave Kelly, Bobby Perreault and Czech national team netminder Vladimir Dzurilla.
Kelly is a former Toronto Marlboro goaltender who has spent his first two professional seasons with the Portland Buckaroos of the WHL. Last season he sported a 3.21 goals-against average in 19 games. Imlach thinks the 22-year-old has a chance to develop into an NHL-quality goalie and will give him a long look at camp.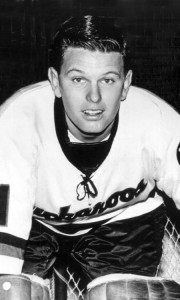 Perreault, 34, is a veteran minor-league journeyman who has 31 games of NHL experience with Montreal, Detroit and Boston. He spent the past two seasons with the San Francisco Seals of the WHL. He was acquired this summer by the Leafs in the reverse draft, ostensibly to give Toronto a little more minor-league depth after Rochester regular Gerry Cheevers was drafted by Boston.
Imlach said that although Dzurilla was invited to camp, he has no idea whether the Czech national will be given permission to leave the communist country to try out for the Leafs. He expressed doubt that the government would issue the required clearance, but he thought it was worth a chance to try to at least open the door.
Defence
Probably the biggest name among the players new to Toronto is defenceman Marcel Pronovost. A 15-year veteran of the Detroit Red Wings, Pronovost was acquired in the May deal with the Wings that saw Andy Bathgate go to Detroit. Imlach believes that Pronovost, now 35, has plenty of gas left in the tank and will provide stability on the back end for the Leafs. With Allan Stanley showing some signs of age last season, Imlach believes he has a ready-made replacement in Pronovost.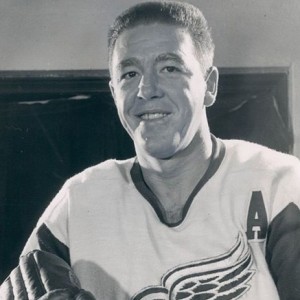 Another interesting possibility is tough guy Larry Johnston, who toiled for Tulsa of the CPHL last season. Johnston led the league in penalty minutes with 262 and brings an element of truculence to Toronto that Imlach finds intriguing. Johnston is only 22.
Forwards
Four players with significant NHL experience with other teams, along with a few choice youngsters will make the level of competition very strong on the forward unit. Ed Joyal and Larry Jeffrey came to the Leafs from Detroit along with Pronovost, while Orland Kurtenbach and Andy Hebenton were picked up from Boston in the trade that saw Ron Stewart head to the Bruins.
Joyal is a speedy 25-year-old centre who has spent parts of the last three seasons with the Red Wings, but has just not been able to stick on a full-time basis. Last year with Detroit, he had eight goals and 14 assists in 46 games.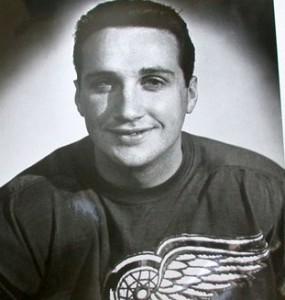 Jeffrey is Imlach's prized acquisition up front. The former Hamilton Red Wing junior star has been the object of trade inquiries by Imlach and several other NHL clubs. In fact, last fall Montreal thought they had a deal where Gump Worsley would go to the Wings for Jeffrey. Sid Abel backed off on that deal at the last minute. Jeffrey, 25, was slowed by injuries last year, scoring only four goals and two assists in 41 games.
Kurtenbach, who will be 29 when camp gets underway, has been a regular with the Bruins the past two seasons. The six-foot, two-inch, 180 pounder is not known as a scorer, although he did manage 12 goals and 37 points in 1963-64. Last season he had six goals and 20 assists, along with 86 penalty minutes. Kurtenbach is a tough customer, good on the draw and strong on the penalty kill.
Thirty-six-year-old Andy Hebenton looks like one of those veteran reclamation projects for which Imlach is so famous. Hebenton spent last year with Portland, after nine NHL seasons (eight with the Rangers) in which he never missed a game. Those 630 consecutive games played is the NHL record. Hebenton had 34 goals and 40 assists in the WHL last year and hopes to catch on in Toronto to start another consecutive games streak.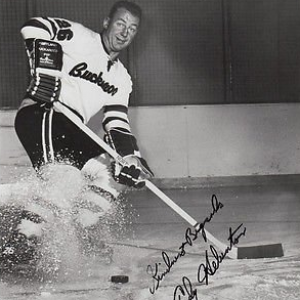 Perhaps the most interesting name on the training camp roster is Brian Conacher. Brian had a brief one-game cup of coffee with the Leafs in the 1961-62 season before heading off to university. He's back this fall with an eye towards earning a full-time spot with the Leafs. He has played the last few seasons with the Canadian National Team and the University of Western Ontario Mustangs. In the 1964 Olympics, he scored seven goals in seven games for Canada.
The most ballyhooed rookie in camp will be 20-year-old Mike Walton. Walton was a star with the Toronto Marlboros 1964 Memorial Cup winners, and turned pro last fall with Tulsa, despite having a full year of junior eligibility left. Walton had a spectacular year in the CPHL, scoring 40 goals and 44 assists and was named the CPHL rookie of the year. Walton is given a good shot at sticking with the Leafs this year.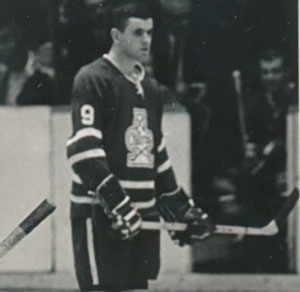 As is always the case, there will undoubtedly be players who surprise, and others who disappoint. As Imlach gets set to reload a roster that disappointed last year, you can be sure all the newcomers will have a real shot at making an impression at this year's auditions.
Summer Notes:
Rumours persist that Jacques Plante will un-retire to play for the AHL Quebec Aces in 1965-66.  He is currently playing goal in Quebec's top lacrosse league for the Caughnawaga Indians
Highly touted Regina junior Fran Huck will not be attending the Canadiens training camp. He has decided to play for Canada's national team.
Jean-Guy Gendron won the Montreal Canadiens golf tournament, shooting a 72.
This year, NHL statistics will include all shots on goal, including those blocked by defensemen.
Phil Watson has been retained as coach of the Buffalo Bisons of the AHL.