Jeff Skinner of the Carolina Hurricanes is only 23 years old. Most people are graduating college at that age, and are looking to break into a professional field. Skinner took a different route than most and is now getting ready for his sixth NHL season in Raleigh. He also spent the summer hearing his name in trade rumors across the NHL. After a rough season, questions about how he fits into the future of the team became a discussion point for writers, and fans. He can still be a difference maker for the 'Canes and waiting to trade the former Calder Trophy winner would be beneficial for both the team and the player.
Defense Was First
Defense was the top goal for management this summer. General Manager Ron Francis has drafted defense heavy in consecutive years selecting two highly touted defensive prospects in the first round. Two separate trades brought in more defense this off-season. Francis traded for defenseman James Wisniewski, and goalie Eddie Lack to add veteran experience on the blue-line and in net. The team hasn't added any forward depth this off-season, but management told Alexander Semin that they would no longer need his service. There are huge question marks on who will fill out the rest of the forwards when the season starts.
The Forward Situation
I wrote about Sergey Tolchinsky showing off his skills at the Hurricanes Development Camp. Outside of Tolchinsky there aren't many players that have a chance to make a stir in the top six. Eric Staal, Jordan Staal, and Elias Lindholm should slot into the top line opening night when the team takes on the Nashville Predators. Despite that successful first line the team doesn't have proven forwards to fill out the rest of the lineup. Pushing young unproven NHL players on the second, and third line leaves the team with no forward depth.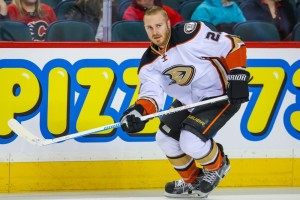 Taking Action
Skinner disappointed himself last season and another similar showing could see his trade value drop. Trading him now with only one bad season in opposing GM's minds seems like the smart choice. To truly rebuild the core of the roster trading Skinner for prospects, and draft picks seems like the best option. He will be easier to move then Eric Staal, and Cam Ward because of lack of a no-trade clause in his less expensive contract. Skinner might also garner a better return in a trade because of his age compared to Staal, and Ward.
Another Chance
Trading Skinner leaves another hole in a lineup desperate for snipers. He still scored the second most goals on the team, and had a strong personal finish to end the season. He is struggling on a team that desperately needs offensive. The numbers he put up the past two seasons are not near his potential.
The winger played a majority of his season with Riley Nash, or Victor Rask at center. Nash put up decent scoring numbers in the beginning of the season, but he is not a center that is going to positively contribute to Skinner's game. Rask is still growing as an NHL player, and another full season with a talented winger can help him break out. Having the two forwards spend a full season together could bring out each players individual talent.
Bill Peters has a unique system and it takes longer then 80-games for some players to get accustomed to that offense. He wasn't the only player with offensive growing pains under Peters last season. Hearing the trade rumors can give him a spark and push him to remind the league that he is still a prolific goal scorer.
Keeping the Faith
Another down season could hurt the view the rest of the league has on the young forward. This would really handcuff Ron Francis if he tries to make a move next off-season. It's a tough world managing a professional hockey franchise, and even tougher if that team has struggled for a long time. Keeping Skinner is the best option. Without him the team will not have any proven NHL wingers to put in their top six. Francis is doing the right thing being patient, and his patience will pay off. Skinner will have a bounce back season, or garner a better return at the trade deadline which will ultimately make the team better.