The Carolina Hurricanes are building their franchise starting from the blue line out. A team that has never been known for defense now has two highly-touted defensive prospects they hope will solidify the teams successful future.
They also have Justin Faulk who is one of the top young defenseman in the league, but what about the forwards? The team doesn't have any new acquisitions that will make an immediate impact on offense. With holes in their forward lines, coaches will need to fill spots with players unproven at the NHL level. Sergey Tolchinsky now enters the conversation as one of those forwards after his showing at the teams development camp.
Holes at Forward
Coach Bill Peters has open spots he needs fill on his forward lines. Right now, the team has Elias Lindholm, Eric Staal, Jordan Staal, and Jeff Skinner as the top forwards. Those four players will see most of the top six minutes in the upcoming season. Nathan Gerbe, and Victor Rask can fill in the top six minutes but that will take away more depth on the bottom six. If they are going to move those two players up on the first two lines they will need to fill in some depth players for the bottom six. A player like Tolchinsky now enters the conversation as someone who can fill one of those spots.
Development Camp
Tolchinsky is killing it in the team's 2015 development camp, and is dazzling coaches and fans with exciting plays. The 'Canes Twitter account has posted his crazy plays from camp. He is blowing up the team's fan base, and a lot of people are talking about how exciting this kids potential is. Chip Alexander of The News & Observer wrote a great article about the teams hope that Tolchinsky can offer a spark this season. Below is one of his highlights that has circulated around the hockey world.
ICYMI, @Tolchinsky10 had the #CanesCamp highlight of the night Tuesday. More Day 2 notes here: http://t.co/CHVQOcBQQa pic.twitter.com/8yYVHU5ca9

— Carolina Hurricanes (@NHLCanes) July 8, 2015
What Tolchinsky Can Bring
Tolchinsky brings something new to the forward conversation leading up to the season. The Russian national has speed, great hands and video game-like moves with great finishes in his arsenal. The downside is he has smaller stature, only standing about 5'8". There has been a lot of talk about taking risk on smaller players this off-season, but his talent is something you cannot ignore.
He scored 95 points in the OHL for the Sault Ste. Marie Greyhounds last season. His speed makes up for his lack of size and has proved in camp that he can score like a wizard. Bill Peters may want to go bigger with his team, and they already have a speedy winger in Jeff Skinner. Despite that, plugging him into the bottom six to start (maybe even playing with a center like Victor Rask) is worth the risk if he proves he can hang in the NHL this pre-season.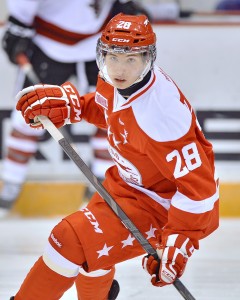 Finding A Spot
If Tolchinsky proves he is ready for the big club then finding a spot for him is easy. Start him on bottom six lines, and if he succeeds plug him up front. The draft brought in a lot of talented defenseman prospects and a forward prospect like Tolchinsky gives fans a look at what management is building for the team's success on offense. The departure of Alexander Semin and the loss of other veteran forwards leaves spots open for younger players to take advantage of this season.
Enter Tolchinsky and his performance this development camp. He has had question marks surrounding when he would be ready to play in Raleigh. If the coaching staff decides his time has come then there is no problem plugging him into the lineup. If they decide he is not ready for the NHL plugging him into the AHL roster would be great for the young forward. If he is successful in the AHL then the team should have no problem bringing him up during the season. If they can put together a winning record and start to make a push for the playoffs a young forward getting plugged into the lineup could add an extra boost. He needs to put on more weight, and bulk up to protect himself. 
Even if the he does not play in the NHL at all this season, seeing a prospect dazzle in development camp is a great way to bring attention to a team that needs to raise its attendance. It is hard not to turn your attention to the Hurricanes when you have a player scoring breakaway goals from between his legs.
Day 3 of #CanesCamp included more scrimmaging & more Sergey Tolchinsky magic. Notes & quotes: http://t.co/aHZzJMVqvK pic.twitter.com/QSogQaMcBh — Carolina Hurricanes (@NHLCanes) July 9, 2015