A day after being eliminated by the Montreal Canadiens in overtime in their own rink, the Toronto press, Maple Leaf fans and even the players had a difficult time processing the reality that for the first time in three years, the Stanley Cup will reside somewhere other than in Toronto.
The Globe and Mail looked at what's next for the Leafs from the perspective of the Presidential suite, the coach and GM's office and from that of the captain.
Stafford Smythe's view
Stafford Smythe's thoughts were mainly, as one would expect, about the business side of the hockey operation.  Specifically, Smythe spoke about the growth of the sport on U.S. television.  He said that the Leafs would not be adverse to giving up some Saturday night dates in favour of facilitating an American national television contract.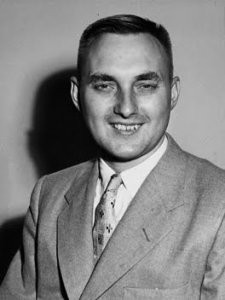 About eight years ago NHL games were broadcast on a U.S. network on Saturday afternoons.  Montreal Canadiens were shown a couple of times, but the Maple Leafs were not involved at all.  Smythe believes to grow the sport, the Leafs would play afternoon games this time around.
Smythe also believes the NHL offices should be moved to New York City.  Smythe says that with four American clubs and only two in Canada, the league offices should be in New York, for promotional reasons, if nothing else.
Speaking about the future of his own club, Smythe confirmed that the Leafs will apply for permits to expand the seating capacity of Maple Leaf Gardens.  He described those plans:
"We're going to put in between 1,000 and 1,500 seats at the ends for next season, but they'll come down if we extend.  We'll move the press box from the south end and build one directly across from the broadcast booth.  It'll be the most fantastic press box you ever saw – only for the press and directors."
Smythe sees no reason for wholesale changes to the player personnel because the team lost in the semi-finals.
"The main part of our team is all right, but I think we have to rebuild our bench strength.  You have to have specialty guys who can come off your bench to kill penalties without disrupting your lines too much.
"There were more penalties than ever this year under the Molson rules, and that's when we lost all chance at first place and the playoffs.  We didn't have penalty killers like MacMillan, Regan, Stewart."
The term "Molson rules" is a reference to the campaign waged by Montreal owner Senator Hartland Molson to clean up the rough stuff he felt was dominating NHL play.
Speaking about specific players, Smythe feels that veterans like George Armstrong, Red Kelly and Andy Bathgate can still be valuable team members, as long as they aren't called upon to extend themselves beyond the rigors on playing on a regular line.
Punch Imlach
The coach and general manager of the Maple Leafs refused to tag anyone on his club with the blame for the early exit from this year's Stanley Cup tournament.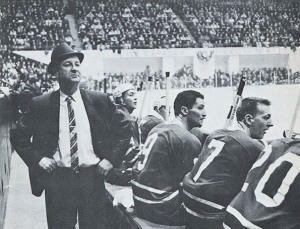 "I'm not putting the knock on anybody.  they won three Stanley Cups for me and nobody gets a knock from me."
Responding to a suggestion that this edition of the Maple Leafs was too long in the tooth to go all the way, Imlach said,
"I don't think any kids we could have brought in would have won us the Stanley Cup.  If I'd kept  Pappin up from Rochester, I'd be in the position of not knowing whether the guy he replaced was through or not.
"The one plus factor that comes out is that I've got my answer.  I've lost with the guys that won for me.  We weren't that far off.  It took overtime to put us out, but the downgrading has started.  Now we've got to build.
"We knew this was last-ditch.  As long as there was a chance at the cup, go for it.  It wouldn't have helped bringing in kids.  A kid like Ellis is unusual.  But most kids are fringe when they come up and they could stay fringe if they don't get a chance to develop.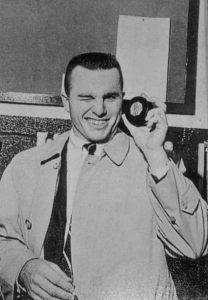 "We will make just as many changes as necessary.  We're not going to make changes just to make changes."
Imlach will depend on his employees at his various farm clubs to provide insight into which prospects have a chance to help at the big-league level.  Imlach says his minor league people are sharp hockey minds who can give him good information. The men he will be depending on include Joe Crozier at Rochester, Rudy Pilous and Buck Houle of Victoria, and Rudy Migay and Ray Miron at Tulsa.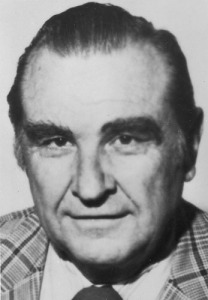 Imlach didn't sugar coat the Leafs' present situation.
"It's obvious we aren't good enough.  Two years ago we finished first.  Last year we were third.  This year we're fourth with less wins and less goals.  So we've got to find something better."
Imlach listed several solid prospects.  Mike Walton, Nick Harbaruk and Andre Champagne were tops at Tulsa, Jim Pappin, Gerry Cheevers and Larry Hillman from Rochester can be NHL regulars, and Larry Keenan of Victoria is highly thought of by Imlach.
George Armstrong
The Maple Leaf captain of seven seasons is going to re-assess his priorities during this off-season.  While he figures he is far from finished as an NHL'er, he wonders if it's time to devote more attention to his family.  He also wonders if he is giving himself too much credit.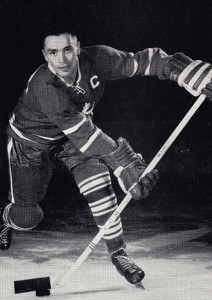 "What I've got to find out is whether I'm kidding myself.  I have to sit down and assess myself honestly. In my own mind, I'd love to play.  But I don't want to hurt Toronto Maple Leafs.
"A lot will depend on Toronto Maple Leafs.  They have to assess their hockey players for next year.  If I happen to be one that has to go, well that's business."
The Chief said that losing to Montreal in game six came as a real shock to the entire team.
"We've always had this attitude.  There was no questions with us that we could beat Canadiens in the last two games.  This was knocked out of us last (Tuesday) night.  Next year the attitude will be different.  We know now we can't win any time we want.
"We're just commoners now and that'll mean a good change in attitude.  We'll know now we can only win when we bear down.  I think if we had that attitude now, we could go out and beat any team in hockey.
"No one expected to lose.  There wasn't a guy on the team who had stocked in any beer in case this might have been our last game. Not one guy was prepared to lose.  It came as a real shock."
Players show up at Gardens
Some Toronto players refused to believe the year was over, or perhaps it just hadn't sunk in yet.  Armstrong, Johnny Bower and Bobby Baun all showed up at Maple Leaf Gardens, likely just out of habit.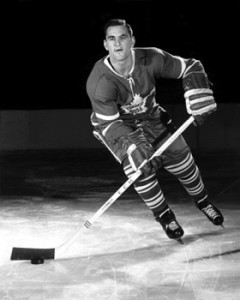 Baun said, "It just seemed like the thing to do."
Bower said he was there to hand out invitations to a Vezina Trophy party he and Terry Sawchuk are hosting next Tuesday at the Conroy Hotel.
Who stays?  Who goes?
With such a veteran lineup, there will always be questions about who will stay and who might call it a day.  The Leafs have several players in that questionable category.
Veterans such as Armstrong, Sawchuk, Allan Stanley Dickie Moore and Red Kelly are all at an age that most athletes are considering trading their hockey gear for a rocking chair.  Armstrong would like to return, but the others are question marks.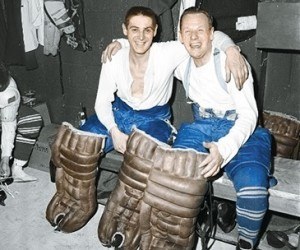 Sawchuk has said that he expects to be left unprotected for the second straight summer.  Last June the Detroit Red Wings exposed the future Hall of Famer  and the Leafs swooped in and grabbed him.  This summer, he expects Toronto to protect AHL phenom Gerry Cheevers, at which point he says he'll likely end up somewhere like Boston.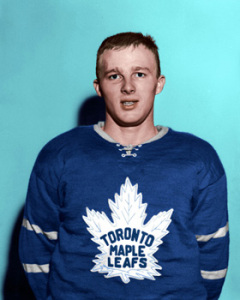 Kelly has said that he will have to consider all his options, as well as his parliamentary duties.  The past season was a tough experience for Kelly, as he found it difficult to combine his political obligations with the rigours of an NHL season.
Moore had a very difficult time making his comeback after a year of retirement from the Canadiens.  Most observers feel that Moore won't likely be back.
Stanley has hinted at retirement several times this season, but Imlach firmly believes the veteran has lots of gas left in the tank.
The team's elder statesman, goalie Johnny Bower, who admits to being 40, simply will not be allowed to retire.  He continues to amaze with the agility and reflexes of an athlete half his age and most believe he still has a number of good years ahead.
Trade bait?
As far as trade candidates, Andy Bathgate tops that list. It's known that he and Imlach didn't see eye-to-eye to the extent that in the final game of the semi-finals, he appeared only once, on a power play.  Imlach will explore trade possibilities  for last year's playoff hero.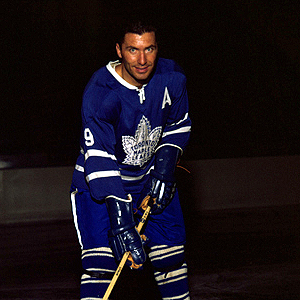 Others that could be dealt would include Eddie Shack, Ron Stewart and young Pappin.  Shack's shenanigans have long rankled Imlach, and it's known that the Boston Bruins have made inquiries about "Eddie the Entertainer."  Stewart is a useful sort who would hold value to any number of NHL teams, being able to line up on the forward line or back on defence.  Pappin is an up and coming young talent, but his attitude has been questioned.
It's going to be one of the most interesting off-seasons in many years for the Maple Leafs.  Imlach now is holding his cards close to the vest, but the betting here is that Punch won't stand pat with this club, and the changes will come along sooner than later.
Retired police detective, involved in hockey at all levels for over 50 years. Member of Society for International Hockey Research and presently a video analyst for the leader in advanced hockey analytics (we work exclusively for 2 NHL clubs, and provide advice on an ad hoc basis to many other clients). Currently the Assistant General Manager for the Pelham Pirates of the Greater Ontario Junior Hockey League. Previously owned the Faceoff computer hockey simulation and also provided all player ratings for the EA Sports series of NHL computer games from the late 90's into the mid 2000's.