With the regular season ending this past weekend and the playoffs fast approaching, the Minnesota Wild have a lot to look back on. They've come back from the brink of extinction to become a Stanley Cup-contending team, and they've done that as a team. But there have been a few players in particular that got the Wild to where they are right now.
The following are the "Minnesota Wild Awards" for the regular season. The playoffs are a whole different story and anything is possible, so those awards will just have to be assessed at a later date, and if you think a player is deserving of a particular "award," post it in the comments. Now if only we could actually give out awards…
Most Valuable Player: Devan Dubnyk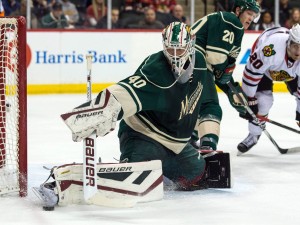 Okay, okay, I know Dubnyk has gotten a ton of attention lately, but he truly is the reason the Minnesota Wild are in the playoffs. There are plenty of talented guys on this team, but they wouldn't be able to show off their talent without Dubnyk giving them the confidence to play boldly.
In his time with the Wild, Dubnyk went 27-9-2, compiled a .936 SV% and a 1.78 GAA, and helped the team work towards the best record in the NHL since the All-Star Break.
Devan Dubnyk may only be one player, but his presence made an entire team of players step up and play to their full potential. Because of that, Dubnyk is deserving of the Wild's regular season MVP award, and quite possibly the Hart Trophy, as well.
Best Defenceman: Marco Scandella
The Minnesota Wild had (and still has, for that matter) a terrific group of defenceman, so this was a toss-up. However, Marco Scandella makes his presence known every night, both defensively and offensively. A good defenceman isn't defined as just a defenceman that scores a lot, but one that has all-around talent and skill on the ice. That's exactly what Scandella is.
He's a playmaker, a physical force and a goal-scorer. Ryan Suter, Jonas Brodin and Jared Spurgeon are also incredible, but there's just something about Scandella. Over the 14-15 season, Scandella scored 11 goals, recorded 12 assists and finished as a +8, but it's not just about the stats. This guy brings it every game.
Let's also not forget Scandella recorded these numbers even after sitting out multiple games due to an upper body injury and the mumps. (Oh yeah, remember when this team was infested with mumps? Good times.) A case could easily be made for any other defenceman on this team, but for now, I'm sticking with Marco Scandella.
Most Improved: Matt Dumba
Before I write anything, I know Minnesota Wild fans have very differing feelings toward Matt Dumba; some of you really like him and some of you really don't. Either way, you can't deny that this guy has improved exponentially over this past season.
After bouncing around from the Wild to the Portland Winterhawks to Canada's junior team last year, Dumba seems to have finally found himself a permanent place to play. Over the past six months, Dumba has gone from making stupid mistakes and looking lost every time he stepped on the ice to making clutch plays, scoring game-winning overtime goals, and becoming a defenceman this team can rely on.
This year Dumba played 58 games, scored 8 goals and ended the regular season a +13. Not bad for a 20-year-old kid that didn't know what he was doing last season.
Best Trade Deadline Acquisition: Chris Stewart
Jordan Leopold definitely wins the best trade deadline story, but Chris Stewart is without a doubt the Minnesota Wild's best trade deadline acquisition this year (not including Devan Dubnyk, because that's not fair).
Stewart was a risky pickup for the Wild based on his past record, but Chuck Fletcher knew exactly what he was doing and got the team a big, gritty, offensive forward. The former Buffalo Sabre has meshed incredibly well with anyone and everyone he's played with. When put on the top line with Mikko Koivu and Nino Niederreiter, Stewart helped the team score 10 goals and 15 assists. When Jason Zucker returned from a broken clavicle and was placed on the same line as Stewart, it was clear the two had instant chemistry.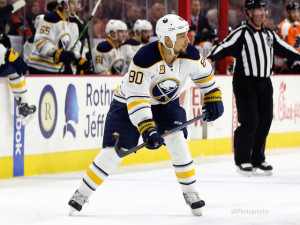 Who knows why or what exactly Stewart adds to whichever line he plays on, but he does something, that's for sure. Maybe it's his size or the grit that the Wild lacked before acquiring him. Or maybe he's just talented and was never playing with the right organization. I don't know, but I'm glad he's here now.
Best All-Around Player: Zach Parise
Where do I start with Zach Parise? He's an incredibly talented hockey player with an unbelievable commitment to the game and his team.
When the Wild were down and out back in November, Parise came out every night and played his heart out. When the team was pushing into the playoffs, Parise was playing just as hard. It doesn't matter to this Minnesota native whether his team is the best or the worst – he's always going to give his all.
This season, Parise also suffered from the loss of his father, J.P. Parise, but that didn't stop him either. He almost seemed to play with even more gusto, scoring the game-winning goal two nights later against Buffalo, and then five more goals in five games after that.
Parise ended the season ranked 10th in the league in goals with 33, tallied 29 assists and registered a +21. But as I've said before, it's not just about the stats. Zach Parise is as dedicated as they come and will play with 110 percent no matter the situation. He's the heart of this team.
In the post-season, we may see new heroes, or we may see these same guys playing as well as they did all year long. That's the beauty of the playoffs: you never know what's going to happen. So we'll just have to reevaluate these once the Wild win the Cup. (Fingers crossed)
Alli covers the Minnesota Wild and has been a contributing writer with THW since August 2014. She is currently a journalism and sports management student at the University of Minnesota. For all of your Minnesota Wild news and updates, follow her on twitter: @allibaker23