Which Detroit Red Wings New Year's Resolutions Will You Follow?
Now that it is officially 2016, New Year's resolutions are kicking into full gear. Promises to go to the gym more, eat healthier, and actually floss are being (hopefully) fulfilled. For Detroit Red Wings fans, the resolutions are a little different, though. How can someone be a better fan of the Red Wings in the New Year? Here's how:
Have Patience with Jimmy Howard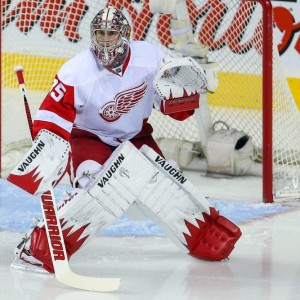 This season, the Red Wings have had their first starting goalie controversy since the days of Curtis Joseph, Dominik Hasek, and Manny Legace. Jimmy Howard and Petr Mrazek have split duties so far, but it's apparent that Mrazek has played better and could benefit from an increased role. Many fans have clamored for a Howard trade to bolster the team, but that can only happen if Howard plays well. What team would want to acquire a slumping goalie with confidence issues and who is also on the wrong side of 30? Additionally, what returns could the Red Wings expect for Howard if his play remains the same?
Root for Howard to do well. Because a better goalie would net more in a trade with a team in need of a starter.
Follow Franzen
If you haven't already, follow Johan Franzen on Instagram. He is absolutely hilarious now that he has a lot of free time. Franzen's good-humored jabs at other NHLers, teammates, and a certain former coach are laugh-out-loud funny. Tomas Tatar and Danny DeKeyser were both recent victims of Franzen's celebrity lookalike comparison.
Acknowledge Brendan Smith's Progress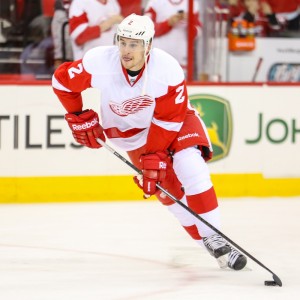 It's easy to harp on Brendan Smith when he makes a mental error in the defensive zone. Luckily for the Red Wings, he hasn't made too many lately. He's also been jumping up into the play more to create offense, something the team has been lacking in the past few weeks. Finally, Smith has brought a physical presence to the back end, especially in the absence of Kyle Quincey and Jonathan Ericsson.
Smith has been known to make costly mistakes in his own zone, but he has come a long way since Jeff Blashill has taken over as coach of the Detroit Red Wings. He brings an element to the lineup that should be appreciated. Let's acknowledge his progress and consider that he is reliable to some degree now.
Wish the Best for Kindl, Andersson, and Jurco
Similar to Howard and Smith, it's easy to knock on the play of Jakub Kindl, Joakim Andersson, and Tomas Jurco this season. There have been a lot of calls to see prospects inserted in the lineup over them. Before demanding to see Xavier Ouellet or Anthony Mantha in the lineup, consider this: they are all still young and they have zero trade value if they are not playing well.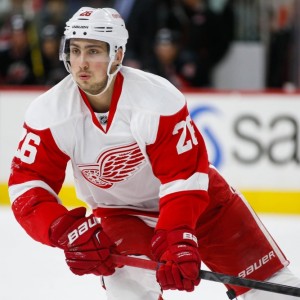 Jurco just turned 23. He has a lot of potential still and should not be let go unless he is part of a big trade to net a very talented player. He has also added a physical presence to compliment his offensive skills. Root for Jurco to play more and better in the coming months so the Red Wings can have an even deeper lineup.
Kindl and Andersson may not have futures with the Red Wings, but can hopefully play better to net the Red Wings something worthwhile in return if they were traded. In the salary cap world of the NHL, you cannot simply "get rid" of someone. Would you rather have nothing or something in exchange for these players? The answer is always "something." If these players can step up down the stretch, they can increase their worth and be traded at their peak value. Andersson's pending free agent status complicates things, but other year of having him as a depth piece wouldn't be the worst scenario.
Play Pond Hockey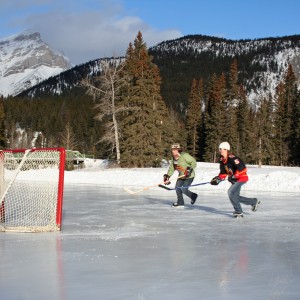 It is finally getting cold and approaching pond hockey weather in most of the northern states. One thing Detroit Red Wings fans should experience at least once this winter is the joy and excitement of playing pond hockey, especially with the Red Wings-Avalanche Stadium Series game coming up. Experience the sound of skates cutting into a freshly frozen and otherwise untouched pond. Experience cutting through the brisk air on a drive to the net. Don't experience falling in the pond though.
Playing pond hockey is something that should be on all hockey fans' bucket list. Make it happen.
Watch "The Brawl" Daily
On the topic of the Red Wings-Avalanche Stadium Series game, resolve to watch the 1997 brawl between the Detroit Red Wings and hated Colorado Avalanche at least once a day leading up to the outdoor game. Nothing will get you prepared for the alumni showdown and following NHL matchup like revisiting one of the highest points of the Red Wings-Avalanche rivalry.
If you cannot commit to a daily viewing of the brawl, once a week will suffice. Here is today's dose of your final Red Wings New Year's resolution:
Have a resolution of your own? Share below or tweet at us: @THW_RedWings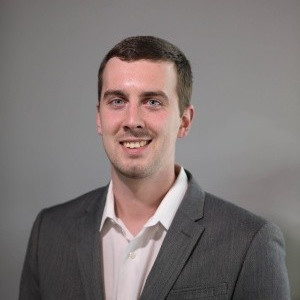 Tony Wolak is based in the Washington D.C. area and covers the Detroit Red Wings for THW. As a former junior and college hockey player, Tony has a unique perspective on Red Wings topics.