Following their Game 1 overtime loss to the Los Angeles Kings, the New Jersey Devils and their fans have a lot of reasons to be optimistic despite the fact that the Kings have become NHL road warriors — winning all nine of their games away from Staples Center this postseason. Some reasons are for those that like numbers and some are just an observation from watching every minute of every playoff game that New Jersey has played in 2012.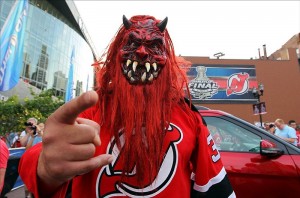 1) In their last two playoff rounds the Devils dropped Game 1 — in overtime against the Philadelphia Flyers and they were shutout against the New York Rangers. Both times they bounced back with a strong game and evened the series before their opponents could grab a commanding lead in the best-of-seven series. The coaching staff, led by Pete DeBoer has proven that they know how to make the right adjustments — tinkering with the line combinations or making lineup changes.
2) New Jersey played possibly their worst game of the entire playoffs in Game 1 against the Kings and yet they still were in a 1-1 game heading into the third period and heading into overtime. One bounce here or there and we could be talking about the Devils holding a 1-0 series lead and not the Kings.
3) To a man, all of the Devils players admitted that they were terrible, jumpy and nervous in Game 1. A few Kings players, notably Jarret Stoll and Rob Scuderi, declared after Game 1 that New Jersey was the best team that they have faced so far this postseason. Expect both teams to play a much better Game 2 — not meaning there will be a plethora of goals — just that the level of quality play will improve and the two teams will resemble those that ran through their respective conferences and got to the Finals.
4) The last road team to win Game 1 of the Stanley Cup Finals was the Calgary Flames, also coached by Darryl Sutter. His Flames lost a classic seven-game series to the Tampa Bay Lightning in 2004.
5) The last time Game 1 of the Finals went to overtime was 2002 — the Carolina Hurricanes beat the Detroit Red Wings in double overtime and then went on to lose the series in six games.
6) Finally, in their only other Finals appearance, the Kings won game 1 and then were crowned in four straight by the Montreal Canadiens.
Obviously the last three points are merely coincidental, but after losing Game 1 Devils fans need any glimmer of hope and reason for optimism that they can get — especially with two days off in between Games 1 & 2.
Dan Rice can be reached via Twitter: @DRdiablo321 or via email: drdiablo321@yahoo.com