After falling in the second round of the Stanley Cup Playoffs for the second year in a row, the Flyers are going to have some work to do. The team has 9 players with expiring contracts, this includes guys like Ian Laperriere and Blair Betts who will both likely retire due to injuries, and Harry Zolnierczyk and Tom Sestito who if resigned will spend a lot of time in the AHL next season. The next five players all saw significant ice time in the regular season and played in the playoffs.
Jaromir Jagr – Unrestricted Free Agent
The 40-year-old Jagr enjoyed a very good season spending the majority of it on the first line alongside All Stars Claude Giroux and Scott Hartnell. Jagr was given a lot of credit to the incredible growth shown by Giroux over the season as well as the performance of the many rookies the Flyers had on the ice on a nightly basis. With that being said, I can't see the Flyers resigning him. Jagr has said repeatedly that this season was the most fun he's ever had, including the Stanley Cups and Hart Trophy he's accumulated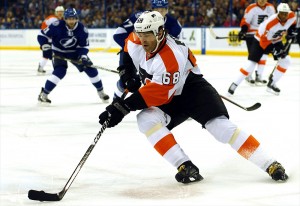 over his lengthy career. The future Hall-of-Famer made it sound like the only way he was coming back would be if head coach Peter Laviolette and General Manager Paul Holmgren would promise him a spot on the top line and top powerplay unit. With the way the other right wingers the Flyers have, Jakub Voracek and Wayne Simmonds, progressed last year I don't think it would be smart to give him that. While I think it would be great to have Jagr in orange and black for another year, I don't think it would be a smart decision and don't see the Flyers bringing him back.
Matt Carle – Unrestricted Free Agent
Carle is a very interesting case here. Ryan Suter is currently going to be the top defenseman on the open market July 1st, but if he resigns with the Nashville Predators or has his rights traded and then signs with another team, Carle would probably be the top blue liner of this summer's free agent class. At Holmgren's end of season press conference, he made it clear that he wanted to resign Carle and thought that his demands were reasonable for a player of his abilities. Carle had another good regular season and was one of the Flyers best defensemen in the playoffs, his average time on ice jumped by nearly two minutes in the playoffs. The only way I don't see Carle returning is if the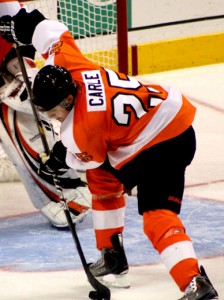 Flyers go out and sign Suter, Holmgren knows how important it is to have a puck moving defenseman and Carle fits that bill perfectly. Resigning him would give the Flyers a deep group of defensemen, assuming they remain healthy, even if Chris Pronger does not return from a concussion. I expect to see Carle back in Philadelphia next season.
Pavel Kubina – Unrestricted Free Agent
When the dust settled after the trade deadline, everybody thought Kubina was going to be the Flyers' most effective acquisition, the other being Nicklas Grossmann. Unfortunately for Kubina, he struggled to stay healthy during his tenure for the Flyers' while Grossmann became arguably the Flyers' top defenseman down the stretch. Keeping it simple, I don't think the Flyers will resign Kubina unless he is willing to take a significant pay cut and a role of either a sixth or seventh defenseman on this team. The only problem with that is there will likely be another team who is willing to offer him a slightly better role. I'm not saying it's out of the question, but Kubina probably won't be back next year.
Marc-Andre Bourdon – Restricted Free Agent
Coming into the playoffs Bourdon was playing some of his best hockey but a concussion in Game 1 of the series against the Pittsburgh Penguins ended his season. Not much of an update for Bourdon was ever given, but I would expect to see him back next year. Bourdon jumped ahead of Andreas Lilja on the depth chart and assuming he is healthy by the start of the season he will likely be in the lineup on opening night. Because he is a restricted free agent, I can't see the Flyers just letting him leave for another team. My guess would be the team signs him to a two or three year deal, he will be a very good player to have at the back end of the Flyers' defensive rotation.
Jakub Voracek – Restricted Free Agent
Keeping it short and to the point, Voracek needs to be signed to a three year deal this summer. Patrik Elias of the New Jersey Devils called Voracek the Flyers' second best offensive player, behind only Claude Giroux. Voracek was one of the most consistent performers on this team from opening night to Game 5 against the Devils. Assuming the Flyers don't go out and resign Jagr or sign a guy like Zach Parise, I think Voracek needs to be on the top line with Giroux and either James van Riemsdyk or Scott Hartnell. Voracek is currently only 22-years-old, he turns 23 in August. His potential development really has no ceiling. Having Jagr in the locker room was great for him this year, Voracek grew up in the same town Jagr did and dreamt of getting the chance of playing against him one day, never really thinking about potentially being on the same team. The lessons Voracek learned from Jagr are invaluable and can only help him in what should be a long and successful career. Expect to see a lot of Voracek in the future of this franchise.
Ryan is a student at Penn State and fanatic of all Philadelphia sports teams. He has written all through high school and college covering various different sports.