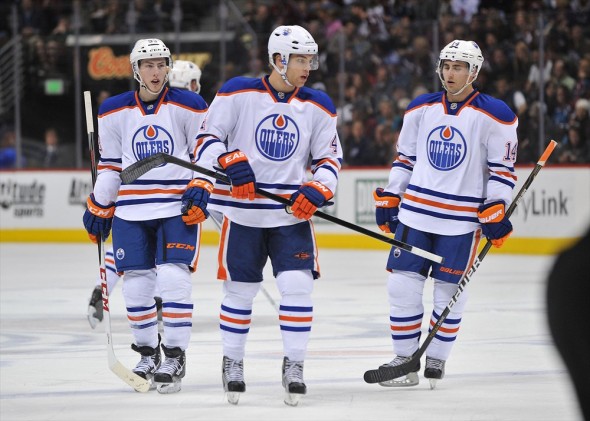 The decision on what to do with the number one pick in the upcoming National Hockey League Entry Draft may be an interesting one for the Edmonton Oilers.  The Oilers hold the first pick in the draft.   The question is should they pick the odds on favorite Nail Yakupov?  He is a dynamic young forward, but he does not fit the Oilers main need which is on defense.  There is numerous questions on how the Oilers need to handle this pick.  It is very important to the future success of the Oilers.
Some feel that they should trade the number one pick for a veteran defenseman.  Others feel that they should draft a young defenseman.  This team definitely has a great core of young talent.  The question is when will they gel into a playoff team?  The Oilers are extremely fun to watch, but they have had a hard time winning because of numerous defensive breakdowns.  Injuries have also slowed the ability for this team to come together.  There are numerous causes for the defensive breakdowns.  Lets face it, the defense is not very deep or talented.  The young forwards must also learn to play both ends of the ice.  An inexperienced defense needs a tremendous about of help from their forwards.
What options do the Oilers have?  They could trade the # 1 draft pick for a veteran defenseman.  They could draft the star prospect forward in Nail Yakupov, and then try to sign a free agent defenseman.  They could also draft Yakupov, and trade Sam Gagner for a veteran defenseman.  They could also overlook Yakupov, and draft a young defenseman such as Matt Dumba.  All these options have a lot of variables and risks.  The question is which option would be the most likely to result in success?
The old saying that a team drafting first should always pick the best available player holds true again this year.  Although the Oilers need defensive help.  It is almost impossible to not draft Nail Yakupov.  He is an amazing offensive talent, and combining him with the young stars the Oilers currently have would be down right deadly.  After drafting Yakupov the next move would be to try sign a free agent defenseman or two.  They need a strong veteran to show their young defensive core the ropes.  It is very common for defensive prospects to take longer to mature than forward prospects.  This being the case, it makes more sense to acquire a veteran defenseman.  The Oilers and their fans want results sooner rather than later.  This veteran defenseman can also be a mentor to the young defensive prospects in the Oilers system.  They have Oscar Klefban and David Musil working to move up into a roster spot.  It still looks like they are at least another year or two away.
Who should the Oilers aggressively seek as a free agent?  They have the cap space, but it is sometimes hard to lure superstar players to Edmonton.  It is now probably getting easier, as the Oilers continue to gather young offensive prospects, and the future looks bright.  There is a few defensive free agents that would be enticing.  The biggest one that everyone will be gunning for is Nashville star Ryan Suter.  This 27 year-old  would be an amazing pick-up for the Oilers.  It will be very tough to land Suter.  It is expected that Nashville will offer him a great package to stay.  There is also numerous other teams that are prepared to offer him a hefty salary.  The Philadelphia Flyers also have an unrestricted free agent in Matt Carle.  The Flyers will really need to resign him with the departure of Chris Pronger.  This will make it even more difficult for the Oilers to sign him.  The two remaining free agent defenseman may be a little more in reach for the Oilers.  Dennis Wideman of Washington Capitals and Barrett Jackman of the St. Louis Blues will also be unrestricted free agents.  Although it may be difficult to land one of these free agents.  I do believe that this option has the biggest upside for instant Oiler success.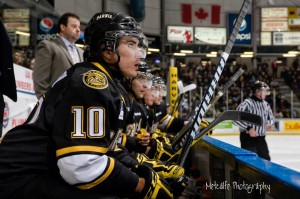 If the Oilers do not draft Yakupov it would be risky.  He is hands down the highest ranked prospect in the draft.  It would be real hard to watch Yakupov light up the league for another team.  All this as you wait for your young defensive prospect to mature into a solid blue liner.  Think of the young offensive core Edmonton will have if they select Yakupov.  The young offensive core would be Hemsky, Nugent-Hopkins, Hall, Eberle, Paajarvi, and now Yakupov.  Now that is scary.
It is important that the Oilers hire a defensive minded coach that will instill defensive responsibility into these young offensive superstars.  There has been numerous rumors that former Calgary benchman Brent Sutter will be the new man in Edmonton, but time will tell us if this is the plan.  With Nikolai Khabibulin on his last year of his contract, and questions if Devan Dubnyk is the goalie of the future for the Oilers.  It might not be a bad idea to start the goalie search also.
The Oilers need to draft Yakupov with the first pick, and do whatever it takes to start building a defensive core.  The future looks bright in Edmonton, but the fans are getting a little impatient.  It will definitely be an interesting off-season in Edmonton.