---
---
---
---
Trades change everything.
A dozen picks had changed hands at the time of this writing — a half-dozen landing in Vegas' lap — since I published a sneak peek for my mock entry draft on June 14. That includes three first-round picks and eight within the top 100 selections.
6th Annual NHL Mock Draft: 2017, Sneak Peek – https://t.co/9FaszmihAf #hockey #THW pic.twitter.com/EAEOetW0Yf

— The Hockey Writers (@TheHockeyWriter) June 14, 2017
All those changes, well, changed my plan.
Last year, I published my mock entry draft as a five-part series — Rounds 1, 2 and 3 separately, Rounds 4-7 combined, plus a team results recap.
I fully intended to do that again, complete with analysis and reasoning for each pick, along with the prospects' heights and weights (from the combine), regular season and playoff statistics, and their final rankings from eight trusted scouting services in NHL Central Scouting, ISS Hockey, Future Considerations, McKeen's Hockey, HockeyProspect.com, TSN's Bob McKenzie, TSN's Craig Button and Sportsnet's Jeff Marek.
However, once the trades started coming fast and furious over the last week, it was messing with my mock because different teams have different need and tendencies on draft weekend.
So I decided to focus my efforts on simply coming up with the best comprehensive list, which meant drastically overhauling my sneak peek mock.
Instead, I limited my sixth annual mock draft to just two parts — Rounds 1 to 7 all inclusive, that's 217 selections plus 197 honourable mentions for a total of 414 prospects that I have spent the past year researching, ranking and now attempting to draft based on what certain teams might want or need.
That's what a mock is all about. It's guess-work, especially with this year's draft being so wide open — such a crapshoot, really — and not as deep as the past couple editions. I have been overly critical of the 2017 draft class, going as far as to call it "weak" at times, but the more research I did, the more excited I got about the depth and some of the intriguing prospects that should be available outside of the top 100. This draft class could prove to be better than the pundits are giving it credit for.
The second part is a team results recap where I added a little insight and reasoning for the picks that stood out to me.
Fortunately, for the lack of analysis in this first part, my THW teammates have profiled more than 100 prospects for our 2017 NHL Draft Guide, which I highly recommend checking out to get the scoop on roughly half these players and the majority of my selections from the first three rounds.
The #NHLDraft is coming! Our #NHL prospect experts have filled the #THW Draft Guide with over 100 detailed profiles. https://t.co/AHXZfjrOyw pic.twitter.com/NwVpuWz1UJ

— The Hockey Writers (@TheHockeyWriter) June 14, 2017
Without further ado, here is my revised mock for the 2017 NHL entry draft:
First Round
1) New Jersey Devils — Nolan Patrick (C, Brandon, WHL)
2) Philadelphia Flyers — Nico Hischier (C/LW, Halifax, QMJHL)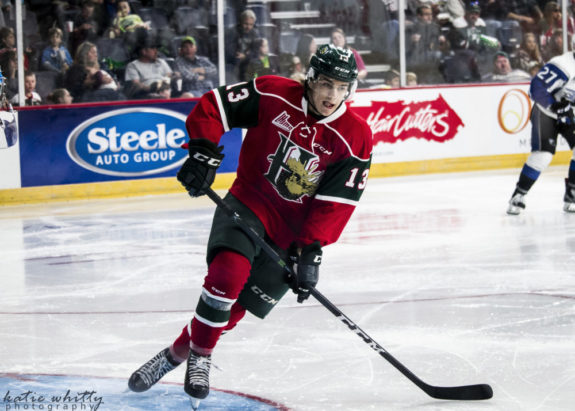 3) Dallas Stars — Miro Heiskanen (LHD, HIFK, Finland)
4) Colorado Avalanche — Cale Makar (RHD, Brooks, AJHL)
5) Vancouver Canucks — Cody Glass (C, Portland, WHL)
6) Vegas Golden Knights — Gabe Vilardi (C, Windsor, OHL)
7) Arizona Coyotes — Timothy Liljegren (RHD, Rogle, Sweden)
8) Buffalo Sabres — Owen Tippett (RW, Mississauga, OHL)
9) Detroit Red Wings — Elias Pettersson (C/LW, Timra IK, Sweden)
10) Florida Panthers — Casey Mittelstadt (C, Green Bay, USHL)
11) Los Angeles Kings — Lias Andersson (C/LW, HV71, Sweden)
12) Carolina Hurricanes — Kristian Vesalainen (LW, Frolunda J20, Finland)
13) Vegas Golden Knights (from Winnipeg) — Klim Kostin (RW, Dynamo Moscow, Russia)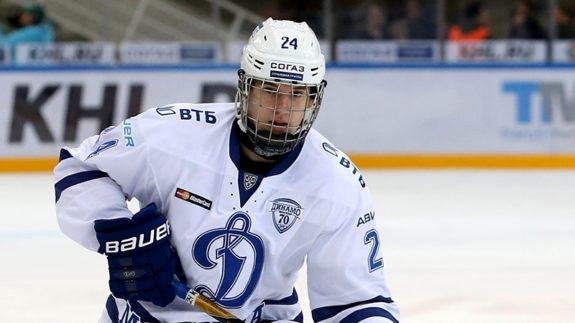 14) Tampa Bay Lightning — Martin Necas (C/RW, Kometa Brno, Czech Republic)
15) Vegas Golden Knights (from N.Y. Islanders) — Cal Foote (RHD, Kelowna, WHL)
16) Calgary Flames — Eeli Tolvanen (LW, Sioux City, USHL)
17) Toronto Maple Leafs — Nick Suzuki (C, Owen Sound, OHL)
18) Boston Bruins — Michael Rasmussen (C, Tri-City, WHL)
19) San Jose Sharks — Ryan Poehling (C, St. Cloud State, NCAA)
20) St. Louis Blues — Erik Brannstrom (LHD, HV71, Sweden)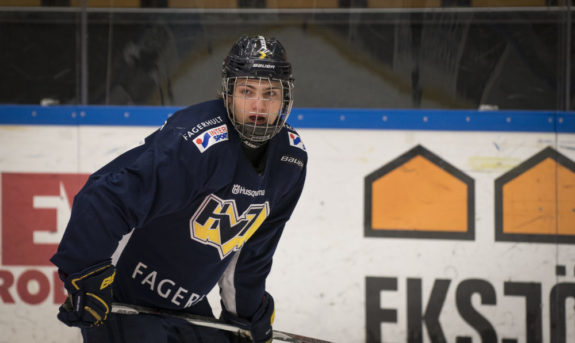 21) New York Rangers — Josh Norris (C, U.S. U18, NTDP)
22) Edmonton Oilers — Kailer Yamamoto (RW, Spokane, WHL)
23) Arizona Coyotes (from Minnesota) — Urho Vaakanainen (LHD, JYP, Finland)
24) Winnipeg Jets (from Columbus via Vegas) — Juuso Valimaki (LHD, Tri-City, WHL)
25) Montreal Canadiens — Nic Hague (LHD, Mississauga, OHL)
26) Chicago Blackhawks — Henri Jokiharju (RHD, Portland, WHL)
27) St. Louis Blues (from Washington) — Filip Chytil (C, ZPS Zlin, Czech Republic)
28) Ottawa Senators — Robert Thomas (C, London, OHL)
29) Dallas Stars (from Anaheim) — Jake Oettinger (G, Boston University, NCAA)
https://twitter.com/StatsOverGrits/status/875403225540829186
30) Nashville Predators — Kole Lind (RW, Kelowna, WHL)
31) Pittsburgh Penguins — Connor Timmins (RHD, Sault Ste. Marie, OHL)
Second Round
32) Colorado Avalanche — Pierre-Olivier Joseph (LHD, Charlottetown, QMJHL)
33) Vancouver Canucks — Jaret Anderson-Dolan (C/LW, Spokane, WHL)
34) Vegas Golden Knights — Mike DiPietro (G, Windsor, OHL)
35) Arizona Coyotes — Jason Robertson (LW, Kingston, OHL)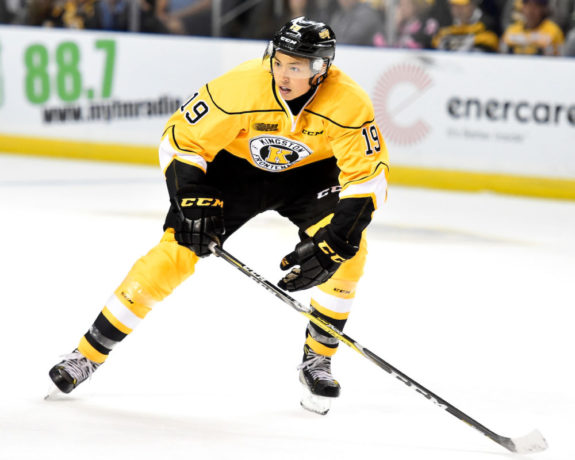 36) New Jersey Devils — Isaac Ratcliffe (LW, Guelph, OHL)
37) Buffalo Sabres — Max Gildon (LHD, U.S. U18, NTDP)
38) Detroit Red Wings — Ostap Safin (LW, Sparta Prague, Czech Republic)
39) Dallas Stars — Nikita Popugaev (LW, Prince George, WHL)
40) Florida Panthers — Joni Ikonen (C, Frolunda J20, Finland)
41) Los Angeles Kings — Robin Salo (LHD, Vassan Sport, Finland)
42) Carolina Hurricanes — Ukko-Pekka Luukkonen (G, HPK U20, Finland)
43) Winnipeg Jets — Josh Brook (RHD, Moose Jaw, WHL)
44) Philadelphia Flyers — Mackenzie Entwistle (C/RW, Hamilton, OHL)
45) Vegas Golden Knights (from Tampa Bay) — Maxime Comtois (LW/C, Victoriaville, QMJHL)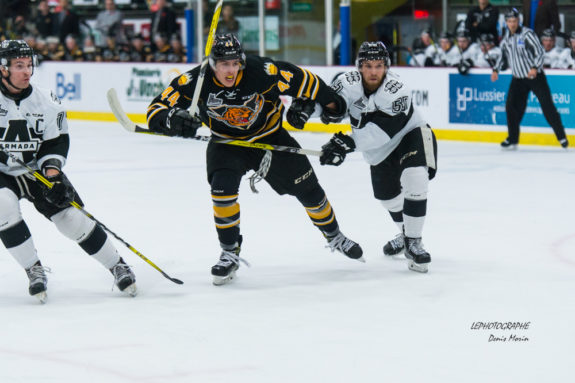 46) New York Islanders — Shane Bowers (C, Waterloo, USHL)
47) Ottawa Senators (from Calgary) — Scott Reedy (C/LW, U.S. U18, NTDP)
48) Tampa Bay Lightning (from Toronto) — Alexei Lipanov (C, MVD Balashikha, Russia)
49) San Jose Sharks (from Boston via New Jersey) — Grant Mismash (RW, U.S. U18, NTDP)
50) Anaheim Ducks (from San Jose via Toronto) — Keith Petruzzelli (G, Muskegon, USHL)
51) St. Louis Blues — Matthew Strome (LW, Hamilton, OHL)
52) Carolina Hurricanes (from N.Y. Rangers) — Aleksi Heponiemi (C/LW, Swift Current, WHL)
53) Boston Bruins (from Edmonton) — Antoine Morand (C/LW, Acadie-Bathurst, QMJHL)
54) Buffalo Sabres (from Minnesota) — David Farrance (LHD, U.S. U18, NTDP)
55) Vancouver Canucks (from Columbus) — Jesper Boqvist (LW/C, Brynas, Sweden)
56) Montreal Canadiens — Morgan Frost (C, Sault Ste. Marie, OHL)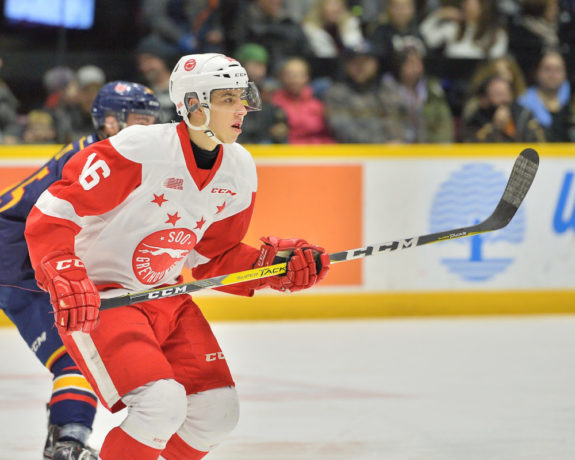 57) Chicago Blackhawks — Ivan Lodnia (RW, Erie, OHL)
58) Montreal Canadiens (from Washington) — Adam Ruzicka (C, Sarnia, OHL)
59) Toronto Maple Leafs (from Ottawa) — Alex Formenton (LW, London, OHL)
60) Anaheim Ducks — Nick Henry (RW, Regina, WHL)
61) Nashville Predators — Evan Barratt (C/RW, U.S. U18, NTDP)
62) Vegas Golden Knights (from Pittsburgh via Carolina) — Cale Fleury (RHD, Kootenay, WHL)
Third Round
63) New Jersey Devils (from Colorado) — Dayton Rasmussen (G, Chicago, USHL)
64) Vancouver Canucks — Marcus Davidsson (C, Djugardens, Sweden)
65) Vegas Golden Knights — Stelio Mattheos (RW, Brandon, WHL)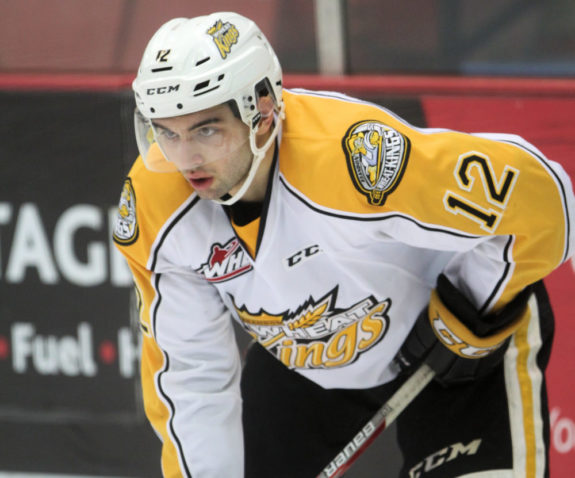 66) Florida Panthers (from Arizona) — Luke Martin (RHD, Michigan, NCAA)
67) Carolina Hurricanes (from New Jersey) — Jonah Gadjovich (LW, Owen Sound, OHL)
68) Montreal Canadiens (from Buffalo) — Mikey Anderson (LHD, Waterloo, USHL)
69) Arizona Coyotes (from Detroit via San Jose) — Linus Nyman (RW, Kingston, OHL)
70) Dallas Stars — Jonas Ronbjerg (RW, Vaxjo J20, Sweden)
71) Detroit Red Wings (from Florida) — Fabian Zetterlund (C/RW, Farjestad J20, Sweden)
72) Los Angeles Kings — Eemeli Rasanen (LHD, Kingston, OHL)
73) Carolina Hurricanes — Markus Phillips (LHD, Owen Sound, OHL)
74) Winnipeg Jets — Ian Mitchell (RHD, Spruce Grove, AJHL)
75) Philadelphia Flyers — Reilly Walsh (RHD, Chicago, USHL)
76) Tampa Bay Lightning — Maksim Zhukov (G, Green Bay, USHL)
77) New York Islanders — Jarret Tyszka (RHD, Seattle, WHL)
78) Arizona Coyotes (from Calgary) — Dmitri Samorukov (LHD, Guelph, OHL)
79) Detroit Red Wings (from Toronto) — Morgan Geekie (C, Tri-City, WHL)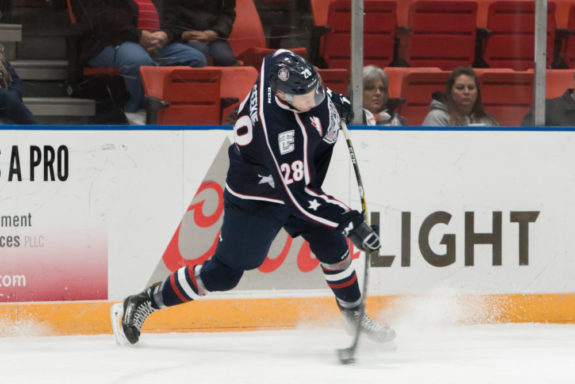 80) Philadelphia Flyers (from Boston) — Jordy Bellerive (C/LW, Lethbridge, WHL)
81) San Jose Sharks — Ian Scott (G, Prince Albert, WHL)
82) Edmonton Oilers (from St. Louis) — Sasha Chmelevski (C, Ottawa, OHL)
83) Detroit Red Wings (from N.Y. Rangers) — Mason Shaw (C, Medicine Hat, WHL)
84) Edmonton Oilers — Kirill Slepets (RW/LW, Loko Yaroslavl, Russia)
85) Minnesota Wild — Dylan Samberg (LHD, Hermantown, U.S. High School)
86) Columbus Blue Jackets — Joel Teasdale (LW, Blainville-Boisbriand, QMJHL)
87) Montreal Canadiens — Alexandre Texier (C, Grenoble, France)
Love that Alexander Texier was high on Bob McKenzies list. A top 50 guy on my list who is such a wild card in this years draft.

— Brayden Sullivan (@SullyDraftGeek) June 20, 2017
88) Detroit Red Wings (from Chicago) — Filip Westerlund (RHD, Frolunda, Sweden)
89) Buffalo Sabres (from Washington) — Cayden Primeau (G, Lincoln, USHL)
90) Chicago Blackhawks (from Ottawa via Carolina) — Kirill Maksimov (RW, Niagara, OHL)
91) Anaheim Ducks — Cameron Crotty (RHD, Brockville, CJHL)
92) Nashville Predators — Tim Soderlund (LW/C, Skelleftea, Sweden)
93) Pittsburgh Penguins — Pavel Koltygin (LW, Drummondville, QMJHL)
Fourth Round
94) Colorado Avalanche — Nate Schnarr (C, Guelph, OHL)
95) Vancouver Canucks — Noel Hoefenmayer (LHD, Ottawa, OHL)
96) Vegas Golden Knights — Jake Leschyshyn (C, Regina, WHL)
97) Minnesota Wild (from Arizona) — Alexei Toropchenko (LW, HK MVD, Russia)
98) New Jersey Devils — Artyom Minulin (RHD, Swift Current, WHL)
99) Buffalo Sabres — Nate Knoepke (LHD, U.S. U18, NTDP)
100) Detroit Red Wings — Emil Westerlund (LW/RW, Linkoping J20, Sweden)
101) Dallas Stars — Patrick Khodorenko (C, Michigan State, NCAA)
102) New York Rangers (from Florida) — Tyler Inamoto (LHD, U.S. U18, NTDP)
103) Los Angeles Kings — Jack Studnicka (C, Oshawa, OHL)
104) Carolina Hurricanes — Eetu Luostarinen (C, KalPa, Finland)
https://twitter.com/marco_bombino/status/875757808649732097
105) Winnipeg Jets — Skyler McKenzie (LW, Portland, WHL)
106) Philadelphia Flyers — Lane Zablocki (RW, Red Deer, WHL)
107) Philadelphia Flyers (from Tampa Bay) — Tyler Steenbergen (C, Swift Current, WHL)
108) Philadelphia Flyers (from N.Y. Islanders) — Jayden Halbgewachs (LW, Moose Jaw, WHL)
109) Calgary Flames — Mario Ferraro (LHD, Des Moines, USHL)
110) Toronto Maple Leafs — Lukas Elvenes (RW, Rogle, Sweden)
111) Boston Bruins — Zach Gallant (C, Peterborough, OHL)
112) Vancouver Canucks (from San Jose) — Scott Walford (LHD, Victoria, WHL)
113) St. Louis Blues — Ivan Chekhovich (LW, Baie-Comeau, QMJHL)
https://twitter.com/OppenheimerEvan/status/866385140070723584
114) Colorado Avalanche (from N.Y. Rangers) — Stuart Skinner (G, Lethbridge, WHL)
115) Edmonton Oilers — Dylan Ferguson (G, Kamloops, WHL)
116) Minnesota Wild — Michael Pastujov (RW, U.S. U18, NTDP)
117) Columbus Blue Jackets — Kasper Kotkansalo (LHD, Sioux Falls, USHL)
118) Los Angeles Kings (from Montreal via Dallas) — Mark Rubinchik (LHD, Saskatoon, WHL)
119) Chicago Blackhawks — Pavel Shen (C, Khanty-Mansiysk, Russia)
120) Washington Capitals — Yaroslav Alexeyev (LW, Sherbrooke, QMJHL)
121) Ottawa Senators — Adam Ahman (G, HV71 J20, Sweden)
122) Anaheim Ducks — Rickard Hugg (C, Leksand J20, Sweden)
123) San Jose Sharks (from Nashville via New Jersey) — Tommy Miller (RHD, U.S. U18, NTDP)
124) Toronto Maple Leafs (from Pittsburgh) — Dylan Coghlan (RHD, Tri-City, WHL)
Fifth Round
125) Colorado Avalanche — Ben Mirageas (LHD, Bloomington, USHL)
126) Edmonton Oilers (from Vancouver) — Zach Solow (C/RW, Dubuque, USHL)
127) Vegas Golden Knights — Ty Lewis (LW, Brandon, WHL)
128) Arizona Coyotes — Noah Cates (C/LW, Omaha, USHL)
129) New Jersey Devils — Jack Badini (C, Chicago, USHL)
Jack Badini led all players in Clark Cup Playoffs scoring with 17 points #ClarkCup 🏆 pic.twitter.com/1fyGJbFa0A

— USHL (@USHL) May 24, 2017
130) St. Louis Blues (from Buffalo) — Kyle Olson (RW, Tri-City, WHL)
131) Detroit Red Wings — Sebastian Walfridsson (LHD, Modo, Sweden)
132) Dallas Stars — Emil Bemstrom (C/RW, Leksand J20, Sweden)
133) Florida Panthers — Alex D'Orio (G, Saint John, QMJHL)
134) Los Angeles Kings — Jack Ahcan (LHD, St. Cloud State, NCAA)
135) Chicago Blackhawks (from Carolina) — Igor Shvyryov (C, Stalnye Lisi, Russia)
136) Winnipeg Jets — Jan Kern (LW/C, Sparta Praha J20, Czech Republic)
137) Philadelphia Flyers — Vladimir Kuznetsov (LW/RW, Acadie-Bathurst, QMJHL)
Big night for Vladimir Kuznetsov who somehow went undrafted last June. Have a feeling he'll find an NHL suitor the second time around. https://t.co/1M8NEGtFS7

— Mark Bowie (@bowiepuck) February 18, 2017
138) Los Angeles Kings (from Tampa Bay) — Brennan Menell (RHD, Lethbridge, WHL)
139) New York Islanders — Jack Rathbone (LHD, Dexter, U.S. High School)
140) Calgary Flames — Jack Dugan (C, Northwood, U.S. High School)
141) Toronto Maple Leafs — Georgi Ivanov (C, Loko Yaroslavl, Russia)
142) Vegas Golden Knights (from Boston via Carolina) — Marian Studenic (RW, Hamilton, OHL)
143) New Jersey Devils (from San Jose) — Logan Cockerill (RW, U.S. U18, NTDP)
144) Chicago Blackhawks (from St. Louis) — Ivan Kosorenkov (RW, Victoriaville, QMJHL)
145) New York Rangers — Phil Kemp (RHD, U.S. U18, NTDP)
146) Edmonton Oilers — Cole Guttman (C/RW, Dubuque, USHL)
147) Minnesota Wild — Olle Eriksson Ek (G, Farjestad J20, Sweden)
148) Columbus Blue Jackets — Antoine Crete-Belzile (LHD, Blainville-Boisbriand, QMJHL)
149) Montreal Canadiens — Clayton Phillips (LHD, Fargo, USHL)
150) Chicago Blackhawks — Alexander Polunin (RW, Lokomotiv, Russia)
151) Washington Capitals — Tobias Geisser (LHD, EV Zug, Switzerland)
152) Pittsburgh Penguins (from Ottawa) — Linus Weissbach (LW, Tri-City, USHL)
153) Anaheim Ducks — Jonathan Smart (LHD, Regina, WHL)
154) Nashville Predators — Kalle Miketinac (C, Frolunda HC J20, Sweden)
155) Pittsburgh Penguins — Denis Smirnov (LW, Penn State, NCAA)
Sixth Round
156) Colorado Avalanche — Maksim Sushko (RW, Owen Sound, OHL)
157) New York Rangers (from Vancouver) — Kirill Ustimenko (G, MHK Dynamo St. Petersburg, Russia)
158) Vegas Golden Knights — John St. Ivany (RHD, Sioux Falls, USHL)
159) San Jose Sharks (from Arizona) — Daniil Skorikov (RW, Ufa, Russia)
160) New Jersey Devils — Malte Setkov (LHD, Malmo J20, Sweden)
DT: Other underrated guys: Kailer Yamamoto, Shaw Boomhower, Malte Setkov, Emil Westerlund, P-O Joseph, Cayden Primeau & Kirill Maksimov!

— North American Central Scouting Independent Bureau (@MarkSeidel) May 18, 2017
161) Vegas Golden Knights (from Buffalo) — Daniil Tarasov (G, Ufa, Russia)
162) Detroit Red Wings — Finn Evans (RW, St. Michael's, OJHL)
163) Dallas Stars — Gustav Lindstrom (RHD, Almtuna, Sweden)
164) Detroit Red Wings (from Florida) — Dmitry Rodionychev (RHD, Nizhny Novgorod, Russia)
165) Los Angeles Kings — Zach Sawchenko (G, Moose Jaw, WHL)
166) Carolina Hurricanes — Sami Moilanen (RW, Seattle, WHL)
167) Winnipeg Jets — Jakub Galvas (LHD, HC Olomouc, Czech Republic)
168) Philadelphia Flyers — Isaac Johnson (LW, Des Moines, USHL)
169) Tampa Bay Lightning — Jonatan Asplund (LHD, Djurgardens J20, Sweden)
170) Chicago Blackhawks (from N.Y. Islanders) — Tomas Vomacka (G, Corpus Christi, NAHL)
171) Calgary Flames — Matteo Gennaro (C/LW, Calgary, WHL)
172) Toronto Maple Leafs — Giorgio Estephan (C/RW, Lethbridge, WHL)
173) Boston Bruins — Samuel Bucek (LW, Shawinigan, QMJHL)
174) San Jose Sharks — Stephen Dhillon (G, Niagara, OHL)
An annual tradition, Stephen Dhillon, Drake Rymsha, & Kevin Hancock lead my top 10 "re-entries" for the 2017 Draft. https://t.co/IHFZDLoiGk

— OHL Prospects (@BrockOtten) April 16, 2017
175) St. Louis Blues — Daniel Bukac (RHD, Brandon, WHL)
176) Nashville Predators (from N.Y. Rangers) — Griffin Mendel (LHD, Penticton, BCHL)
177) Edmonton Oilers — Brannon McManus (C/RW, Chicago, USHL)
178) Minnesota Wild — Austin Pratt (RW, Red Deer, WHL)
179) Columbus Blue Jackets — Greg Meireles (C, Kitchener, OHL)
180) Tampa Bay Lightning (from Montreal) — Robbie Stucker (RHD, St. Thomas Academy, U.S. High School)
181) Chicago Blackhawks — Brendan De Jong (LHD, Portland, WHL)
182) Washington Capitals — Jan Drozg (RW/LW, Leksand J20, Sweden)
183) Ottawa Senators — Kevin Hancock (C, Owen Sound, OHL)
184) Florida Panthers (from Anaheim) — Pius Suter (C/LW, ZSC Lions, Switzerland)
185) New Jersey Devils (from Nashville) — Adam Thilander (RHD, North Bay, OHL)
186) Pittsburgh Penguins — Carson Meyer (RW, Miami University, NCAA)
Seventh Round
187) Colorado Avalanche — D'Artagnan Joly (RW, Baie-Comeau, QMJHL)
188) Vancouver Canucks — Patrick Bajkov (RW, Everett, WHL)
189) Vegas Golden Knights — Dylan St. Cyr (G, U.S. U18, NTDP)
2017 NHL Draft Sleeper Pick: Dylan St. Cyr
Small, but very competitive & smart goalie. Handles the puck better than most. Hybrid-style.

— ISS Hockey (@ISShockey) May 9, 2017
190) Arizona Coyotes — Jeremy Swayman (G, Sioux Falls, USHL)
191) New Jersey Devils — Brady Lyle (RHD, North Bay, OHL)
192) Buffalo Sabres — Shaw Boomhower (LW, Mississauga, OHL)
193) Detroit Red Wings — Jiri Patera (G, Budejovice, Czech Republic)
194) Dallas Stars — Dereck Baribeau (G, Quebec, QMJHL)
195) Boston Bruins (from Florida) — Thomas Gregoire (RHD, Sherbrooke, QMJHL)
196) Tampa Bay Lightning (from Los Angeles) — Maxime Fortier (RW/C, Halifax, QMJHL)
197) Carolina Hurricanes — Santeri Virtanen (C, TPS J20, Finland)
198) Winnipeg Jets — Drake Rymsha (C, Sarnia, OHL)
199) Philadelphia Flyers — Scooter Brickey (RHD, Des Moines, USHL)
200) Philadelphia Flyers (from Tampa Bay) — Nicky Leivermann (LHD, Bloomington, USHL)
201) New York Islanders — Andrei Altybarmakyan (RW, LVY St. Petersburg, Russia)
202) Calgary Flames — Vladislav Yeryomenko (RHD, Calgary, WHL)
203) Toronto Maple Leafs — Joseph Raaymakers (G, Sault Ste. Marie, OHL)
204) Boston Bruins — Matt Kiersted (LHD, Chicago, USHL)
205) San Jose Sharks — Ryan Peckford (LW, Victoria, WHL)
206) St. Louis Blues — Kyle Maksimovich (RW, Erie, OHL)
207) New York Rangers — Sean Dhooghe (C, U.S. U18, NTDP)
Meet underdog @Sean_Dhooghe, who hopes to be among those chosen in the NHL Draft. My latest for @NYTSports https://t.co/z92Rt70ugw

— Jeff Arnold (@JeffArnold_) June 22, 2017
208) Edmonton Oilers — Parker Foo (LW, Brooks, AJHL)
209) Minnesota Wild — Jesse Bjugstad (LHD, Stillwater, U.S. High School)
210) Columbus Blue Jackets — Mick Messner (LW, Madison, USHL)
211) Winnipeg Jets (from Montreal) — Brinson Pasichnuk (LHD, Arizona State, NCAA)
212) San Jose Sharks (from Chicago) — Jake Christiansen (LHD, Everett, WHL)
213) Washington Capitals — Vladislav Sukhachyov (G, Chelmet Chelyabinsk, Russia)
214) San Jose Sharks (from Ottawa) — Nolan Kneen (RHD, Kamloops, WHL)
215) Chicago Blackhawks (from Anaheim) — Otto Latvala (RHD, HPK J20, Finland)
216) Nashville Predators — Veini Vehvilainen (G, JYP, Finland)
217) Pittsburgh Penguins — Skyler Brind'Amour (C, Selects Academy, U.S. High School)
---
Honourable Mentions (197 total, by position, in alphabetical order)
Forwards (111)
Jack Adams (RW, Fargo, USHL)
Justin Addamo (C/RW, Lone Star, NAHL)
Justin Almeida (C/LW, Moose Jaw, WHL)
Lucas Andersen (LW/RW, Rodovre, Denmark)
Corey Andonovski (RW, St. Andrew's College, Canada High School)
Nikita Anokhovsky (C, Loko Yaroslavl, Russia)
Egor Babenko (RW, Lethbridge, WHL)
Akash Bains (LW, Red Deer, WHL)
Morgan Barron (C, St. Andrew's College, Canada High School)
Drake Batherson (C, Cape Breton, QMJHL)
Kirill Belyayev (LW/RW, Yugra Khanty-Mansiysk, Russia)
Lucas Boka (RW, Windsor, OHL)
Shawn Boudrias (RW, Gatineau, QMJHL)
Ryan Bowen (RW, Lethbridge, WHL)
Justin Brazeau (RW, North Bay, OHL)
Brayden Burke (LW, Moose Jaw, WHL)
Nick Campoli (C, North York, OJHL)
Macauley Carson (LW, Sudbury, OHL)
Lucas Chiodo (LW, Barrie, OHL)
Domenic Commisso (C, Oshawa, OHL)
Colt Conrad (C, Western Michigan, NCAA)
Cole Coskey (LW, Saginaw, OHL)
Louis-Filip Cote (LW, Quebec, QMJHL)
Jack Cowell (C, Kelowna, WHL)
Brett Davis (C, Kootenay, WHL)
Adam Dawe (RW/C, Notre Dame, SJHL)
Connor Dewar (LW/C, Everett, WHL)
Bobby Dow (C/RW, Kemptville, Canada High School)
Konstantin Dubin (LW, Stalnye Lisy, Russia)
Arnaud Durandeau (LW, Halifax, QMJHL)
Jaroslav Dvorak (F, Hradec Kralove J20, Czech Republic)
Zach Fischer (RW, Medicine Hat, WHL)
Trey Fix-Wolansky (RW, Edmonton, WHL)
Joseph Garreffa (C/LW, Kitchener, OHL)
Glenn Gawdin (C/RW, Swift Current, WHL)
Emils Gegeris (W, HK Riga, Latvia)
Max Gerlach (RW, Medicine Hat, WHL)
Brady Gilmour (C, Saginaw, OHL)
Adam Goodsir (F, Tri-City, USHL)
Andrei Grishakov (F, Calgary, WHL)
James Hamblin (C/LW, Medicine Hat, WHL)
Santeri Hartikainen (C/LW, Groton School, U.S. High School)
Liam Hawel (C, Guelph, OHL)
Jan Hladonik (C, Trinec Jr., Czech Republic)
Dawson Holt (RW/C, Vancouver, WHL)
Kale Howarth (C, Trail, BCHL)
Patrik Hrehorcak (LW, Trinec J20, Czech Republic)
Sam Huff (C, Maple Grove, U.S. High School)
Ryan Hughes (F, Portland, WHL)
Hunter Johannes (RW, Eden Prairie, U.S. High School)
Ben Jones (C, Niagara, OHL)
Mark Kastelic (C, Calgary, WHL)
Jordan Kawaguchi (C, Chilliwack, BCHL)
Austen Keating (C/LW, Ottawa, OHL)
Parker Kelly (C/LW, Prince Albert, WHL)
Davis Koch (RW, Edmonton, WHL)
Nikita Korostelev (RW/LW, Peterborough, OHL)
Jesse Koskenkorva (C, Karpat J20, Finland)
Ivan Kozlov (C/LW, Val-d'Or, QMJHL)
Renars Krastenbergs (W, Oshawa, OHL)
Adam Kubik (F, Kladno, Czech Republic)
Daniel Kurovsky (LW, Vitkovice, Czech Republic)
Jakub Lacka (LW, Trinec J20, Czech Republic)
Philip Lagunov (C, Burlington, OJHL)
Dominik Lakatos (C, Liberac, Czech Republic)
Brett Leason (C, Tri-City, WHL)
Joona Luoto (LW/RW, Tappara, Finland)
Otto Makinen (C, Sault Ste. Marie, OHL)
James Malm (LW/C, Vancouver, WHL)
Igor Martynov (RW, Belarus U20, Belarus)
Maxim Marushev (C, Irbis Kazan, Russia)
Ryan McGregor (C/LW, Sarnia, OHL)
Jacob McGrew (F, Spokane, WHL)
Nick McHugh (LW, Kitchener, OHL)
Ethan McIndoe (C/LW, Spokane, WHL)
Marc McLaughlin (F, Cedar Rapids, USHL)
Denis Mikhnin (RW, Rimouski, QMJHL)
Micah Miller (C/RW, Sioux City, USHL)
Bryce Misley (C, Oakville, OJHL)
Maxim Mizyurin (C, Val-d'Or, QMJHL)
Emil Oksanen (RW/LW, Espoo United, Finland)
Kohen Olischefski (RW, Chilliwack, BCHL)
Linus Olund (C, Brynas, Sweden)
Alexander Oskin (RW, Tolpar Ufa, Russia)
Petrus Palmu (LW/RW, Owen Sound, OHL)
Josh Paterson (C, Saskatoon, WHL)
Alexander Pavlenko (RW, Yekaterinburg, Russia)
Jakub Pour (RW, Plzen J20, Czech Republic)
Matthew Quercia (F, Sioux City, USHL)
Mark Rassell (LW, Medicine Hat, WHL)
Zachary Roberts (LW, Owen Sound, OHL)
Kristian Roykas-Marthinsen (LW, Almtuna J20, Sweden)
Dylan Seitz (C, Kitchener, OHL)
Brendan Semchuk (RW, Vancouver, WHL)
Barrett Sheen (LW, Kootenay, WHL)
Simon Stransky (LW, Prince Albert, WHL)
Andrei Svetlakov (C, CSKA, Russia)
Nick Swaney (RW/C, Waterloo, USHL)
Marcus Sylvegard (RW/LW, Malmo J20, Sweden)
Aarne Talvitie (C, Blues J20, Finland)
Tyce Thompson (C, Dubuque, USHL)
Jacob Tortora (LW, U.S. U18, NTDP)
Artur Tyanulin (RW, Ottawa, OHL)
Kirill Urakov (F, Torpedo Nizhny Novgorod, Russia)
Anton Vasilyev (LW, Dynamo St. Petersburg, Russia)
Daniil Vertiy (LW, North Bay, OHL)
Alexander Volkov (LW, SKA St. Petersburg, Russia)
Daniil Vovchenko (RW, Cherepovets, Russia)
Erik Walli Walterholm (RW, Djurgardens J20, Sweden)
Matthew Wedman (C, Seattle, WHL)
Josh Wilkins (C, Providence College, NCAA)
Defencemen (59)
Grant Anderson (RHD, Wayzata, U.S. High School)
Matt Anderson (LHD, Green Bay, USHL)
Axel Arnred (LHD, Stanstead College, Canada High School)
Venyamin Baranov (LHD, Dynamo St. Petersburg, Russia)
Alexis Binner (LHD, Green Bay, USHL)
Anton Bjorkman (LHD, Linkoping J20, Sweden)
Ian Blacker (LHD, Oshawa, OHL)
Martin Bodak (RHD, Tappara J20, Finland)
Matt Brassard (RHD, Oshawa, OHL)
Alec Capstick (LHD, Langley, BCHL)
Jocktan Chainey (LHD, Halifax, QMJHL)
Hugo Danielsson (LHD, Skelleftea J20, Sweden)
Dawson Davidson (LHD, Regina, WHL)
Hayden Davis (RHD, Saginaw, OHL)
Tory Dello (RHD, Notre Dame, NCAA)
Stephen Desrocher (LHD, Kingston, OHL)
Sean Durzi (RHD, Owen Sound, OHL)
Walter Flower (RHD, Halifax, QMJHL)
Noah Ganske (RHD, Bloomington Jefferson, U.S. High School)
Oliver Gatz-Nielsen (LHD, Herning, Denmark)
Leon Gawanke (RHD, Cape Breton, QMJHL)
Jacob Golden (LHD, London, OHL)
Brayden Gorda (LHD, Edmonton, WHL)
Fedor Gordeev (LHD, Flint, OHL)
Alex Green (RHD, Lincoln, USHL)
Corson Green (LHD, Chicago, USHL)
Matthew Hellickson (LHD, Sioux City, USHL)
Mac Hollowell (RHD, Sault Ste. Marie, OHL)
Michael Karow (LHD, Youngstown, USHL)
Matthew Kellenberger (RHD, Oakville, OJHL)
Juho Korhonen (LHD, Karpat J20, Finland)
Dakota Krebs (RHD, Tri-City, WHL)
David Kvasnicka (LHD, Plzen J20, Czech Republic)
Oliver Joakim Larsen (RHD, Odense, Denmark)
Zach Lauzon (LHD, Rouyn-Noranda, QMJHL)
Simon Le Coultre (LHD, Moncton, QMJHL)
Graham Lillibridge (LHD, Chicago, USHL)
William Lindgren (LHD, Orebro HK J20, Sweden)
Max Martin (LHD, Prince Albert, WHL)
Dalimil Mikyska (LHD, Kometa Brno J20, Czech Republic)
David Noel (LHD, Val-d'Or, QMJHL)
Ryan O'Connell (LHD, St. Andrew's College, Canada High School)
Reagan O'Grady (RHD, Sudbury, OHL)
Brayden Pachal (RHD, Prince Albert, WHL)
Jacob Paquette (LHD, Kingston, OHL)
Semyon Perelyayev (LHD, Ladia Togliatti, Russia)
Matteo Pietroniro (LHD, Baie-Comeau, QMJHL)
Dylan Plouffe (LHD, Vancouver, WHL)
Kristians Rubins (LHD, Medicine Hat, WHL)
Radim Salda (LHD, Hradec Kralove J20, Czech Republic)
Carson Sass (LHD, Red Deer, WHL)
Gleb Shutov (LHD, Omskie Yastreby, Russia)
Jakub Sirota (LHD, Cedar Rapids, USHL)
Calle Sjalin (LHD, Ostersund, Sweden)
Saku Vesterinen (RHD, Charlottetown, QMJHL)
Will Warm (RHD, Edmonton, WHL)
Pavel Yelshansky (D, Dynamo St. Petersburg, Russia)
Yegor Zaitsev (LHD, Balashikha, Russia)
Kristaps Zile (LHD, Dinamo Riga, Russia)
Goaltenders (28)
Jake Begley (G, Brookings, NAHL)
Victor Brattstrom (G, Timra J20, Sweden)
Adam Brizgala (G, Muskegon, USHL)
Alec Calvaruso (G, Lone Star, NAHL)
Jaxon Castor (G, Dubuque, USHL)
Mareks Egils Mitens (G, Aston, NAHL)
Pontus Eltonius (G, Vaxjo J20, Sweden)
Kaden Fulcher (G, Hamilton, OHL)
Samuel Harvey (G, Rouyn-Noranda, QMJHL)
Jordan Hollett (G, Regina, WHL)
David Hrenak (G, Green Bay, USHL)
Kyle Keyser (G, Oshawa, OHL)
Josef Korenar (G, Lincoln, USHL)
Anton Krasotkin (G, HK Ryazan, Russia)
Lassi Lehtinen (G, Lukko J20, Finland)
Eetu Makiniemi (G, Jokerit J20, Finland)
Jake McGrath (G, Sudbury, OHL)
Jared Moe (G, Holy Family Catholic, U.S. High School)
Matthew Murray (G, Fargo, USHL)
Griffen Outhouse (G, Victoria, WHL)
Ivan Prosvetov (G, Minnesota, NAHL)
Simon Ronning (G, Modo J20, Sweden)
Antoine Samuel (G, Baie-Comeau, QMJHL)
Derek Schaedig (G, Lincoln, USHL)
Adam Scheel (G, U.S. U18, NTDP)
Matt Villalta (G, Sault Ste. Marie, OHL)
Dawson Weatherill (G, Spokane, WHL)
Daniil Yakovlev (G, Loko Yaroslavl, Russia)