As you've surely heard by now, for the first time since 1970, there will not be a single Canadian team in the NHL playoffs this season.
Canadian teams in the #NHL playoffs, 1970-2016, in one huge infographic: pic.twitter.com/yqa2z3XiAr

— CBC Calgary (@CBCCalgary) March 31, 2016
It's unfortunate because there is no atmosphere quite like an NHL playoff game in a Canadian arena. The stadium is packed to the brim, and the tension in the air is palpable. The NHL is not better off with Canadian teams struggling. In each of the seven Canadian cities that call NHL teams home, there will be pressure on the front office to return these teams to the promised land, and soon.
Each of the teams is in various states of trying to contend or rebuild. For some, they need to sell their NHLers while they're still productive to accelerate the rebuild. For others, they need to pull the trigger on acquiring an elite NHL-level talent to take the next step. These trades were considered independent of each other, are based completely upon my assessment of each team's needs, not any existing rumors, and would theoretically take place at the 2016 NHL Draft:
Vancouver trades the Sedin twins (50% retained each) to Nashville for Kevin Fiala, Colin Wilson, Juuse Saros, 2016 1st Round Pick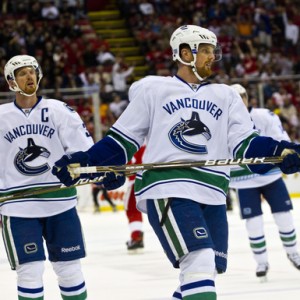 There are multiple hurdles that must be jumped over for the Canucks to be able to trade the Sedin twins. If they are traded, they will want to be traded to the same place. They both have no-movement clauses in their contracts, and would likely only want to go to a contender. They carry a total of $14 million in cap hit between them. Vancouver will want a tremendous return.
That results in a very limited number of potential suitors. But if there's one team that could do it, it would be Nashville. If the Canucks are willing to retain salary in order to trade the Sedin twins (a no-brainer as it will significantly increase the number of suitors and potential return), it makes this much more feasible.
Nashville currently has $58.7 million committed to 11 forwards, six defensemen, and one goalie for 2016-17. Add the Sedins (50 percent retained) and subtract Colin Wilson, and they are at $61.7 million, leaving roughly $11 million (depending upon the final salary cap number) to re-sign Filip Forsberg, and add a defenseman and backup goalie. Extremely doable.
This would immediately make the Predators a Cup contender, an appealing thought for the Sedins. An offense with the Sedin twins, Forsberg, Ryan Johansen, and James Neal with Roman Josi, Shea Weber and Pekka Rinne on the back-end is downright scary. For Vancouver, this would accelerate the complete rebuild that needs to occur. Fiala is a blue-chip forward prospect, Saros looks like a future starter, and the first round pick will be another quality prospect. Wilson makes things work salary cap-wise for the Preds, and is a useful NHL player.
Toronto trades James van Riemsdyk to Anaheim for Sami Vatanen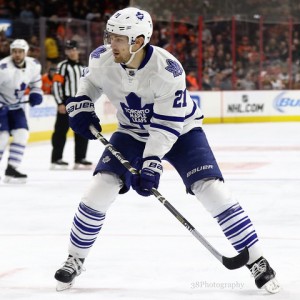 Toronto has done a nice job over the last 12 months in bringing along their rebuild. They could take the next step by dealing JVR at the draft. He'll be 27-years old by the start of next season, which should coincide with the second half of the peak of his career before he'll start to decline after 3-4 more years. It's unlikely that he will be the same borderline top-line forward that he is now, so it would make sense for the Ducks to deal him for an asset that will help them when they're contending.
Vatanen is just 24-years old, and is the ever-elusive right-handed puck-moving defenseman that every NHL team is looking for. Defensemen tend to peak later in their career, so it's likely that Vatanen's best years will coincide with when the Leafs, who don't have a single right-handed defenseman on their roster, are contending.
With this trade, the Ducks deal from a position of strength to address a weakness. With Cam Fowler and Hampus Lindholm in the NHL, and Shea Theodore and Brandon Montour waiting in the wings, the Ducks do not have a shortage of puck-moving defensemen. They are currently lacking in talent on the wings at the NHL level behind Corey Perry and David Perron. JVR has a modified no-trade clause, but it's hard to see him refusing to waive it to go to a contending team like Anaheim.
Calgary trades their 2017 1st Round Pick to Anaheim for Frederik Andersen
Calgary's goaltending this year has been absolutely dreadful. Among 52 qualifying goalies with at least 900 even-strength minutes played (15 games), Karri Ramo and Jonas Hiller rank 40th and 52nd respectively in even-strength save percentage. With league-average goaltending, the Flames would be in a playoff spot right now (they're 11th in the league in goals). Instead, they sit sixth to last in the league in points.
Jonas Hiller's current .879 sv% would be worst in a season of 26+ GP since 2005-06, when Andrew Raycroft also had .879 sv% (in 30 GP on BOS)

— StatsCentre (@StatsCentre) March 31, 2016
The rest of the roster is obviously talented with Johnny Gaudreau, Sean Monahan, Mark Giordano, TJ Brodie and Dougie Hamilton as a very strong core. With a legitimate No. 1 goalie like Andersen, the Flames would be a playoff threat.
With an expansion draft looming in the next few years, it's time for Anaheim to make a decision regarding their goaltending. Everyone knows that John Gibson is the future, so they're better off dealing Andersen instead of losing him for nothing in an expansion draft. Andersen is not a world-class goalie, but he's a solid No. 1 (that's all you need to win a Cup), and is young at just 26-years old.
The Ducks could flip a pick for NHL help to contend now, or hold it and get a quality prospect. Calgary doesn't include their 2016 first as it will be too high to justify trading for Andersen.
Edmonton trades Leon Draisaitl, Conditional 2018 2nd Round Pick* to St. Louis for Kevin Shattenkirk
*If Shattenkirk re-signs in Edmonton, Edmonton sends a 2nd round pick in 2018 to St. Louis. If he does not, St. Louis sends a 2018 1st round pick to Edmonton.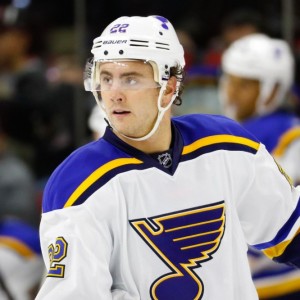 The Oilers are likely to end up with one of the top three offensive talents at the 2016 draft (Matthews/Laine/Puljujarvi). So, to address a position of weakness, they deal from a strength. They could trade Eberle, Yakupov, Hall or RNH, but they will not return the defenseman that Edmonton needs. Shattenkirk is not a No. 1 in St. Louis now because of the presence of Alex Pietrangelo, but put in a position where Shattenkirk (10th among points by a defenseman since 2011-12) is the guy, I think he could be a No. 1. He would immediately become Edmonton's best defenseman.
With the emergence of Colton Parayko, and Pietrangelo/Jay Bouwmeester doing the heavy lifting, Shattenkirk becomes expendable. It's unlikely the Blues will be able to re-sign him when he is a free agent after next season, so they should deal him now to address an area they've been lacking in for years. Draisaitl is not a No. 1 center right now, but given 1-2 more years, he will be considering his current trajectory. With a legitimate No. 1 center, the Blues can finally get over the hurdle and be legitimate Cup contenders.
The issue with this trade is Shattenkirk re-signing. The Oilers won't want to give up Draisaitl if Shattenkirk walks after one season, and the Blues won't part with Shattenkirk without getting the right player in return. The conditional picks help even this out, and if the Oilers were allowed to speak with Shattenkirk prior to the trade to gauge his interest in re-signing, it could go a long way in making the trade happen, or squashing it.
Montreal trades Noah Juulsen, Alexei Emelin, Sven Andrighetto, and 2016 1st Round Pick to Edmonton for Jordan Eberle, Nail Yakupov
With Carey Price, Max Pacioretty and PK Subban all in their respective primes, the time is now for the Canadiens to go for it. They are lacking in talent in their top six, and jumping on the Oilers in a potential "hitting of the reset button" could be a smart investment. Eberle is a proven, consistent scorer and the Canadiens could hope that they catch lightning in a bottle by reuniting Yakupov with his linemate from junior, burgeoning Alex Galchenyuk.
The Oilers get a few quality young assets as part starting new (again), and grant Yakupov his wish of being traded. They could then flip these assets to address needs at the NHL level, or allow them to grow into NHLers. Emelin is included strictly as a cap dump to make the trade more workable from Montreal's perspective.
Winnipeg trades Jacob Trouba to New York Islanders for Travis Hamonic, Nikolai Kulemin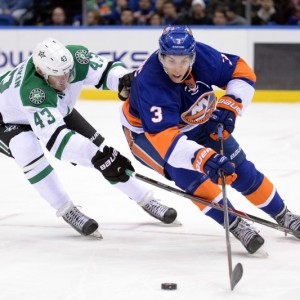 It's scary how similar Trouba and Hamonic are as players. Over the past three years (since Trouba entered the league), he has 71 points in 208 games. Over that same time span, Hamonic has 72 points over 212 games. Both are strong skaters who play great shutdown defense, and are able to chip in on the offensive side as well. Hamonic's request to be traded to a Western Canadian team to be closer to his family is well documented, but general manager Garth Snow has maintained that he won't make the trade unless he gets the right offer. That's a tough ask for a player as good as Hamonic.
Trouba is 22-years old to Hamonic's 25, which theoretically gives him more value. However, Trouba is reportedly asking for a deal upwards of eight years, $56 million. He can ask for whatever he wants, it doesn't mean he'll get it. Still, it's a troubling thought that could lead to a long, ugly, drawn-out negotiation process. Hamonic, on the other hand, is signed for four additional years at one of the best values in the league (just under $4 million per year). Hamonic's cheap cap number basically offsets the age difference.
Trouba likely ends up signing a short bridge deal around $4 million, or gets a long-term deal somewhere between $5.5-6m. Either way, the inclusion of Kulemin makes it possible for the Islanders to get Trouba re-signed.
Ottawa trades Curtis Lazar, Andreas Englund, 2016 1st Round Pick for Alex Edler
Similar to the Flames, Ottawa scores at the rate of a playoff team (10th) but gives up far too many goals (third most in the league). The acquisition of Dion Phaneuf helps, but the Senators could still use one more top-four defenseman to solidify their defense. Edler is a legitimate top-pairing defenseman that would give the Senators a defensive group that is good enough to win a Stanley Cup.
Senators fans steadfastly refuse to give up Thomas Chabot or Colin White in a trade, so they have to give up both a quality forward and defensive prospect to make it worth it for Vancouver. Lazar should turn into a solid two-way second line forward, Englund has the makings of a solid second-pairing stay-at-home defenseman, and the first round pick should net the Canucks a very good prospect around No. 10 overall.
With the Canucks entering a rebuilding mode (if they're smart), they would be wise to maximize Edler's value now. He's signed for three more seasons at a very affordable $5 million per year, and at 29-years old, should still have a few prime years left. By the time the Canucks would be ready to contend, Edler will be on the decline. He has a no-trade clause, but I would imagine waiving would not be a significant issue with the Canucks going into rebuild and the Senators taking this step toward being contenders.
Bill Schoeninger is a Philadelphia Flyers writer and current Boston University student studying business. Coming to THW from Hometown Hockey, Bill follows and writes about the Flyers, Boston University Terriers, and NHL Draft prospects. Follow him on twitter @BSchoeninger17