If you are an Arizona Coyotes' (or formerly Phoenix Coyotes) hockey fan, you are probably well-acquainted with Shane Doan. He's been a legend in the desert for more than two decades. He's also known among NHL hockey fans everywhere for his remarkable career and lasting impact on the game. 
Doan's name is synonymous with loyalty and leadership. Although his career in hockey as an active player ended after the 2016-17 season, his work in hockey as a leader is far from over. Just this past week, he was hired by the Toronto Maple Leafs as a special adviser to the general manager (GM) Brad Treliving. 
Over his remarkable 21-year career with the Coyotes, Doan showcased a unique combination of skill, dedication, and loyalty to his team and community. From his record-breaking statistics to his many off-ice contributions, Doan's legacy extends far beyond the rink. 
Related: What Shane Doan Brings to the Maple Leafs' Front Office
In this post, I'll explore seven cool things about Doan as a way to highlight his extraordinary life. He's left an indelible mark on the Coyotes' franchise. Now, he's "taken his show" on the road.
Cool Thing No. 1: Doan's Career Was One of Longevity and Loyalty
Doan's 21-year career with the Coyotes showcases his remarkable dedication to a single franchise. Despite being with a franchise that had to be challenging because he experienced so many lean seasons in terms of won/loss records, Doan hung in there. 
He retired from professional hockey after a 21-year NHL career. The 1,540 games he played with the Winnipeg Jets and Coyotes organization are the fourth-most ever by an NHLer who spent a career with one franchise. There were opportunities to leave, but he chose to stay with the team that drafted him. As a result, he became the face of the organization and a beloved figure in Arizona. 
---
Latest News & Highlight
---
Because he was steadfast with the organization in terms of his leadership and general goodwill, he played a crucial role in stabilizing the franchise during tumultuous times when the team faced ownership issues and financial difficulties. His on- and off-the-ice leadership helped shape the franchise's culture and contributed to its survival.
Cool Thing No. 2: Doan Showed Leadership as the Coyotes' Captain
Doan's leadership qualities extended beyond the ice. As his career progressed, his offensive numbers declined slightly, but his impact off the ice and his leadership remained solid. 
His intangibles and the ability to inspire teammates were recognized when he was named the team captain in 2003 when Teppo Numminen left the team. He held that role until he laced up his skates for his last game at the end of the 2016-17 season. He captained the Coyotes for 13 seasons, becoming the longest-serving captain in the franchise's history. 
Related: Pittsburgh Penguins Top Rivalries of the Crosby Era
In his final seasons with the Coyotes, Doan's role transitioned to that of a mentor and veteran presence. Although his offensive production decreased, his impact on the team and his influence in the locker room remained intact. 
Cool Thing No. 3: Doan Experienced International Championship Success
Although Doan never won the Stanley Cup, he achieved success in international competitions. He won two gold medals with Team Canada at the World Championships (in 2003 and 2007). He also won a gold medal at the 2004 World Cup of Hockey. 
He also contributed to silver medals in other World Championships. His success on the international stage showcased his skill and versatility as a player. Imagine what he might have done if he were on a Cup-winning team.
Cool Thing No. 4: Doan Made Great Contributions to His Community
Off the ice, Doan made a significant impact through his involvement in charitable work and community initiatives. He actively engaged with fans and embraced his status as a role model, using his platform to make a positive difference in the lives of others.
Related: Maple Leafs Will Miss Jason Spezza's Loyalty
Having had a home in the Phoenix area for many years and attending many Coyotes games, I know from personal stories from fans that he's met. He was consistently impactful in the way he treated them. It wasn't unusual to chat with a Coyotes fan who had something good to say about Doan. He was that personable and memorable.
Cool Thing No. 5: Doan Is a Coyotes' All-Time Franchise Leader
Doan holds a myriad of franchise records with the Coyotes. He's the franchise's all-time leader in games played (1,540), goals (402), assists (570), and points (972). He also, no surprise, holds the team record for power-play and game-winning goals. These records highlight his impact and longevity as a key offensive player for the team throughout his career.
Cool Thing No. 6: Doan Is Highly Respected by His Peers
Doan earned the respect and admiration of his fellow players throughout the league. Known for his sportsmanship and integrity, he was widely regarded as a player who competed hard but always played the game with respect for his opponents. His character and professionalism were highly valued by those who played with and against him.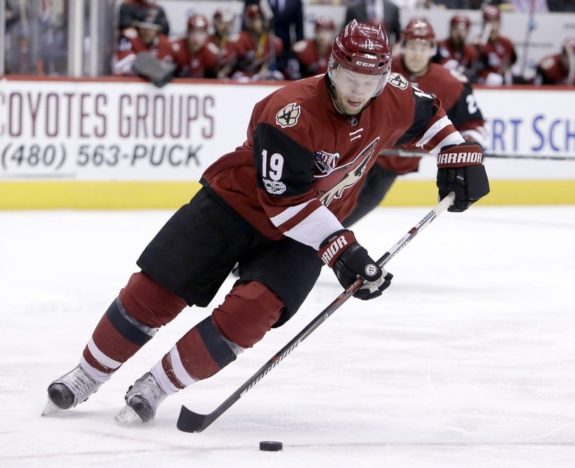 Doan was a versatile player, who was capable of contributing in many ways. He possessed a unique combination of scoring ability, physicality, and defensive prowess. Whether it was scoring clutch goals, delivering bone-crushing hits, or playing a strong two-way game, Doan consistently displayed his versatility on the ice.
Related: Ex-Maple Leafs' Defenseman Jake Gardiner: Where Is He Now?
He was recognized with the Mark Messier Leadership Award in 2012, highlighting his ability to inspire and guide his teammates. He also received the King Clancy Memorial Trophy in 2010, honouring his humanitarian contributions both on and off the ice.
Cool Thing No. 7: Doan's Enduring Impact on the Coyotes Might Never Be Matched 
Even after his retirement, Doan's influence on the Coyotes organization and on Arizona continued. He's a revered figure in the state, and his legacy as a player and leader continues to shape the team's identity, the fan base, and the wider community. A Sportsnet article from August 2017 just days after he retired, shared the extent to which Doan had become much more than a hockey player. 

Even professional NFL players' children donned his Coyotes' jersey. Arizona Cardinals wide receiver Larry Fitzgerald in a 2015 Sportsnet feature noted:
"Shane embodies everything that's good about sports in general. I think if Shane was running for Governor or if Shane was playing basketball or if Shane was playing golf people would naturally gravitate to whatever he was doing. He's got that kind of infectious personality."
Fitzgerald added that, "My son wears his jersey and it makes me proud because I know what he (Doan) represents."
Related: 7 Cool Things About Carey Price
Members of the sporting community including ex-MLB player Luis Gonzalez and then Arizona Diamondback Paul Goldschmidt spoke about their experiences with Doan and why he was a great leader to them. Senator John McCain noted why he invited Doan to speak to the McCain Institute for National Leadership.
In his interview with Elliotte Friedman, McCain shared that, "We are able to get some of the brightest and most important people in the world to come to this forum and the principles of leadership he has applied to hockey and his team has motivated so many people throughout Arizona, and in some cases, the world, are also transferable to other walks of life. And that's why I think he made such a significant impact."  
The Bottom Line
Perhaps the coolest thing for me in researching Doan's story was to find an NHL hockey player who so clearly represented unparalleled loyalty, exceptional leadership, and a deep connection to his community. Throughout his 21-year career with the Coyotes, he exemplified what it meant to be a true team player and how such positive characteristics could translate into the broader community.
As a result, Doan is more than a beloved figure in the world of hockey. Yes, he has set franchise records and represented Canada on the international stage. However, he's also impacted his community in powerful ways. 
In Arizona, Doan will be remembered as a hockey legend, a symbol of loyalty, and an example of what leadership means both on and off the ice. Overall, Doan's longevity, loyalty, leadership, community involvement, international success, and lasting impact make him a significant figure in the world of hockey. His contributions both on and off the ice have left an indelible mark on the sport and the community he served.
He's now on to a new job within the Maple Leafs' organization. One would have to believe he'll have a similar impact in Toronto as he's had in Phoenix.
---
---