Several NHL records define a player's career, whether those skaters collected the most goals, points, wins, or games played. During the 2020-21 season, Patrick Marleau broke one of the NHL's most iconic records, suiting up for 1,779 contests during his 23-year career. 
Related: San Jose Sharks Rightly Retired Patrick Marleau's Jersey
Statistically, he spent 21 years with the San Jose Sharks; but he did play for two other teams, missing the chance to spend his entire career with one franchise. Although there are several ways to discuss the names on the all-time games played list, today we will look at the players who played their whole careers with one team. 
10. Dustin Brown – Los Angeles Kings (1,296 games)
As the 13th overall pick in the 2003 NHL Entry Draft, Dustin Brown debuted with the Los Angeles Kings at 19 on Oct. 9, 2003. Despite playing in just 31 games that year, he would set the franchise record with 1,296 games played. Although he's been the franchise leader since retiring at the end of 2021-22, his longtime teammate Anže Kopitar is just four games away from breaking his record.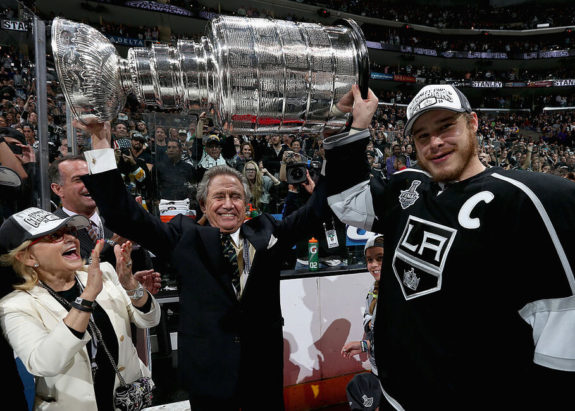 Historically, Brown became the only team captain to hoist the Stanley Cup, winning in 2012 and 2014. Upon retiring, the Kings honored his career by retiring his number and erecting a statue of him with the Stanley Cup outside their arena. 
9. Daniel Sedin – Vancouver Canucks (1,306 games)
Daniel Sedin, like his twin brother Henrik, spent his entire career with the Vancouver Canucks, winning the Art Ross Trophy and Lester B. Pearson Awards in 2010-11. Furthermore, he was a key member of the team that won the Presidents' Trophy that year before losing in Game 7 of the Stanley Cup Final.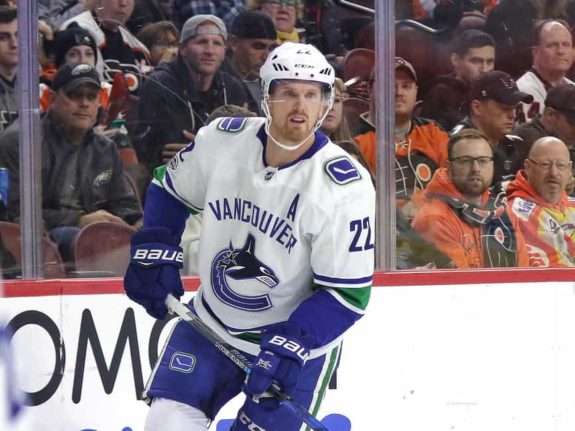 After Daniel made his NHL debut on Oct. 5, 2000, he would skate in the franchise's second-most games, trailing only his brother. Upon retirement in 2018, the Canucks retired his number before eventually earning enshrinement into the Hockey Hall of Fame (HHOF) in 2022. 
8. Henrik Sedin – Vancouver Canucks (1,330 games)
In the Canucks record books, Henrik Sedin ranks as the best player in franchise history, playing in the most games and scoring the most points. Additionally, he served as team captain for eight seasons, tying a record held by Stan Smyl.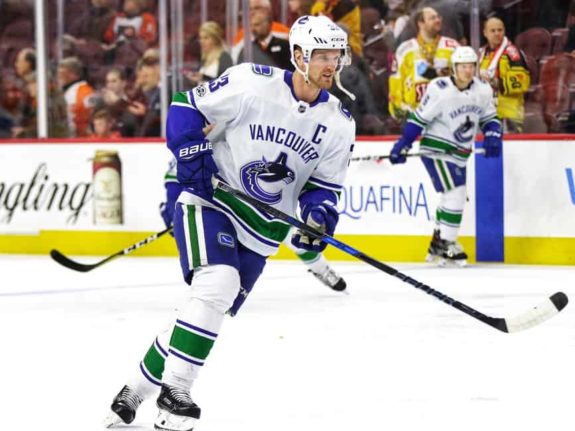 After Henrik debuted on the same day as Daniel, Oct. 5, 2000, he would skate in 1,330 games over the next 17 seasons, winning the Art Ross and Hart Trophies in 2009-10. Considering he had a sixth sense of the game, he connected with his brother on several highlight-reel plays. After leaving the NHL, he had his number retired and entered the HHOF in 2022. 
7. Alex Ovechkin* – Washington Capitals (1,347 games)
At the time of this writing, Alexander Ovechkin is the only active skater on this list, playing his entire career (thus far) with the Washington Capitals. As the former first overall pick from the 2004 NHL Entry Draft closes in on Wayne Gretzky's career goal mark (894), he remains the only captain in team history to win the Stanley Cup.

Whenever Ovechkin decides to retire from professional hockey, debuting on Oct. 5, 2005, he'll be a first-ballot Hall of Famer who would need his own section to showcase his accomplishments. After the 2022-23 season, he's won 19 awards, been to nine All-Star Games, and has 13 additional honors on his resume. 
6. Joe Sakic – Quebec Nordiques/Colorado Avalanche (1,378 games)
To a younger generation of fans, Joe Sakic is just the president of hockey operations for the Colorado Avalanche. However, many will remember that he was the team captain for 17 years, winning two Stanley Cup titles, a Hart Trophy, a Conn Smythe Trophy, and as the team's all-time leading scorer.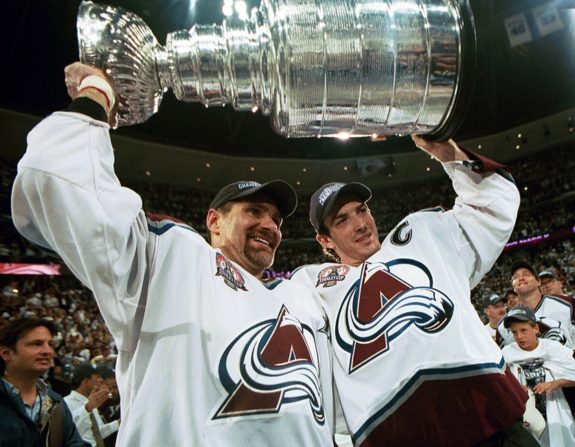 Furthermore, the 15th overall pick from the 1988 NHL Entry Draft debuted months later as a 19-year-old with the Quebec Nordiques on Oct. 6, 1988. Upon retirement 20 seasons later, the Avalanche retired his number, and Sakic entered the HHOF after appearing on the ballot for the first time in 2012. 
5. Stan Mikita – Chicago Blackhawks (1,396 games)
Stan Mikita is a legendary player, not just with the Chicago Blackhawks but from the Original Six era. Thanks to a career point-per-game average of 1.05, he scored 1,467 points in 1,396 games, setting franchise records that remain intact 40 years later. 
---
Latest News & Highlights
---
After debuting as an 18-year-old on Nov. 27, 1958, Mikita won the Stanley Cup three seasons later in 1961. Additionally, he won four scoring titles and two league MVP awards, playing in eight All-Star Games. As one of just six players to have his number retired in Chicago, he was a first-ballot Hall of Famer in 1983. 
4. Steve Yzerman – Detroit Red Wings (1,514 games)
Steve Yzerman currently serves as the general manager of the Detroit Red Wings, the same team that drafted him fourth overall in the 1983 NHL Entry Draft. Eventually, at 40, he retired after 22 seasons, serving as one of the league's longest captains for 19 years.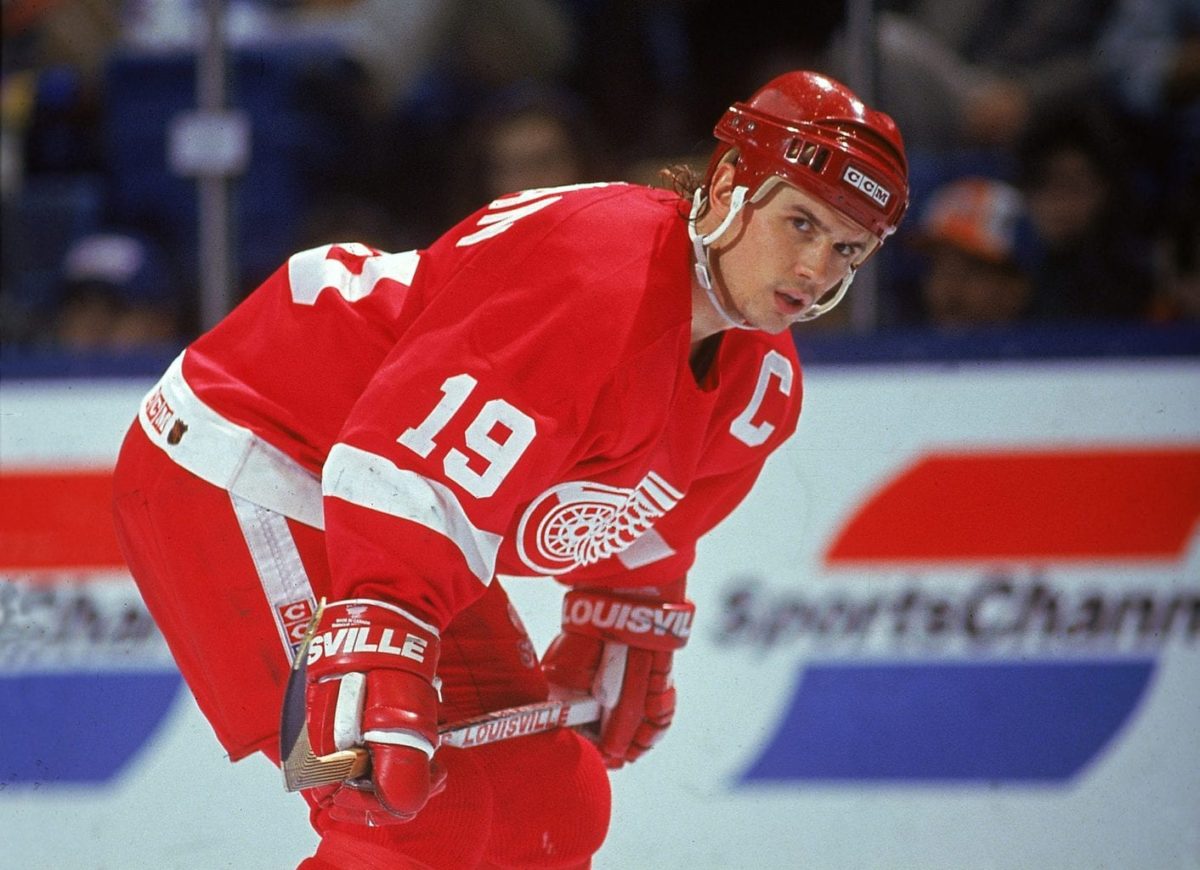 Surprisingly, playing for an Original Six franchise that once employed Gordie Howe for 25 years, Yzerman ranks second behind "Mr. Hockey" in goals and points while surpassing him in assists. After debuting on Oct. 5, 1983, he hung up his skates with three Stanley Cup titles. Within no time, the Red Wings retired his number before being enshrined in the HHOF when he became eligible in 2009. 
3. Shane Doan – Winnipeg Jets/Arizona Coyotes (1,540 games)
Shane Doan is one of three players (the others being the Sedin twins) on this list without a Stanley Cup championship, having played his entire career with the Winnipeg Jets/Arizona Coyotes franchise. As the seventh overall selection in the 1995 NHL Entry Draft, he debuted with the Jets on Oct. 7, 1995. Eventually, the franchise relocated to the desert the following season, where he played the final 20 years of his career.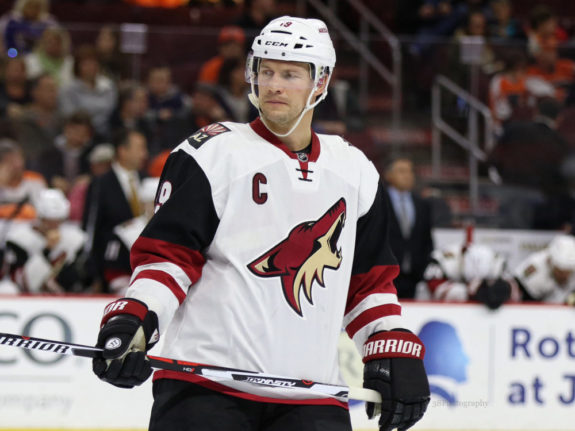 Thanks to his longevity, including 13 years as captain, Doan holds several franchise records, including games played, goals, assists, points, power-play goals, and game-winning goals. As one of seven players to have his number retired by the team, he remains with the Coyotes, serving as an executive for hockey development. 
2. Alex Delvecchio – Detroit Red Wings (1,550 games)
Alex Delvecchio played alongside Howe during the 1950s and 1960s and is one of the best players from that era. After playing just one game as an 18-year-old on March 25, 1951, he became an NHL regular the following season winning the Stanley Cup.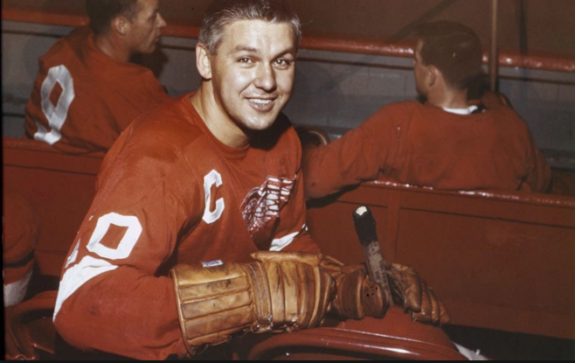 Eventually, Delvecchio surpassed Howe as team captain in 1962, serving as their leader for the next 11 seasons. Besides winning three Stanley Cups, he also won three Lady Byng Trophies, going into the HHOF in 1977 and the Red Wings retiring his number in 1991. 
1. Nicklas Lidström – Detroit Red Wings (1,564 games)
Nicklas Lidström was the 53rd pick in the 1989 NHL Entry Draft, making his debut two years later on Oct. 3, 1991. Statistically, he is considered the greatest player from Sweden and one of the game's all-time best players.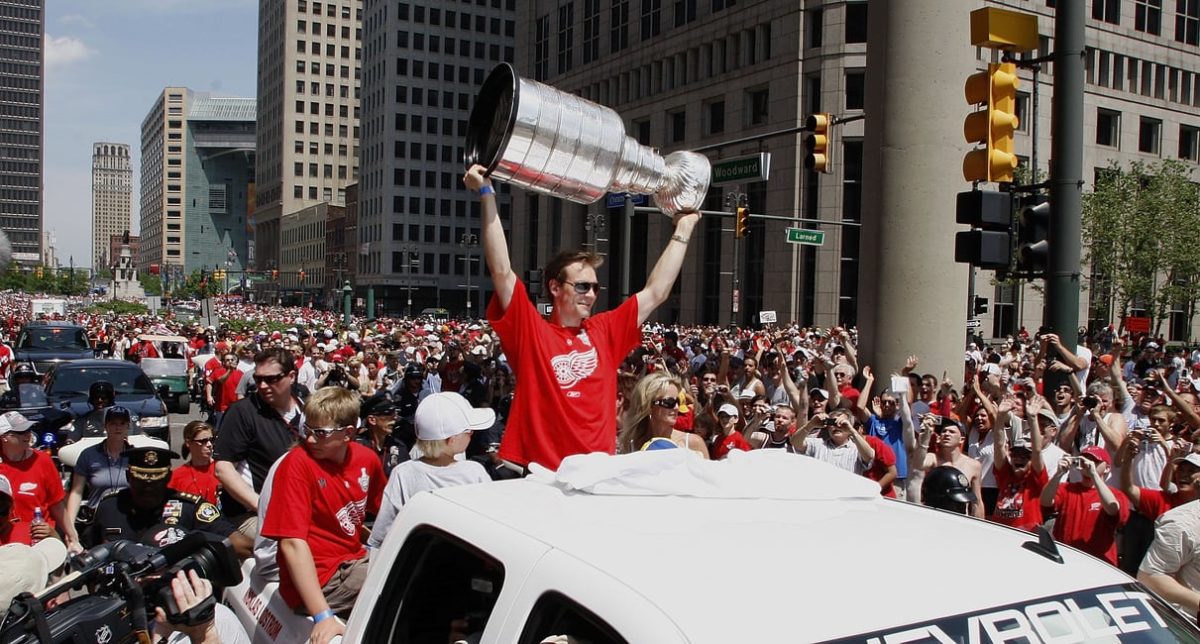 Eventually, Lidström won four Stanley Cup titles, becoming the first European-born captain to lead a team to victory. Additionally, he won seven Norris Trophies as the league's best defenseman, a number only surpassed by Bobby Orr, who has eight wins. 
Related: Swedish Players in the Hockey Hall of Fame
Historically, he is the fifth-highest-scoring defenseman of all time and the top skater in terms of games played when discussing players who spent their career with one franchise. Upon retirement, Detroit honored him with a jersey retirement, and he entered the HHOF on the first ballot in 2015.
The Future of Players Skating With One Franchise
As mentioned, Kopitar is about to crack the top ten after skating in five more games. Whether or not he finishes his career with the Kings will determine whether he makes this list. 
Meanwhile, Boston Bruins' captain Patrice Bergeron is sitting at 1,294 games, and if he comes back for his 20th campaign, he may leapfrog some of the names at the bottom of the list. 
Moreover, Marc-Édouard Vlasic (1,239 games) and Sidney Crosby (1,190) are the closest active players who can make this list. Considering both players have already played over 17 years with their respective franchises, the Sharks and Pittsburgh Penguins, there are no guarantees health and contract extensions will get them on the list. 
Although it is an honor to play in the NHL, it's a more significant achievement when a franchise values a player enough to allow them to stay in the same city for their entire career, like so many iconic names on this list.