The NHL Entry Draft is always an exciting place for many teams. So many have a first-round selection that they hope turns into something special, while others have multiple high picks. Over the years, more teams have been added to the NHL, but it seems as though hitting on first-rounders is a bit easier now with all the scouting that takes place. That being said, we're going to take a look throughout the Calgary Flames' history at the biggest draft busts.
The First Flames Bust
All the way back in 1973, the 16th overall pick was late in the first round, but that isn't an excuse for drafting someone who made no impact in the NHL. Vic Mercredi was the Flames' third first-round selection in their second year of existence. He happened to be the second first-rounder in that draft for the Flames, and fortunately for them, the team hit on the first one, Tom Lysiak. Mercredi played two games for the then-Atlanta Flames and bounced around for six seasons before calling it a career.
4 Dark Years in the Mid-80s
The next noticeable bust came over 10 years later as the Flames either drafted some very good or decent players not worth mentioning on this list. It wasn't until the mid-80s when many of the Flames' first-rounders went to waste. They picked 17th in 1985, drafting Chris Biotti, 19th in 1987 drafting Bryan Deasley, and 21st in 1988 drafting Jason Muzzatti. Of the three, only Muzzatti, a goalie, ended up playing a game in the NHL.
Biotti didn't last long, playing three seasons in the International Hockey League (IHL) and three seasons in Italy, while Deasley also played in the IHL for three seasons and even managed to play for one season in the American Hockey League (AHL) before calling it quits. After seeing what the 1985-87 first-rounders did, Muzzatti's 62 games in the NHL don't look so bad. By no means is it good though, but he did manage to play hockey all the way to 2007.
The Early 90s
The early 1990s weren't great for the Flames in terms of hitting on first-rounders, but Cory Stillman did come out of it. In 1991 and 1993, the Flames missed big time on their only first-round pick of those drafts. Niklas Sundblad was selected 19th overall in 1991 and Jesper Mattsson was drafted 19th overall in 1993. Sundblad played two career NHL games, but spent the majority of his career overseas and actually made a pretty good career for himself. Mattsson never saw the NHL, playing three seasons in the AHL, and totaling 18 seasons in the Swedish Hockey League, also making a good career for himself. Unfortunately for the Flames, neither was able to do so in the NHL.
The Highest Draft Bust by the Flames
It's not very often that a team gets a high draft pick in the first round, and high picks like sixth overall didn't come around very often for the Flames. When they got the opportunity to cash in on it in 1997, they blew it. The team drafted Daniel Tkaczuk and despite four goals and 11 points in 19 games, never saw another game of NHL action after the 2000-01 season. Over his four AHL seasons, his goals and points regressed to the point where he played for a few different leagues overseas. Things fell apart fast for someone who was as highly touted as him in junior.
Forgotten Goalie Went by the Wayside
The next few seasons weren't great for the Flames, but it was topped off with their ninth overall selection in 2000, Brent Krahn. The goalie who spent four seasons playing for the Calgary Hitmen just couldn't cut it in the NHL and became a career AHLer. His numbers in the AHL were good for the most part and he eventually saw one game of NHL action, allowing three goals on nine shots. This first-round blunder could've been a lot more notable if Mikka Kiprusoff didn't arrive at the perfect time to become the man in net for many years to follow.
Late 1st Round Failures
Late first-rounders don't have the high certainty that early first-round picks do in terms of likeliness they'll be very good players, but many late first-round picks have hit over the years. The mid-to-late 2000s were not some of those instances for the Flames as they missed on five between picks 23 and 26 in a span of six years.
Related: Flames Urgent to Deal With These 7 2024 Free Agents
---
Latest News & Highlights
---
Kris Chucko was the first, drafted at 24th overall in 2004. Then it was Matt Pelech at 26th overall in 2005, Leland Irving at 26th overall in 2006, Greg Nemisz at 25th overall in 2008, and Tim Erixon at 23rd overall in 2009. The five players played a combined 136 NHL games, and this was when scouting was better than it was back in the day. At least the Flames drafted Mikael Backlund in 2007 in between all of those busts.

Chucko had a short-lived career in the AHL and played two NHL games. Pelech played a lot of years in the AHL before heading overseas to finish his career, only playing 13 NHL games. Irving posted a sub-.900 save percentage just once in the AHL and once overseas in the many years he played pro hockey, only retiring last year. He only played 13 NHL games and never really got a good shot with the Flames. Nemisz, like Chucko, had a short AHL career, played 15 games in the NHL, and retired pretty quickly. Erixon is a name more well-known to fans of the NHL but had an odd career path. Born in the United States, he spent some years pre and post-draft in Sweden. He totaled 93 NHL games for four teams, none of which were the Flames, and spent a number of years in the AHL before finishing his career back in Sweden.
Hit, Miss, Miss in 2013
The Flames had the pleasure of drafting three times in the first round in 2013, but it didn't turn out the way they had hoped. Sean Monahan was the first and highest pick of the three first-rounders and he turned out great for them. But the team didn't do so well after that. Emile Poirier was drafted 22nd overall and Morgan Klimchuk was drafted 28th overall. Between the two of them, nine NHL games were played.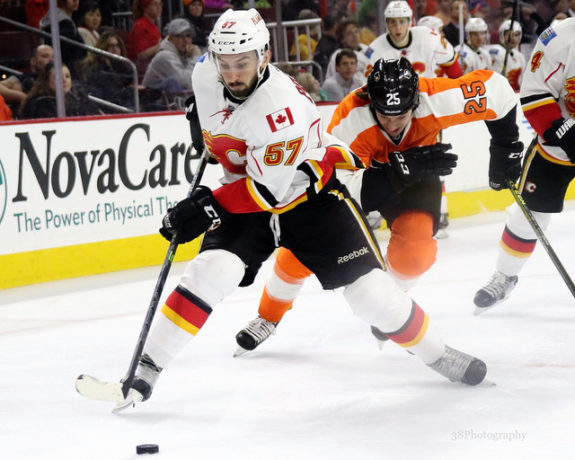 Poirier looked very promising in the AHL for a number of years before starting to trail off, eventually ending up overseas where he's still playing. Klimchuk on the other hand became a career AHLer before calling it a career.
Recent drafting by the Flames has been much more on point as they haven't missed on a first-rounder since 2013. Sure, there could have been some better picks, but nobody has failed to make the NHL or struggle to stay at the highest level in 10 years. If this keeps up, the Flames will have more than enough talent continuously coming in to stay at the top of the league.
---
---