Emile Poirier THW Close-Up:
Team: Gatineau Olympiques
Birthdate: December 14, 1994
Hometown: Montreal, Quebec
Height: 6'1″   Weight: 185 lbs
Position: Left Wing
Shoots: Left
NHL Draft Eligibility: 2013
Twitter: @epoirier27
THW Final Rankings: 42nd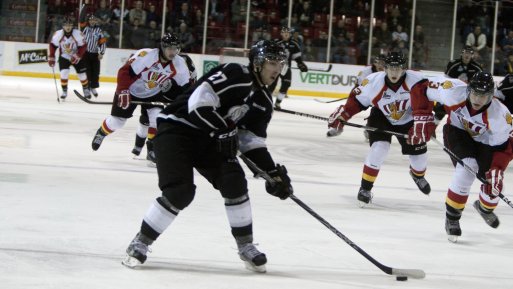 Other Rankings:
NHL CSS (North American skaters): 39
TSN (Craig Button): 29th
TSN (Bob Mackenzie): 46th
ISS: 79th
A player who was not necessarily on the radar of many scouts earlier in the year, you'd be hard pressed to find one who would say the same now. The Gatineau forward has blossomed under Benoit Groulx and has seen his stock rise to the point where he has been in the conversation for a late first round pick.
An explosive player, his puck skills and offensive abilities are top notch. He has great hands and a very good shot on top of his excellent speed. Not only that but he's got good size and is learning to use it more effectively down low and driving to the net.
The one knock on him has been consistency and bringing his 'A' game every shift. Something not uncommon with young prospects, but something all scouts take note of nonetheless.
Playing on a weak Olympiques team, Poirier still managed to put up impressive numbers with 32 goals and 70 points. He was even more impressive in the playoffs scoring 6 goals and 10 points in 10 games.
A player who seems to have a knack for being in the right spot and being able to create scoring chances for himself, will hope to find himself selected early on June 30 in Newark.
Scouts Honour:
A speedy offensive forward, Poirier improved steadily in his draft year. He's got great hands, an accurate shot and can make plays at top speed, leading to him often taking defenders by surprise. He plays with plenty of confidence in his abilities and seems to have a knack for creating offensive chances where none appear to exist. Needs to continue to round out his game, especially improving his play without the puck. Continuing to get stronger and adding a physical element to his game would also help tremendously.

Poirier was a top scorer on a weak Gatineau squad, averaging about a point per game as an 18-year-old with a late birthdate. He has good skill elements to his game: above-average hands, good quickness, and impressive coordination with the puck. His hockey sense is equally notable, as he makes good offensive zone reads as a playmaker and he knows where to position himself off of the puck. He also displays a solid shot, capable of finishing beyond the high-percentage areas. He has a gritty element to his game as well. He will show some edge in one-on-one battles, as well as drive to the net. Scouts are conflicted on his skating, with one praising it, and another saying that despite decent speed, his agility and the overall finer aspects of his skating need work.

– Corey Pronman, Hockey Prospectus

Poirier has a well rounded offensive game.  He was once thought of as mainly a playmaker, thanks to his excellent stickhandling, vision, and passing ability.  While those skills have not diminished (and in fact continue to improve) he's added some other strong aspects to his game.  Poirier has really improved his wrist and snap shots both in power and accuracy, and his release is much quicker than in his rookie season.  Combining the new shot, with the willingness to go to the net, and some soft hands in tight, and one can see how Poirier went from 15 to 32 goals in a single year.

– Ben Kerr, Last Word on Sports
Where He'll End Up in June:
As you can see with his rankings, there is some discrepancy as to where he falls. Should go somewhere in the 2nd round on draft day.
Statistics:

NHL ETA:
2-3 years
Risk/Reward Analysis:
Risk: 3/5  Reward: 4/5
NHL potential:
Top six forward
Strengths:
Playmaking ability
Shot
Hockey sense
Vision
Stickhandling
Flaws/Aspects He Needs to Work On:
Consistency
Add strength and muscle
Needs to shoot the puck more
Fantasy Potential:
Offensive: 7.5/10  Defensive: 7/10
NHL Comparable:
A more physical Alex Tanguay
Video:
THW's The Next Ones prospect profile template design architect: Chris Ralph
Follow Carl on twitter @maloney3383 and Google+ for more articles.