Hand-crafted especially for fantasy hockey junkies (but not exclusive to), the following rankings are based on a prospect's pure offensive potential.
Goalies get no love here. Apologies to the vital guardians of the goal, but your potential is just too monumentally difficult to predict from a fantasy armchair GM's point of view.
As THW former colleague Josh Deitell eloquently summed up comparing the actual NHL draft versus fantasy drafts:
Grit, work ethic, defensive-zone play, and personality: all intangibles that NHL teams consider when making their selections in the NHL Entry Draft that are not particularly relevant for fantasy hockey.

Yes, you do want to pick players who you think will make it to the NHL and contribute, so it's important to consider bust potential and the fact that some European players take years to make their way across the pond and can easily make their way back, but first and foremost is offensive upside.
One will quickly notice some of the undersized forwards and blueliners creep up the rankings in comparison with my Final Top 210 Rankings. To reiterate, these rankings are focused on the pure offensive upside a prospect possesses.
https://twitter.com/Steven_Perko/status/341599698924208129
I tried to implement a healthy dose of realism as, as by strict use of my own definition, some of these diminutive players would have ranked even higher.
Russian forward Sergey Tolchinsky's (@Tolchinsky10) a small wonder in the Soo… http://t.co/GGiQepO8f4 #OHL

— Sunaya Sapurji (@sunayas) February 28, 2013
I also took into account on some occasions that because of prospects solid all-around ability, may get more ice time which may in turn translate in offensive output.
Dillon Heatherington finishing in the top 10 in the VO2 should surprise very few. Played about 30 minutes in every game I saw him @SCBroncos

— Zenon Herasymiuk (@ZenonHerasymiuk) June 1, 2013
Of course, those who are hooked on hockey simulator based leagues where defensive traits and goalie prospects are more valuable, you want to pay more attention to the regular draft rankings.
Flashback:
 

2012 NHL Entry Draft Fantasy-Based Top 100 Prospect Rankings

In a surprising turn of events, the Pittsburgh Penguins with the 8th overall pick obtained from the Hurricanes in the Jordan Staal blockbuster trade selected puckmoving blueliner Derrick Pouliot. This is precisely where he was ranked in the fantasy based rankings. Not surprisingly, the rest of the rankings for the most part did not mimic the actual team selections.
Notes:
The table display approximately 30 of the prospects at a time; simply scroll down to view the other prospects.
Only a portion of the table displays by default; you can scroll over to see the rest of the player demographics, stats and Twitter account,  or select "View full-size workbook" option, which is the icon in the bottom right hand corner, to view the full table. You will still need to scroll over to see all the prospects' information available.
To search the rankings, click anywhere on the table, then press CTRL "F" to bring up the search option.
NHL column = NHL Central Scouting's Final Rankings Combined
NHL-CS = NHL Central Scouting's ranking – recall NHL CS segregates their rankings into North American and European skaters and goalies.
This is not a prediction of where a prospect will get drafted. This is my personal rankings of the prospects based on long-term offensive potential to perform at the NHL level.
Russian Roulette Factor not taken into account.
Pavel Buchnevich – This year's 32013NHLDraft wildcard Russian prospect #FantasyHockey http://t.co/2TUquFNNVZ

— Brendan Ross 🇨🇦 (@RossyYoungblood) June 27, 2013
Detailed prospect profiles in The Next Ones format will be compiled and published throughout the season leading up to the draft. Check in often at: The Next Ones 2013 NHL Draft Guide.
This year we've also added the 2013 NHL Draft Prospect Index to facilitate easily locating prospect articles; the prospects are sorted alphabetically in this index.
CULT OF HOCKEY: How much offensive potential does 2013 NHL Draft prospect Sean Monahan have? http://t.co/6VvhlKgt4L by @JonathanWillis

— Bruce McCurdy (@BruceMcCurdy) April 29, 2013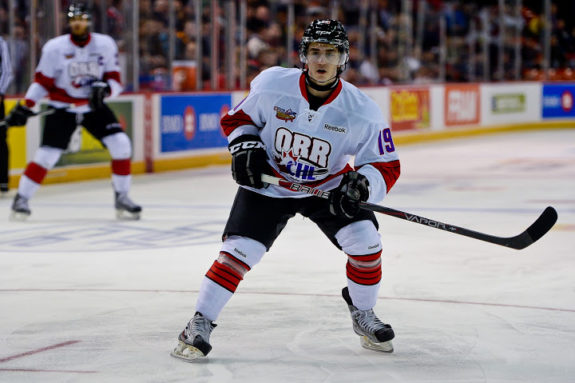 https://twitter.com/IanAltenbaugh/status/350359291561123841
2013 NHL Draft Fantasy-Based Top 100 Prospects
_________________________________________