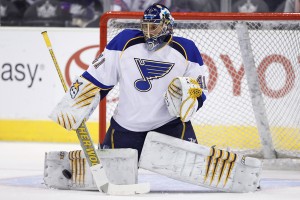 Jaroslav Halak is the latest goaltender to be connected to the Philadelphia Flyers in the trade market. After utilizing the amnesty clause on Ilya Bryzgalov and failing to acquire Jonathan Bernier in a deal, the Flyers are looking to the St. Louis Blues and their two-pronged goalie system to help solve their woes between the pipes.
I previously mentioned Halak in my "Wheel of Goalies: Who Will Start for Philadelphia in 2013" article, labeling him as "the safest bet" among names like Bernier, Ryan Miller and Tim Thomas. There's no doubt the Flyers would love to land a goaltender who can stand on his hand and win games on his own, and while Halak does have the potential to steal a game here and there, it's his consistency that makes him such an intriguing option.
Consistent goalie play has been an uncommon sight in Philadelphia for far too long. Bringing in Halak would, on paper, be an improvement in net due to his dependability in the crease and his body of work.
Unlike when Bryzgalov was brought in, Halak won't be as burned out as the former Flyer goaltender was. Thanks to St. Louis utilizing both Halak and Brian Elliot, the Czech goalie never started more than 57 games in a Blues uniform. In comparison, Bryzgalov played 55 or more games every year in Phoenix and 57 in his first year in Philadelphia. Having a workhorse goalie is great, but after a few years, the heavy workload will eventually catch up to him.
Knowing that Halak still has plenty of good years in front of him, perhaps even his best years, there's no reason any Philadelphia fan should question the team's interest in him. If the Flyers were to land him in a trade at the right price, the prolonged goaltending drought may very well come to an end.
That's how confident I am in Halak. He's had tough goalie competition in both Montreal and St. Louis between Cary Price and Elliot, so if given the chance to be a full-time starter, I can definitely see him flourishing. He played an integral part during the Canadians' 2009-10 Eastern Conference Final run, which ultimately ended in five games to the Flyers. He won 26 games that season and posted a 2.40 goals against average.
At best, the Flyers would get the 2011-12 version of Halak – a 1.97 goal against average (GAA) and 26-12 record – at worst they would get his 2008-09 self – a 2.86 GAA and 18-14 record. Even his worst is acceptable compared to past Philadelphia goalies.
In addition, as I've said in previous posts, Steve Mason is a reliable backup, so if for whatever reason Halak isn't comfortable handling the load, Philadelphia could do something similar to St. Louis the past few seasons.