Building a hockey team is an inexact science for any general manager. GMs have a variety of ways to reach their ultimate goal (building a Stanley Cup-winning roster) whether they rely heavily on drafting, free agency, trades, or player development. For Ray Shero and the Pittsburgh Penguins, the blueprint has mostly been to trade for the "final pieces" that go around a home-grown core (Crosby, Malkin, Fleury, Letang, Orpik) that was drafted by former GM, Craig Patrick.
Shero has proven himself to be quite adept at acquiring those final pieces for a relatively cheap price, even if it hasn't always led to the intended result. In 2008, he acquired Marian Hossa and Pascal Dupuis (what a bargain) for Colby Armstrong, Erik Christensen, Angelo Esposito, and a first-round pick. That deal still has many people scratching their heads.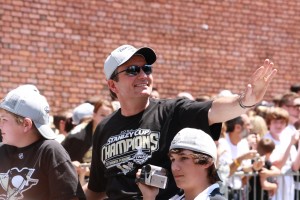 In 2009, he acquired Chris Kunitz and Eric Tangradi for Ryan Whitney. In 2011, it was James Neal and Matt Niskanen for Alex Goligoski. This past season, Shero won the GM of the Year award largely because he added Jarome Iginla, Brenden Morrow, and Douglas Murray for basically nothing on his roster. In fact, he acquired Jussi Jokinen for literally nothing via trade, even getting Carolina to pay for part of his salary.
Shero's trade history speaks for itself, but what about another component of his job – his draft history? With a marathon day of drafting ahead on Sunday, let's take a look at how well Shero and his scouts have done so far.
Players are listed by Round, Overall Pick, Name, and Current Franchise. Draft information courtesy of Hockey Reference.
2006 NHL Draft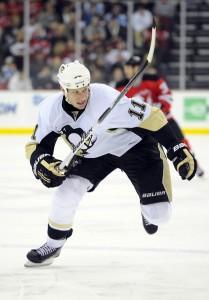 Round 1 (2): Jordan Staal – Carolina
Round 2 (32): Carl Sneep – Dallas (UFA)
Round 3 (65): Brian Strait – NY Islanders
Round 5 (125): Chad Johnson – Phoenix (UFA)
Round 7 (185): Timo Seppanen – None, Finland
Ray Shero's first draft class with the Penguins was only productive due to one player who is no longer with the franchise. Jordan Staal was clearly the centerpiece of the class and was an integral part of the team and its "three center model" up until he was traded to Carolina last summer. Staal helped the Penguins win a Cup and brought back a significant return (Brandon Sutter, Brian Dumoulin, and a 2012 first-round pick) when he was traded away. If only hindsight didn't point out that Jonathan Toews was taken the pick after Staal.
The rest of the class did little to nothing for the team. Sneep played one game with the Penguins and was traded to Dallas for a conditional 2013 7th-round pick (condition was never met). Strait played in 12 games with Pittsburgh before getting picked up on waivers by the Islanders. Johnson was traded to the Rangers for a 5th-round pick in 2009 right after he finished college. Finally, Seppanen never came over to North America.
If it wasn't for Staal, this class would have been a dud for the Penguins. Even then, it would have been difficult to make a bad pick in the top 5 of that draft class (Erik Johnson, Staal, Toews, Nicklas Backstrom, Phil Kessel). It certainly wasn't Shero's best work, but at least Staal worked out.
Pittsburgh Impact: 1 out of 5 players
2007 NHL Draft
Round 1 (20): Angelo Esposito – None
Round 2 (51): Keven Veilleux – Pittsburgh, ECHL/AHL (RFA)
Round 3 (78): Robert Bortuzzo – Pittsburgh (RFA)
Round 3 (80): Casey Pierro-Zabotel – None, ECHL/AHL
Round 4 (111): Luca Caputi – None, ECHL/AHL
Round 4 (118): Alex Grant – Anaheim, AHL (RFA)
Round 5 (141): Jake Muzzin – Los Angeles (RFA)
Round 6 (171): Dustin Jeffrey – Pittsburgh (RFA)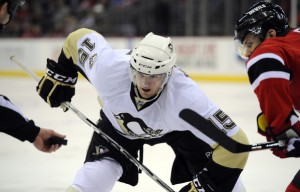 The 2007 class held more quantity, but even less quality. Only three of the eight players picked still remain within the Penguins' organization. Dustin Jeffrey has been the leader of the group with 90 games played in Pittsburgh. He has yet to find a consistent lineup spot and has been a frequent healthy scratch though. Robert Bortuzzo spent the year in Pittsburgh last season but has only played in 21 NHL games over the past 2 years. Keven Veilleux spent the majority of last year in the ECHL with the Wheeling Nailers.
Meanwhile, Angelo Esposito was traded away the season after he was drafted in the deal that brought Marian Hossa and Pascal Dupuis to Pittsburgh. Esposito never made it to the NHL. Luca Caputi was traded to Toronto after nine games with Pittsburgh in a deal that brought Alexei Ponikarovsky to the Penguins. Caputi played 26 games with Toronto and is currently without an NHL contract as he plays in the AHL and ECHL. Alex Grant was just traded days ago to Anaheim for RFA Harry Zolnierczyk after spending multiple years with Pittsburgh's AHL affiliate in Wilkes-Barre/Scranton.
Pierro-Zabotel has been in the AHL and ECHL and is currently without an NHL contract. Finally, the Penguins opted not to sign Jake Muzzin after they drafted him. He later signed as a free agent with the Los Angeles Kings and played in 45 games this past season. It's quite possible that Muzzin will be the best of this draft class despite going unsigned after the draft.
Pittsburgh Impact: 1 out of 8 players, with moderate potential for a 2nd and slight potential for a 3rd.
2008 NHL Draft
Round 4 (120): Nathan Moon – None, ECHL/AHL
Round 5 (150): Alexander Pechurski – None, Russia
Round 6 (180): Patrick Killeen – Columbus (RFA)
Round 7 (210): Nick D'Agostino – Pittsburgh, AHL
The Penguins had a light draft in 2008 after trading away their early picks to make a run for the Stanley Cup. At this point, there is only a glimmer of hope in Nick D'Agostino, who recently signed his entry-level deal after finishing at Cornell University.
Nathan Moon was not tendered an offer by the Penguins and is currently playing in the ECHL without an NHL contract. Alexander Pechurski played one game with Pittsburgh on an emergency basis through an amateur tryout contract in 2010. He spent the past season in Russia. Finally, Pittsburgh traded Patrick Killeen to Columbus for future considerations before the 2013 trade deadline. Killeen had spent most of his career in the ECHL.
Pittsburgh Impact: 0 out of 4 players with some potential for 1.
2009 NHL Draft
Round 1 (30): Simon Despres – Pittsburgh
Round 2 (61): Philip Samuelsson – Pittsburgh, AHL
Round 3 (63): Ben Hanowski – Calgary
Round 4 (121): Nick Petersen – None, ECHL/AHL
Round 5 (123): Alex Velischek – N/A, ECHL
Round 5 (151): Andy Bathgate – N/A, CIS
Round 6 (181): Viktor Ekbom – None, Sweden
The 2009 draft shows some tangible promise for Pittsburgh in the upcoming years even though it featured plenty of misses as well. Simon Despres has played 51 games with the Penguins and is slated to be a Top-4 defenseman next year. Philip Samuelsson has played most of the past two seasons in the AHL, but he may quickly be passed up by more recent defensive acquisitions and younger prospects.
The rest of the group appears to be a lost cause. Hanowski was traded to Calgary in the Iginla deal. Nick Petersen was unconditionally waived by the Penguins last year after spending parts of two seasons with Wilkes-Barre/Scranton. He is currently playing in the AHL without an NHL contract.
Alex Velischek recently finished at Providence College and signed on with the ECHL's Wheeling Nailers. He is without an NHL contract yet. Andy Bathgate joined the University of Guelph last season. Finally, Viktor Ekbom had his rights relinquished by the Penguins in 2011 and he is currently playing in Sweden.
Pittsburgh Impact: 1 out of 7 players, with slight potential for a 2nd.
2010 NHL Draft
Round 1 (20): Beau Bennett – Pittsburgh
Round 3 (80): Bryan Rust – N/A, NCAA
Round 4 (110): Tom Kuhnhackl – Pittsburgh, AHL
Round 5 (140): Kenneth Agostino – Calgary
Round 6 (152): Joe Rogalski – N/A, CIS
Round 6 (170: Reid McNeill – Pittsburgh, AHL
After some below average drafts from 2006-2009, it appears that the 2010 draft class might be Shero's first to make a decent top-to-bottom impact on the franchise. Beau Bennett made a very successful jump to professional hockey last season to play 26 games with the Penguins. He is slotted to be a Top-6 forward next season.
Bryan Rust just finished a breakout junior season at Notre Dame. Tom Kuhnhackl and Reid McNeill are both under contract with the Penguins and spent time at the ECHL and AHL level last season.
Ken Agostino was moved to Calgary in the Iginla trade. Finally, Joe Rogalski recently joined the University of Windsor.
Pittsburgh Impact: 1 out of 6 players with slight potential for up to 3 more.
2011 NHL Draft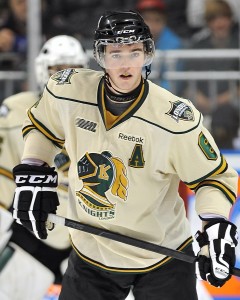 Round 1 (23): Joe Morrow – Dallas, AHL
Round 2 (54): Scott Harrington – Pittsburgh, AHL
Round 5 (144): Dominik Uher – Pittsburgh, AHL
Round 6 (174): Josh Archibald – N/A, NCAA
Round 7 (209): Scott Wilson – N/A, NCAA
The 2011 draft class was a small group which got smaller when Joe Morrow was traded to Dallas to bring Brenden Morrow to Pittsburgh. Scott Harrington appears to be the prize of the class and has put together a strong career in the OHL with the London Knights. Dominik Uher has already spent a season with Wilkes-Barre/Scranton.
Meanwhile, Josh Archibald will enter his junior year at University of Nebraska-Omaha and Scott Wilson will enter his junior year at UMass-Lowell. Both players had strong sophomore seasons, but it is likely too early to evaluate these two players properly.
Pittsburgh Impact: 0 out of 5 players with strong potential for 1 and slight potential for up to 3 more after that.
2012 NHL Draft
Round 1 (8): Derrick Pouliot – Pittsburgh, WHL/AHL
Round 1 (22): Olli Maatta – Pittsburgh, OHL/AHL
Round 2 (52): Teddy Blueger – N/A, NCAA
Round 3 (81): Oskar Sundqvist – N/A, Sweden
Round 3 (83): Matthew Murray – N/A, OHL
Round 4 (92): Matia Marcantuoni – N/A, OHL
Round 4 (113): Sean Maguire – N/A, NCAA
Round 5 (143): Clark Seymour – N/A, OHL
Round 6 (173): Anton Zlobin – Pittsburgh, QMJHL/AHL
While it's much too early to evaluate the 2012 draft class, it looks like the most promising by far thanks to 2 first-round picks (8th overall received in the Jordan Staal trade) and a total of nine picks, the most in Shero's era with the Penguins.
Pouliot, Maatta, and Zlobin have all already signed their entry-level deals.  Pouliot spent last season in the WHL, Maatta in the OHL, and Zlobin in the QMJHL.
Blueger and Maguire both just finished their freshman seasons in college. Meanwhile, Murray, Marcantuoni, and Seymour are all in the OHL. Finally, Oskar Sundqvist played in the Swedish Hockey League.
Pittsburgh Impact: Too early to evaluate, with strong potential for at least 2 and moderate potential for most of the group.
2013 NHL Draft
Round 3 (77):
Round 3 (89):
Round 4 (119):
Round 6 (164):
Round 6 (179):
Round 7 (209):
As of now, the Penguins will have six picks in the 2013 draft and won't get started until pick number 77 overall due to the Jarome Iginla and Douglas Murray acquisitions. Things may change quickly though depending on how Ray Shero approaches the idea of trading Kris Letang as talks continue between both parties.
Not including the hard-to-evaluate 2012 class, Shero and his staff have picked 35 players from 2006-2011. His first pick, Jordan Staal, was the most productive of the group and also helped him build the 2012 class. Aside from that, Dustin Jeffrey currently sits as the most productive player for Pittsburgh with Beau Bennett and Simon Despres looking to pass him up this upcoming season.  Only 9 of those 35 players have played in Pittsburgh.  Only 4 of them are on the roster right now.
The draft classes have generally improved each year, but I certainly wouldn't expect much out of the Penguins' 2013 draft class based on history.  Then again, "time makes fools of us all," and Ray Shero may do the same.
[NHL 2013 Draft Guide – The Next Ones Draft Headquarters: Your quintessential draft resource]