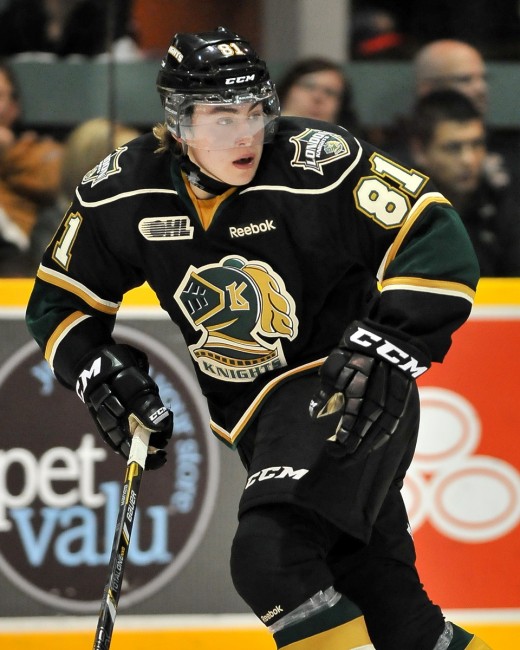 Remi Elie THW Close-Up:
Date of birth: 04/16/1995
Place of birth: Green Valley ONT
Ht: 6'1″     Wt: 203
Shoots: Left
Position: Left wing
NHL Draft Eligibility: 2013 1st year eligible
Twitter: @Remi_Elie

THW The Next Ones Rankings (Final Top 210): 86
Other Rankings
NHL CS (N.A. Skaters): 71
ISS: 108
McKeen's: 98
The Hockey News: 78
Bob McKenzie: 66
* * *
[NHL 2013 Draft Guide – The Next Ones Draft Headquarters: Your quintessential draft resource]
* * *
Elie: Knowing How to Start and Finish
Coming off a strong offensive season in Junior A, Remi Elie made a big impression on coaches and scouts alike at the London Knights' training camp. His smart, hard-working, no-frills game earned him a spot on the fourth line of a very talented Knights squad, one that fell a single heart-shattering goal shy of being last season's Memorial Cup champions.
This was a team loaded with up-front talent, led by the likes of Seth Griffiths, Max Domi, the Rupert brothers and Bo Horvat. Such a stacked line-up relegated Elie to being a bottom six winger with the occasional better opportunity cropping up.
Ultimately, some were a bit disappointed with his 7-10-17 points in 65 regular season games for a London team that finished first overall in the OHL. Yet just as the kid had a strong start on the season, he would close it out in similar fashion, notching 4-4-8 in 21 playoff games for London, helping them to their second consecutive OHL championship. He earned a single point in the Memorial Cup, a primary assist off a home-run pass to Griffiths en route to getting blown out by Halifax.
So the question is, have NHL scouts seen enough of Elie so that he'll hear his name called at the end of June?
Where He Will End Up in June
I've got a real good grasp on London's #2013NHLDraft eligibles by now. All fun to watch. Very intrigued by Remi Elie. Big fan since Sept

— Brendan Ross (@RossyYoungblood) March 8, 2013
Actually, Ross has been a fan since August, when he wrote an OHL preview for The Hockey Writers pinpointing Elie as one of the league's breakout candidates for the season. His enthusiasm for Elie has not waned, and he isn't alone. Corey Pronman of Hockey Prospectus sums up the general consensus with an economy of words:
Very hard working has own end value. Not all that skilled, but like him in mid rounds. RT @nick_perri: @coreypronman your take on Remi Elie?

— Corey Pronman (@coreypronman) April 7, 2013
Scout's Honor
" … began as a steady fourth-line contributor but slowly worked his way up due to an infectious work ethic and crash-and-bang style .. small in stature but built like a fire hydrant and never shy about initiating contact .. battles, competes, generates chances out of sheer will and determination .. a dogged forechecker … attacks the boards and can generate a cycle … gets puck in deep, keeps things simple, finishes checks .. a slightly better-than-average skater once he gets going – has a deep knee bend but also an awkward start-up that doesn't generate much speed off the mark .. his hand skills and overall stick-handling ability are simply not there however – even if he does play an energetic game and is hard on the puck carrier .. tends to fight the puck and is better when he dishes off quickly and goes to the front of the goal .. confidence is still a work in progress as he plays at times in fear of making a mistake … still very raw at this point as he lacks elite hands and appears to be a simple up-down, puck-dumping winger."
David Burstyn – McKeen's
* * *
"Elie is a physical, emotional player who plays with an edge. He also has some good offensive tools like his above-average passing, as well as a solid shot … Despite his offensive tools, [he] must get better defensively."
Bradshaw Furlong – The Hockey House
* * *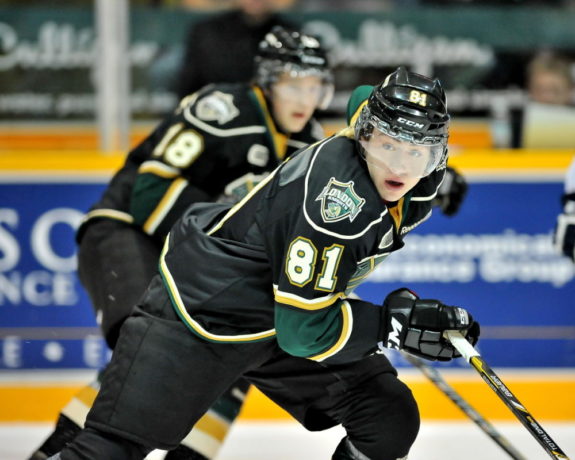 "Remi plays a pro-style game … He keeps it simple. He doesn't try to dangle through the neutral zone with all kinds of unnecessary moves. He plays a puck in, puck out, protect the puck, drive to the net, battle hard – pro-style game."
Mark Edwards – Hockey Prospect
* * *
"Quick, physical wing who is a good developmental project at forward. In the OHL playoffs, he came through with goals and assists that may have lifted his upside, but nevertheless, has lots to learn about pace and coverage. Plays with a passion, but sometimes the lack of pace has him running around and then gassed. He displays some scoring prowess too. Will see more ice next year, and with it there are big hopes he develops further."
Statistics
Bio/Interview/Links
ETA
5 years
Risk/Reward Analysis
Risk: 4/5   Reward: 4/5
NHL Potential
With just a single season of Major Junior under his belt, Remi Elie's NHL potential is anyone's guess.
Strengths:
Size
Shot
Hockey sense
Skating
Flaws/Aspects He Needs To Work On:
Fantasy Potential
Offensive: 7/10   Defensive: 5/10
NHL Player Comparison
Remi Elie sees himself as a power forward in the making and has taken inspiration from Milan Lucic and Jamie Benn. Meanwhile at least one scout sees a more offensive Cal Clutterbuck.
Video(s)
Ross Bonander is a freelance health writer and book editor. He is the editor of 13 quotation collections– six of them hockey-related, including his most recent, Modern Hockey Quotations. His homepage is RossBonander.com.