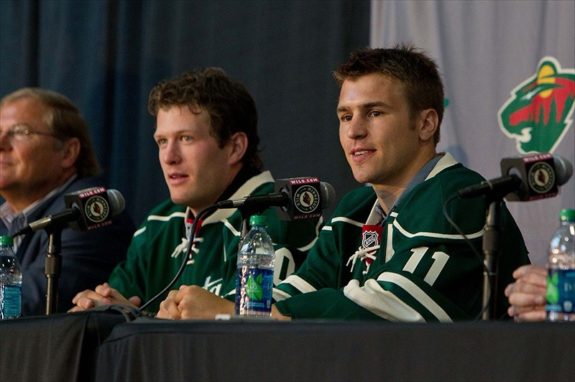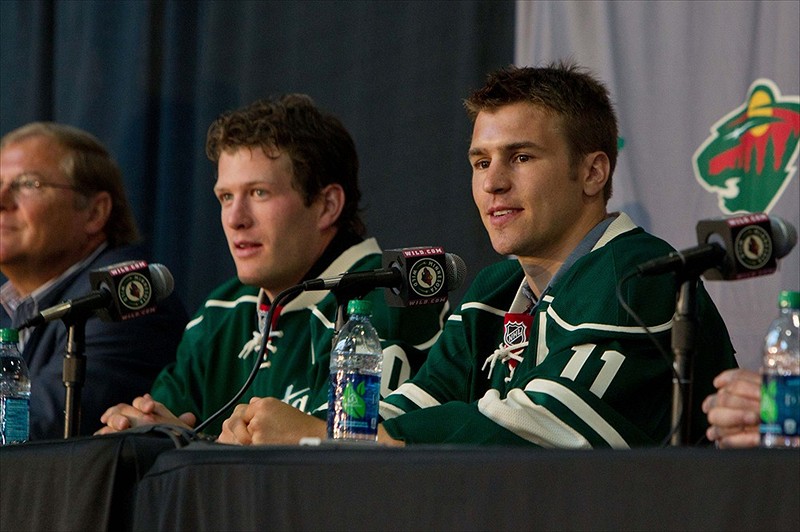 Salary cap rules in sports are like the tax code.
Loopholes are identified, exploited, and then eventually closed by amendments and new rules.  A continuous cycle that will never end.
The National Hockey League instituted a salary cap in 2005 for the first time and teams quickly found ways to cheat the system.  The most common accounting abuse included long-term, front-loaded contracts which featured 'dead money' years on the back end to lower the average annual value of the deal.  Players received their money sooner and teams were able to benefit from lower cap hits for star players.
The frenzy reached a peak in 2010 after Ilya Kovalchuk signed a 17-year, $100 million contract extension with the New Jersey Devils.  Kovalchuk was set to earn just $1 million in each of the final five seasons — years no one expected him to play.  The contract was rejected by the league.  New Jersey was fined $3 million and penalized multiple top draft picks for cap circumvention.
When negotiations for a new Collective Bargaining Agreement opened last summer, one of the league's top priorities was putting an end to front-loaded contract abuse.  Contract terms limits and salary variance rules were instituted, but the lingering effects of an era of excess still remains.
NHL teams currently have 49 long-term contracts — defined by the league as longer than six years — totaling $2.822 billion on their books.  Team executives were repeatedly warned that cap-cheating deals might be penalized under the new CBA.  No one cared.  Owners criticized other owners for handing out lifetime deals before turning around and doing the same.
In April 2012, Minnesota Wild owner Craig Leipold told the Star Tribune:
"We're not making money, and that's one reason we need to fix our system. We need to fix how much we're spending right now. [The Wild's] revenues are fine. We're down a little bit in attendance, but we're up in sponsorships, we're up in TV revenue. And so the revenue that we're generating is not the issue as much as our expenses. And [the Wild's] biggest expense by far is player salaries."
Three months later, the Wild signed free agents Zach Parise and Ryan Suter to matching 13-year deals worth $98 million apiece.
A change in player/owner revenue share under the new NHL CBA will drop the salary cap from $70.2 million to $64.3 million next season.  As part of rules to ease transition to a lower cap level, teams were granted two penalty-free compliance buyouts for use after this or next season.  Buyout players still receive 1/3 or 2/3 of their remaining salary (depending on age), but unlike typical buyouts, there would be no lingering cap effect on the team's cap total.
The buyout option creates a difficult business dilemma for many owners and GM's.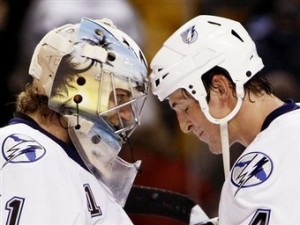 Take the case of Vincent Lecavalier and the Tampa Bay Lightning.
Lecavalier was drafted first overall by the Lightning in 1998 and eventually received one of the first lifetime mega-deals.  On one hand, paying a player tens of millions of dollars to go away makes little sense.  But as an injury-prone 33 year old with seven years left on his deal, Lecavalier was becoming a liability.
The NHL followed through on their promise to penalize front-loaded contracts by instituting a 'Cap Advantage Recapture' rule in the latest CBA.  In short, the rule penalizes a team if players on long-term contracts retire early.
If Lecavalier retired four years from now — a reasonable possibility — the Lightning would have received a multi-year penalty charged against their cap totaling $16.7 million.  Tampa didn't want to take that risk as they build for the future and decided to buy out Lecavalier on Thursday.
"The cap hit created by Vinny's contract is proving to be prohibitive as we model our roster possibilities for 2013-14 and beyond," said Lightning GM Steve Yzerman. "The economics and structure of the new collective bargaining agreement are necessitating this decision."
"After much internal deliberation, we believe this will prove to be a pivotal move for us as we strive to achieve our long term goal of competing at the highest level, year-in, year-out."
Compliance buyouts are a 'Get Out of Salary Cap Jail Free' card for economic giants like Montreal, Philadelphia, and the New York Rangers.
But can the Tampa Bay Lightning really afford to pay Lecavalier $33 million through 2027 to not play for them?
The NHL is still a league of haves and have-nots.  Tampa is owned by former Fidelity hedge fund star Jeffrey Vinik and, according to Forbes estimates, the Lightning have suffered an operating loss of nearly $30 million since Vinik took over in 2010.  Vinik has been investing heavily in reviving the franchise and has now invested heavily in cap flexibility for Yzerman, but what if the bet doesn't pay off?
And Lecavalier is only the beginning.  Any team that doesn't take advantage of the compliance buyout option will be left to deal with the long-term consequences.
Some teams will benefit from the gamble.  The Chicago Blackhawks signed Marian Hossa to a cap-cheating deal four years ago and just won their second Stanley Cup with his help.
Forget that Hossa is now considering back surgery at the age of 34, has eight years left on his front-loaded contract, and the Blackhawks have already used their two compliance buyouts.  Chicago has their Stanley Cups.  Those are concerns for a future generation of owners, managers, and fans.
Will the Minnesota Wild experience the same good fortune with Parise and Suter?
If not, they had better find a loophole.
[This article also appeared at Forbes SportsMoney]
______________________________