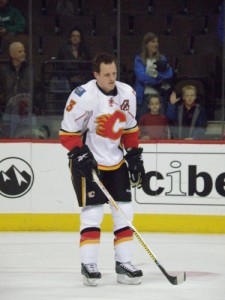 One month ago, the Calgary Flames hit the podium at the 2011 NHL Entry Draft and made a first round selection for the 29th time. Given that first round picks are among the most coveted building blocks for a franchise, here is a brief evaluation of the Calgary Flames first round picks to date.
What makes a pick good? Well, the player should be skilled and have a strong NHL career. The position he was drafted in should be relatively fair given his success. And the Flames, in the event that player left the team, should have gotten a decent asset in return.
HOME RUNS:
D Al MacInnis [selected 15th overall in 1981]
Blessed with a booming shot and great vision, MacInnis manned the Flames blueline for the better part of 13 seasons and held (at some time) most of the team's offensive records. He was the MVP of the Flames 1989 Stanley Cup team and was elected to the Hall of Fame in 2007. Not bad for the team's second first round pick.
:::Traded to St. Louis for Phil Housley and a draft pick:::
LW Gary Roberts [selected 12th overall in 1984]
Another member of Calgary's 1989 championship team, Gary Roberts was renowned for being a complete pain to play against. He never won a ton of individual awards, but he played over 1,000 games in the league and scored 30+ goals four times in his career.
::Traded to Carolina (with Trevor Kidd) for Andrew Cassels and J.S. Giguere:::
C Cory Stillman [selected 6th overall in 1992]
Not surprisingly, the Flames' highest-drafted pick is one of their better ones. While never an everyday first-line sniper or NHL superstar, Cory Stillman never scored 30 goals…but he scored 20+ goals in eight different seasons. He also won two Stanley Cups (in consecutive seasons). Stillman remains active in the NHL at the age of 37, heading into the third and final year of his contract with the Carolina Hurricanes.
:::Traded to St.Louis for Craig Conroy:::
STRONG PICKS:
C Dan Quinn [selected 13th overall in 1983]
Renowned for his leadership, Dan Quinn racked up 805 games in the NHL. He never quite hit the levels of greatness other draftees approached, but Quinn did score 30 goals on three occasions and went to the 1986 Stanley Cup Finals with Calgary.
:::Traded to Pittsburgh for Mike Bullard:::
D Derek Morris [selected 13th overall in 1996]
Despite having some recent seasons side-tracked by injury, Derek Morris has quietly put together quite the career. He's likely going to cross the 1,000 games played threshold this coming season and, despite never really having a stellar statistical season or a lot of chances for playoff success, Morris has still averaged around a point every three games as throughout his career.
:::Traded to Colorado (with Dean McAmmond & Jeff Shantz) for Chris Drury & Stephane Yelle:::
D Dion Phaneuf [selected 9th overall in 2003]
Dion Phaneuf probably ranks among the most talented players ever drafted by the Flames organization. He may have also been, at least during his time in Calgary, one of the least consistent. The best rookie not named Ovechkin or Crosby during his freshman year, he was one of the top three blueliners in hockey the next year. And then his play tailed off to the point where Darryl Sutter traded him away for a bunch of guys.
:::Traded to Toronto (with Keith Aulie & Fredrik Sjostrom) for Matt Stajan, Jamal Mayers, Ian White & Niklas Hagman:::
ABOVE-AVERAGE PICKS:
G Trevor Kidd [selected 11th overall in 1990]
The team's first first-rounder chosen after their Stanley Cup victory, Kidd was the highest-drafted goalie in franchise history (until Brent Krahn in 2000) and chosen ahead of Felix Potvin and Martin Brodeur. Hindsight being 20/20, perhaps the Flames would've preferred one of the other goalies, but Kidd put together a respectable NHL career. Tall and lanky, he was thought of as the Flames goalie of the future until it became abundantly clear that he wasn't.
:::Traded to Carolina (with Gary Roberts) for Andrew Cassels & J.S. Giguere:::
LW Chris Dingman [selected 19th overall in 1994]
Chris Dingman might be the best example of an NHLer punching above his weight for an entire career. Never renowned for being particularly skilled or agile, Dingman still managed to play nearly 400 NHL contests and get his name on the Stanley Cup twice (2001 and 2004). He only played 72 games with the Flames before being shipped off as a throw-in in the Theoren Fleury deal.
:::Traded to Colorado (with Theoren Fleury) for Robyn Regehr, Rene Corbet, Wade Belak and Jarret Stoll:::
D Denis Gauthier [selected 20th overall in 1995]
Perhaps best described as a poor man's Dion Phaneuf, Gauthier was a big hulking presence on the blueline. His forte was the "Gauthier hit," a wonderfully telegraphed open-ice attack that was just as often dodged (leading to an odd-man rush) as it was successful. When it worked, though, it made for poetry through body-checking. Gauthier never really got over some nagging injuries and left the team for sunnier climes.
:::Traded to Phoenix (with Oleg Saprykin) for Daymond Langkow:::
LW Oleg Saprykin [selected 11th overall in 1999]
The Flames have had some mixed luck with European players. One of the success stories is Oleg Saprykin. He broke into their line-up on an everyday basis and despite some speed-bumps, he hit his stride just in time for the 2004 playoffs, he played a critical role in the team's success. He briefly returned to Russia during the lockout before finishing out his NHL career with stints in Phoenix and Ottawa before heading back to Russia for good. He won a KHL Championship with Ufa Salavat Yulayev last season.
:::Traded to Phoenix (with Denis Gauthier) for Daymond Langkow:::
RW Chuck Kobasew [selected 14th overall in 2001]
Another guy that never became a top guy, but developed into a solid everyday contributor. Kobasew made the jump from U.S. college to the American League, then headed to the NHL. After over 200 games with Calgary, he was packaged with Andrew Ference in an effort to bolster the Flames' line-up with veterans for a playoff run.
:::Traded to Boston (with Andrew Ference) for Brad Stuart & Wayne Primeau:::

Eric Nystrom (Justin Yamada - Flickr)

LW Eric Nystrom [selected 10th overall in 2002]
Eric Nystrom seemed to take forever to get to the NHL. Troubled with injuries during his first couple years pro, Nystrom battled through the adversity and became a steady presence in the Flames bottom-six and a key penalty killer. Then his play more or less pushed him out of the Flames price range at free agency.
:::Signed elsewhere via free agency:::
BELOW-AVERAGE PICKS:
RW Denis Cyr [selected 13th overall in 1980]
The first-ever Calgary first round pick…was not all that impressive. He played 66 games with the Flames and only 193 in the NHL before retiring. The Flames at least flipped him for a decent asset.
::Traded to Chicago for Carey Wilson:::
G Jason Muzzatti [selected 21st overall in 1988]
The Flames commemorated the Olympics (and winning the President's Trophy) by grabbing future NHL journeyman Jason Muzzatti. He spent two whole games with Calgary before drifting around the league for a few years, eventually moving to Italy after 62 NHL appearances and playing in the Olympics for the Italians. He's an Olympian, so he's not a complete bust, but he was more or less a waste of a pick
:::Signed elsewhere via free agency:::
RW Rico Fata [selected 6th overall in 1998]
Rico Fata is a legend. Tied for the best draft position the Flames ever had (the Flames grabbed Cory Stillman at 6th and later grabbed Daniel Tkaczuk at 6th), he may be the most consistently mediocre for his draft position. Fata hit the NHL with much fanfare…and then disappointed to the point where the Flames put him on waivers after 27 games to see if any other team could do something with him. They couldn't.
:::Claimed off waivers by the NY Rangers:::
TRAGICALLY DISAPPOINTING PICKS:
RW George Pelawa [selected 16th overall in 1986]
Died the summer after the draft in a car accident. Noted for being a tremendously gifted hockey player and arguably the biggest "imagine how good he could've been" story in Flames history. Was also allegedly the subject of a great Tom Cochrane song, "Big League."
:::Died:::
HORRIBLE PICKS:
D Chris Biotti [selected 17th overall in 1985]
Zero NHL games played.
:::Left hockey:::

LW Bryan Deasley [selected 19th overall in 1987]
Zero NHL games played.
:::Retired:::
LW Niklas Sundblad [selected 19th overall in 1991]
Two NHL games played. Now coaching in Sweden.
:::Went back to Sweden:::
LW Jesper Mattsson [selected 18th overall in 1993]
Zero NHL games played. Still active in Sweden.
:::Went back to Sweden:::
C Daniel Tkaczuk [selected 6th overall in 1997]
Picked before Sergei Samsonov, Marian Hossa and Brenden Morrow. Played 19 games for Calgary, in part due to concussions. Shipped to St. Louis for a guy that was a strong back-up but a shaky starter.
:::Traded (with Fred Brathwaite & Sergei Varlamov) for Roman Turek:::

G Brent Krahn [selected 9th overall in 2000]
Drafted at the Calgary draft from the Calgary WHL team. Hit a horrendous run of injuries. Currently bouncing around the minors. Has played a single period of NHL hockey in his life and gave up three goals. That was a couple years ago.
:::Signed elsewhere via free agency:::
RW Kris Chucko [selected 24th overall in 2004]
Chucko's placement here may be a bit harsh, as he played fairly well in the AHL before getting hit with injury after injury. But fragility probably isn't good for a player whose only chance of cracking an NHL line-up was through being a physical agitator on the bottom six.
:::Not offered a new contract:::
TOO EARLY TO TELL:
Of Calgary's post-2004 first rounders, three (D Matt Pelech [2005], C Mikael Backlund [2007] and RW Greg Nemisz [2008]) have played any time in the NHL, although Pelech was not re-signed and joined the Sharks organization as a free agent this off-season. Backlund is easily the most impactful first rounder in years, although he's had an Oleg Saprykin level of success thus far. Backlund is a lock for the Flames roster next season, while Nemisz should spend at least some time in the bigs. Tim Erixon [2009] has big-league skill, but wouldn't sign and was flipped to the Rangers for a pair of draft picks (Tyler Witherspoon and Markus Granlund) and Roman Horak. Leland Irving [2006] was consistently good and occasionally great in the AHL last season but still needs to find his way into the Flames long-term plans. Sven Baertschi [2011] likely has a few years before he challenges for an NHL spot.
NOTE: The original version of this article had a handful of errors, which have been subsequently corrected. Thanks to the folks at the CalgaryPuck forums for their assistance.