By Wayne Whittaker, Boston Bruins Correspondent
Walking away from something you've committed your entire life to can't be easy.
There are few times when you can detect even a hint of vulnerability in the actions of a professional athlete- a calling to which the timid need not apply. So, it comes as no surprise that retirement press conferences have a tendency to make everyone involved feel a little uncomfortable.
At a podium, a multi-millionaire barely manages to hold back tears as they announce to the world that they'll have to retire. It's a situation that can't seem very appealing, yet it's sometimes neccessary.
For Marc Savard, it may be time to hang up the skates for good.
The 34-year old has enjoyed over a decade in the NHL, playing for two Original Six teams, and making multiple All-Star Game appearances. But the last few years haven't been kind to Savard.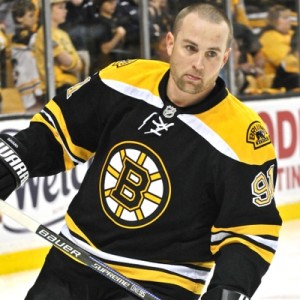 First, of course, the Matt Cooke blindside hit in March of 2010 sidelined the playmaker for months. After making a triumphant return in the 2010 playoffs (in which he scored the game winning overtime goal in his first game back from injury), Savard started experiencing symptoms of post-concussion syndrome, and sat out the first three months of the 2010-2011 NHL season.
When he did return to the ice, it was evident that while the name and number on the sweater may have remained, this wasn't the same Marc Savard that lit up scoresheets earlier in his career.
He struggled to keep up with the pace of the game, which played some part in his accumulation of 29 penalty minutes in 25 games-a stark difference from the 14 PIM in 41 games in '09-'10.
His 2 goals and 8 assists in those 25 games were barely memorable. Instead, the lasting image of Savard in 2011 is one of the centerman clutching his forehead, a towel hiding his tears, as he exited the ice in Colorado after suffering from his
second concussion in eleven months
.
Recently it has come to light that Savard continues to suffer from headaches and memory loss usually associated with post-concussion syndrome. As the Boston Globe reported on July 28th, barring any remarkable progress, he will not be attending Boston Bruins training camp this Fall.
As if this process wasn't hard enough for Savard, he had to watch his team succeed without him. Round after round, it was apparent that the Bruins had adapted to life without the player that once sat at the top of their depth chart. Was he happy for his teammates? Undoubtedly. Was he frustrated with the fact that he didn't have the chance to compete for (and eventually win) Lord Stanley's Cup? Almost definitely.
Of course, Savard showed his support. He attended the victory parade, and he will celebrate his day with the Cup in the coming weeks. But the usually jovial Savard was subdued in interviews, sporting dark sunglasses and a baseball cap, and smiling politely for the fans that lined the streets of Boston. It was quite clear that, whether he admits it or not, Savard feels forgotten.
It wasn't that long ago that Marc Savard was one of the posterboys for the "new" Bruins, as he led the team in points for his first three years with the club. He was a crafty playmaker who took his fair share of criticism for the lack of physical toughness in his game, but would continue to show up when it mattered most. Savard eventually impressed team general manager Peter Chiarelli enough to earn himself a 7-year extension in December of 2009.
Now, it's looking more and more likely that Savard won't enjoy the final six years of this contract.
Those close to Savard say that he seems to be at peace on the golf course, and spending time with his family.
It's no secret that the depression and memory loss were the two most troubling long-term effects of Savard's last few concussions, and while there have been no official reports that actually verify the suspicions, many believe he will be walking away from the sport of hockey.
If this does turn out to be the case, it's hard to argue against the decision. While the hockey world may have been robbed from enjoying several more years of Savard's skill, and though the Bruins clearly miss his half-wall presence on the power play, retiring seems like the responsible thing to do at this point.
From an organizational standpoint, the Bruins have been nothing but supportive throughout this entire process. They've been patient and understanding as Savard battled injuries, and when #91 suffered his concussion in February, they took no risks and decided to shut him down for the remainder of the season (and playoffs).
Once they did capture the Stanley Cup, the Bruins almost instantly began the process of having Savard's name added to the chalice, despite not meeting the minimum amount of games played usually required for such an honor.
Should he decided to do so, Marc Savard will retire as a Stanley Cup champion.
While it's quite clear that everyone involved (the Bruins, Savard, and the fans) would love to see him make a remarkable comeback, there's also the lingering fear that he's just one borderline hit away from a permanantly life-altering injury. It wouldn't be worth the risk for Savard to return to the front lines as a shell of his former self.
Of course, nothing is guaranteed, and it is possible that Marc Savard has many playing years ahead of him. But those odds are looking slimmer by the day.
—