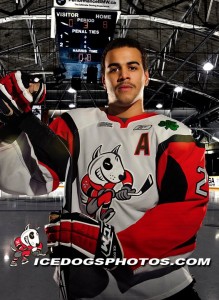 It is rare for a player who was passed over three times to make an immediate impact as a prospect at the NHL level. The odd college player will sneak through because the NCAA (up until recently) wasn't scouted as heavily as the CHL. Some examples of this include Joey Mullen, Adam Oates, and more recently the likes of Dustin Penner, Chris Kunitz, Rich Peverley, and Teddy Purcell, to name a few. The list of undrafted CHL players who made it to the NHL is not nearly as impressive. CHL graduates who slip through the draft three times are by and large ignored by NHL teams, unless a late growth spurt or rapid improvement takes place.
Former Niagara Ice Dog Darren Archibald is an intriguing player for many reasons. 30 teams passed on him a combined 21 times at the 2008, 2009, and 2010 NHL Entry Drafts (seven rounds each year). Looking at his size (6-foot-3), skating speed (well above average), goal scoring ability (great wrist shot, solid offensive instincts), and intangibles (tough as nails, momentum-swinging hits and fights), it is hard to see why.
Before joining Barrie back in 2008, Archibald played on a Tier II team in Stouffville, Ontario. A few of his teammates on that team were high draft picks – Ethan Werek (a New York Rangers 2nd round pick from 2009) and Corey Trivino (a New York Islanders 2nd round pick from 2008). It must have been frustrating for Archibald see two of his former teammates get picked while he was overlooked numerous times by the entire league. He took whatever anger he had from not being drafted and used it to develop into arguably the most imposing power forward in the entire Ontario Hockey League.
Archibald dominated the OHL in 2010-11 as an overager (each CHL team can have up to three players aged 20), splitting time with Barrie and Niagara. He finished the season with 41 goals in 61 regular season games split between the two teams, and added 10 goals in 14 games with Niagara in the postseason. He scored numerous highlight reel goals in all situations – penalty kill, even strength, power play. You name it, and Archibald played it.
His offensive numbers have trended upward each season, as well. His OHL debut in 2008-09 saw him finish with 49 points. He recorded 59 the season after, and ended up with 66 this past season. Not a huge progression from year to year, but an encouraging sign as it shows a player improving relative to the competition he faces.
Offensive consistency has been an issue with Archibald. He recorded 20 points in only 11 games in November of last year – almost one-third of his entire production for the season. However, he was still able to contribute with his physical play and fighting ability. His balanced game will likely enable him to stick on a third or fourth line at the NHL level if he is unable to transfer over his offensive game.
The Canucks likely have only one or two openings at training camp this season, and both of them are on the fourth line. However, Alain Vigneault has shown in the past that he is willing to give roster spots to the players who earn them, regardless of age, history, or contract situation. The Canucks will likely send Archibald down to Chicago, where he'll line up with either Andrew Ebbett or Cody Hodgson in the top six. Vancouver hasn't had a prototypical power forward prospect/player since Todd Bertuzzi before the massive contract extension/sideshow. To find the last power forward the team has developed internally… you'd have to dig very deep.
Looking forward a few years, and it is easy to see why Archibald is something worth watching. Both Mason Raymond (restricted) and Mikael Samuelsson (unrestricted) are free agents in the summer of 2012. Only Daniel, Henrik, Alex Burrows, and Ryan Kesler are top six forwards locked up for more than one season. Cody Hodgson and Jordan Schroeder are more well-known than Archibald because of their pedigrees and the 1st round draft pick status, but neither has done a whole lot at the professional level to rise above the other prospects. Look for Archibald to get a real look at a roster spot heading in to the 2012-13 season.
A glimpse of his offensive ability: