Imagine your favorite hockey team playing without three of their top six forwards. Last weekend, that's exactly what happened. The University of North Dakota Fighting Hawks swept Western Michigan Broncos minus Chris Wilkie (arm), Drake Caggiula (shoulder) and Nick Schmaltz (lower-body).
To add insult to injury, freshman forward Rhett Gardner also missed Friday's game with an undisclosed illness. Entering Friday's game, UND was missing (30g-41a—71pts) from their lineup. In essence, the Fighting Hawks were missing almost 30% of their offensive points when they took the ice on Friday night.
Under those circumstances, it would tough for any team to win a two-game series missing three of their top six forwards. Injuries aside, UND was able to gut out a series win (2-0 W, 2-1 W).
The Fighting Hawks received some good news on Saturday night, Gardner would return to the lineup and assist on the game-winning goal. The freshman forward from Moose Jaw, Saskatchewan, now has points in four of the last five games that he's played in (5g-1a—6pts).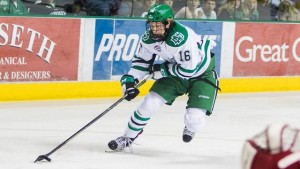 Boeser Takes Team on His Back
Good players are expected to shine when the spotlight is shining on them. This past weekend was no different. With the "C" and "S" missing from the highly decorated CBS line, Boeser took the UND hockey team on his back and scored (3g-1a—4pts).
Boeser's efforts helped lead the Hawks to a series sweep of the Broncos (2-0 W, 2-1 W).  With the sweep, UND leads the NCHC by three points over second-place St. Cloud State.
With his four-point weekend, Boeser is now UND's leading scorer with (18g-13a—31pts). The last rookie to lead UND in scoring was Landon Wilson 1993-94. Boeser is ranked third nationally in points per game by a rookie with 1.19. Finally, Boeser is also ranked fourth in the conference in points.
With his performance this past weekend, Boeser was named NCHC Rookie of the Week.
The Boeser File
Since November 13, 2015, Boeser has scored (13g-11a—24pts) and has been held pointless in only one game. During that time, Boeser is ranked 11th in the nation for scoring. Boeser would probably be ranked higher but he missed two games during the World Junior Hockey Championship. The Fighting Hawks are 20-3-3 when Boeser is in the lineup.
With the series sweep, UND improves to (22-3-3, 13-2-1 NCHC). UND also leads the NCHC with 41 points. St. Cloud State is in second with 38 points.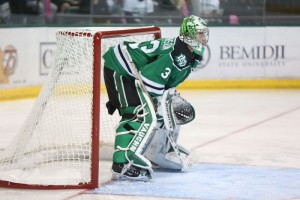 Cam Johnson Stellar in Net
Once again, UND sophomore goalie Cam Johnson was stellar in net stopping 59-of-60 shots. For the weekend, Johnson was (2-0-0, 0.50 GAA and .983 save percentage).
Johnson's numbers for the season are pretty solid (13-1-1, 1.31 GAA, .948 save percentage)and  is leading the nation in winning percentage, goals against average and save percentage.
Looking at the numbers, Johnson has given up one goal or less in 12 of his last 15 starts.
Johnson who hails from Troy, Michigan, has had eye-popping numbers playing in his home state. In the four games that UND has played in Michigan, Johnson is (4-0-0, 0.75 GAA, .975 save percentage). After another solid weekend, Johnson was named the NCHC Goaltender of the Week.
Eric is a 1996, 1999 graduate of the University of North Dakota. Eric covers the University of North Dakota Hockey and Division I college hockey. Eric is the Contributing Editor for Inside Hockey.