It's a time that most Flyer fans dread. Who are we going to land this year? What bad contracts can we shed this year? All of these are questions that arise in Philadelphia when the trade deadline comes around. So what about this year?
This year was different.
Ron Hextall stuck to his word and made all the right moves at the trade deadline.
More importantly, the moves Hextall didn't make, said more about his future plans. Brayden Schenn, Sean Couturier, and all of the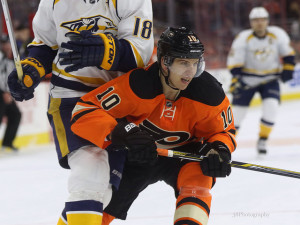 defensive prospects are still in orange and black.
Even more surprising? The Flyers came out of the deadline with more picks then they went in with. In fact, the Flyers have more first rounders lined up for 2015 (2) than the Devils (1), Penguins (0), Rangers (0), and Islanders (0), combined.
The pessimistic fan might go off and say that Vinny Lecavalier, RJ Umberger, Andrew MacDonald, and Luke Schenn didn't move anywhere. That's still a myriad of bad contracts that sit under the Flyers roster. But it would have been a longshot to get rid of any of those contracts at the deadline.
They did what they could and that is what matters most, they started to clear up space for next season.
With the flurry of moves, #Flyers now have $4.9M in cap space.

— Sam Carchidi (@BroadStBull) March 2, 2015
Then again, just think for a second at what Ron Hextall was able to do.
He took a defenseman at the end of his career, who hasn't played in an NHL game since April 2014, and managed to turn that into second-round pick in 2015, and a fourth-round pick in 2016, which becomes a second-rounder in Timonen plays in 50% of games and the Hawks make it to the cup final.
Hextall also managed to take Braydon Coburn from a salary dump to a productive trade. Radko Gudas isn't a player who is going to radically change the Flyers blue line. But he will get the job done, and is a minimal cap hit. The Flyers also got not one, but two draft picks out of this deal. One of them being a first rounder this season.
The hidden message in the Coburn deal is that it frees up a spot on the blueline. This makes it easier on the Flyers if they want to give Shayne Gostisbehere or Samuel Morin a shot at the big club. Something either guy could be ready for.
Well done, Ron Hextall.
Matt is a contributor for the Philadelphia Flyers at The Hockey Writers. He has previously covered the Flyers for GrandstandU. He enjoys playing hockey and making music in his spare time.