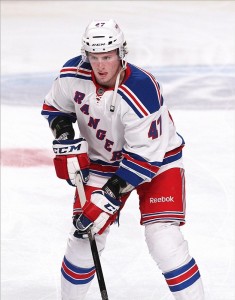 Over the past few weeks J.T. Miller has had a certain swagger in his game that the Rangers haven't seen yet. He has been using his frame to lay punishing hits, and has been making solid plays with the puck. Since being drafted Miller has been considered a potential power forward who can score, but also play with an edge. Hockey's Future says  "Miller is an excellent two-way player, with some offensive upside. A good face-off man, he plays well along the boards and in tight areas." Miller has had some struggles with turnovers this season, but lately he seems to be finding his game.
Ice Time Increase for Miller
On Saturday Miller was bumped up to the Rangers top line with Rick Nash and Derick Brassard. He had already scored a goal in the first period, and was one of the few Rangers who was noticeable every shift. The tally gives Miller 6 goals and 14 points on the season . Alain Vigneault spoke about Miller after the game,  "I thought JT played extremely hard, (was) strong on pucks, battled hard to keep the puck, to make some plays when he had it, and had a good game."
Below is a video of Miller's goal.
It wasn't just the game in Philadelphia where Miller was finding chances he has been playing well for a few weeks now. Pat Leonard of the Daily News sent out this tweet about Miller  being robbed during the game against the Coyotes last week.
Smith with another huge save on JT Miller at the front. Second time Miller has been robbed in two games. Got more of that shot though

— Pat Leonard (@PLeonardNYDN) February 27, 2015
Miller has been all around the front of the net, and if not for a breath taking saves by Kari Ramo (Tuesday) and Mike Smith (Thursday); Miller would have goals in three straight games.
First NHL Fight
Miller had his first NHL fight last Tuesday against Flames forward, Michael Ferland. Of course Miller isn't on the Rangers to be a fighter, but his willingness to drop the gloves indicates to me that he has a certain level of comfort now in the league.  When he was first called up in 2012-2013,  he seemed passive in scrums. This season he has had much more push back after whistles. This change in his mentality seems to be having a positive effect on Miller's overall play.

J.T. Miller, Kevin Hayes, and Carl Hagelin have been excellent for the Rangers for about a month now. One of the trio's best games was a win in Colorado on February 12th, where coach Alain Vigneault spoke about the line's effectiveness,  "Hayes's line was huge, I mean they played an unbelievable game, every time they were on the ice, things were happening offensively. They helped us win this game."
Miller is becoming a key part of the Rangers offense, he is checking with authority, and has made some nice plays alongside Kevin Hayes. Of course Miller still has some growing to do, but for the first time as a Ranger Miller looks to be on the path to being a full time NHLer.
I graduated from Brooklyn College with a B.S. in Broadcast Journalism. Shortly after, I began writing for the Full Tilt Hockey Network, where I still contribute, covering a broad range of topics across the NHL.
I have been contributing to The Hockey Writers since February of this year focusing on the New York Rangers. My articles tend to focus on analysis of players, and possible directions that the organization could go.