Game 4 was not the most crushing defeat of the Montreal Canadiens season thus far, but it certainly has the possibility of being the catalyst for what could be. Through a season of proving critics wrong, of great comebacks and of overachievement the Montreal Canadiens have always preached the "don't get too high when you're doing well or too low when you're doing bad" cliché but now more than ever it's important for every man wearing the CH to remember this. This has been a post season of twists and turns, playing out like Game of Thrones on ice with shocking defeats and surprising comebacks all providing intense and entertaining hockey in this year's playoffs.
If the New York Rangers think that the Habs are done, they need to think again.
[Related: New York Rangers Schedule]
A Capital Opportunity
These playoffs are no strangers to upsets and comebacks. The Los Angeles Kings did it to the San Jose Sharks however even better was how the Rangers series against the Pittsburgh Penguins went. Not only did they come back from a nearly fatal 3-1 series deficit, they proved they could go on a three game losing streak in these playoffs. The task of compelling them to go on one more three game losing streak may seem daunting on the surface, but there are some steps the Canadiens can take to bring the Rangers down and dethrone their king. This isn't the first time in recent history Montreal has been down 3-1 in a series. In 2010 against the Washington Capitals, Montreal faced eliminating three times and each time they pulled out the victory to eventually upset the then President's Trophy Caps in seven games. The first thing the Habs can do is take heart from those who were there for that series victory; Brian Gionta, Tomas Plekanec , P.K. Subban and Josh Gorges, and understand that the task before them is not impossible.
Following any such uplifting regrouping, Montreal will need to focus on solving the Rangers speed, which has left the Habs tasting their own medicine. They've looked slow, confused and disorganized as a result of the Rangers speed and this was never more evident than on the goals New York scored in game 4. Tightening up defensively will be key because while Dustin Tokarski has given them a chance to win he has shown that one on one against experienced NHLers he is beatable. That is no fault to him as no one can justly fault him for the Habs game 4 loss there's little doubt in the minds of many Habs fans that Carey Price would've had at least one of those, whether that's fair or not to Tokarski is irrelevant as what matters is that the other Montreal players on the ice don't leave him in such a vulnerable position.
#Habs need a performance like Game 6 vs #Bruins, no defensive holes, no passengers

— Rob Elbaz (@RobElbaz) May 27, 2014
It would be easy to blame the power play that went 1 for 8 in game 4 on why Montreal lost, but that poor power play is merely a symptom of the underlying condition the Habs are faced with. Max Pacioretty had no shots on goal, Thomas Vanek has seemingly gone out of sight and out of mind once more, these two players need to get going offensively if there is any hope of Montreal taking this series back to New York. The problem beyond them is that many of the shots Habs players are taking on Henrik Lundqvist are too easy for him to save. How many times have we heard throughout these playoffs that if Carey Price sees it he'll save it. What the Habs need to truly understand is that Henrik is the same. Looking for rebounds with no one in front of the net in his face isn't good enough. If the Montreal Canadiens do not make Henrik's life a waking nightmare in his crease then he is likely to continue to stonewall the Habs. In game 5 tonight, coach Michel Therrien has at least one more opportunity to stifle the Rangers speed, adapting the Habs first to undoing the Rangers style of play before dictating the game at their own pace and speed. If the veterans can step up while the youngsters continue to play with their hearts on their sleeves game 5 is winnable.
We'll worry about game 6 if and when it comes to it.
The Next CHapter
Hope filled the hearts and minds of all Habs fans, and certainly the players and organization itself as it was reported that Carey Price took to the ice for the first time since his injury in game 1. He will not play again versus New York, but I wholeheartedly believe Dustin Tokarski can help lead the Canadiens past the Rangers. There are so many positives we can take heading into game 5, one of the biggest of which is that P.K. Subban has ended his pointless streak in game 4 and if he can find a way to continue to produce he can change this series, he is simply that good.

David Desharnais, who many maligned for his size has shown the type of heart and character that makes him worthy to wear the sweater of the Montreal Canadiens. He is always battling against players much bigger than he is, fighting for the puck and putting it all on the line for victory. I'm not sure most saw this coming from him, but it is heartwarming to see the fight in Davey. Marc Bergevin and his staff have shown they have the intelligence and grit to make moves and take the Montreal Canadiens onto the next step in a rebuild that seeks to build a truly Stanley Cup caliber team. Whether you realize it or not, they have already started the next chapter on the most storied franchise in all of hockey.
If this is the end, then so be it. It has been a great season and our Montreal Canadiens have provided a lot of great memories this year. The experience the younger players in Montreal have gained is going to prove so valuable in the coming years. Players like Lars Eller and Rene Bourque have been revelations in these playoffs and that's not even touching on what Dustin Tokarski has done in relief of Carey Price. P.K. Subban is a natural leader and as he matures this is becoming more evident by the game. Brendan Gallagher and Alex Galchenyuk are going to look great in the CH for years to come and Max Pacioretty is going to fine tune his game as he learns to use his size and strength to his advantage. Above all else what can be said of Carey Price who has shown he can carry this team on his back, a young kid who came into the pressure cooker that is Montreal, survived and is now the true spiritual leader of Nos Glorieux. Whether the next chapter is a new season or the next game, take heart because the future is bright for the Montreal Canadiens.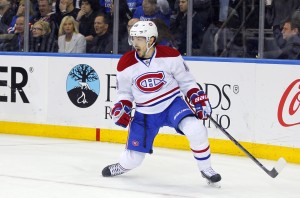 No matter how daunting it may seem, how good Lundqvist may look or how devastating Martin St.Louis plays the Habs, in a city where the Canadiens are a religion, I still believe.I will always believe, through thick and thin, good and bad. For many of us this is the faith that binds our great city together regardless of language, skin color or religion. Whether this is a moment of learning in defeat or a moment of character in the start of a comeback?
It is our moment, nevertheless.