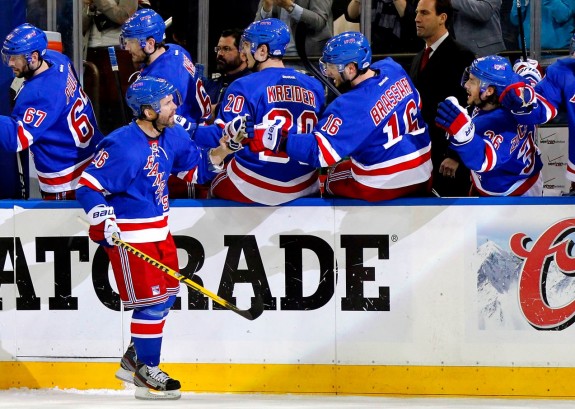 When you're not getting what you want out of a relationship it might just be time to move on. In the NHL, this is exactly what a few players were forced to do this season, navigating the seldom chartered waters of the trade request. In the hockey world, it's difficult for players to cut ties with teams they've been a part of for a major portion of their career, especially when a supportive fan base relies on you for success (Rick Nash, anyone?). Unfortunately, having a crowd cheer for you isn't always enough to keep players around. Amongst recent news that Columbus Blue Jackets R. J. Umberger has requested a trade, it became apparent to me that the 2013-2014 season has involved a lot of trade requests. With the post-season scheduled to end in about a month, rumors of James Neal, Evander Kane, and James Reimer requesting trades from their respective teams have also surfaced, causing me to wonder: who's winning in this year's trade request class?   If he's not supporting your talents… (a.k.a. Tampa Bay Lightning GM Steve Yzerman):
Martin St. Louis
The biggest trade request this season came from former Tampa Bay Lightning captain, Martin St. Louis. After 13 seasons with the Lightning (2000-2001 to 2013-2014) it was time for a change, and the only place for Marty was The Big Apple. It was a long time coming for St. Louis as it has been revealed that he originally asked to be traded to the New York Rangers back in 2009. Marty's desire to play for the Rangers seems to be a culmination of wanting to be closer to family in Connecticut as well as leaving an uncomfortable situation with Lightning GM Steve Yzerman. Word of turmoil between the two first emerged when St. Louis was "snubbed" off the Sochi Olympic Team Canada roster (although later added to replace an injured Steven Stamkos). Current trade status: Marty wins this break-up. It's late May and Marty St. Louis is still playing hockey, whereas the Lightning have had a month of working on their golf game.
Marty's New York Rangers have taken a 3-1 series lead over the Montreal Canadiens and are attempting to be crowned the Eastern Conference champions. As the Rangers have pulled within one game of winning the series, this will be the closest the team has come to a Stanley Cup in recent years (and closest to a Stanley Cup Final since 1994). Two years ago, the Rangers managed to make it to the Eastern Conference Finals but fell to the New Jersey Devils in Game 6. Shipping Ryan Callahan off and acquiring St. Louis may prove to be the missing piece in New York, in conjunction with newly appointed head coach Alain Vigneault. Despite Marty's short stature and his $5.625 million cap hit, his tenure in the NHL (he's 38 after all) has shown that he continues to be a workhorse who can make things happen. He managed to have a 30 goal season between the Lightning and Rangers and has tallied 13 points in 18 games in this year's playoff run, including a recent OT goal that was a site to see.   If he's not appointing you starting goaltender… (a.k.a. former Vancouver Canucks GM Mike Gillis)
Roberto Luongo
Similar to St. Louis, former Vancouver Canuck's goaltender Roberto Luongo's trade request has been a few years in the making. Will he stay or will he go was a hot topic around the league, with speculation of the Florida Panthers or Toronto Maple Leafs being top landing spots. Reports first surfaced of Luongo requesting a trade back in 2012, with him willing to walk away from $40 million of his remaining contract. 2012 was a bust and Luongo continued to be criticized in Vancouver (obviously, the 2011 cup run riot was not enough of a sign this wasn't going to work out). He then lost his starting goaltender position after the Canucks fateful playoff run in 2012 that left the team out in the first round after just 5 games against the eventual Stanley Cup winner Los Angeles Kings. This past summer, however, after the Canucks traded away Cory Schnieder, he  was appointed starting goaltender, and it was reported that Luongo no longer requested a trade.
The confusion finally subsided for the on-again off-again starting goalie as he parted ways with Vancouver this March, heading to the Florida Panthers. Communication seems to be key in any successful relationship and Mike Gillis and Luongo never seemed to be on the same page. Evaluating the current trade status: Luongo wins; a mutual break-up that allows for amicable reunions. After finally getting traded to a team and a city that he finds desirable, Luongo has found a party willing to take on his 12-year, $64 million contract and will no longer have to worry about his starting position. The Canucks are currently on the verge of rebuilding, as they will most likely trade Ryan Kesler this summer, and have recently fired their entire front office (including their food and beverage operators! Need a job?). It seems like a good time for Luongo to move on, joining a team that is priming itself for a Stanley Cup run with Dale Tallon as its GM. Off-season moves for both the Canucks and Panthers will likely shed more light onto their respective future successes, but for now I think it's safe to say Luongo hasn't left Vancouver broken-hearted.
Thank you Vancouver for a great 8 years! Really appreciative of all the support especially the last little while. I will miss the LOOO'ing!! — Strombone (@strombone1) March 5, 2014
When he's just not that into you… (a.k.a. Capital's head coach Adam Oates)
Martin Erat
Unlike other big trade request names, Martin Erat's situation has been a bit more complex as he continuously seems to be dissatisfied with his playing status. Erat originally played 11 seasons for the Nashville Predators before requesting a trade around the 2013 trade deadline last season. Unfortunately for Erat, heading to the Washington Capitals did not help what was his worst career season to date (4 goals and 17 assists in 36 games), and the 2013-2014 season brought trials and tribulations as head coach Adam Oates wouldn't give him the ice or power play time he wanted. With just 1 goal and 23 assists for the Washignton Capitals in the 2013-2014 season, Erat's trade request was granted, as he headed to the Phoenix Coyotes for the remainder of the season. Thankfully, he was able to tally up 2 goals in his 17 games with the Yotes, one more than he had for his 53 games with the Capitals.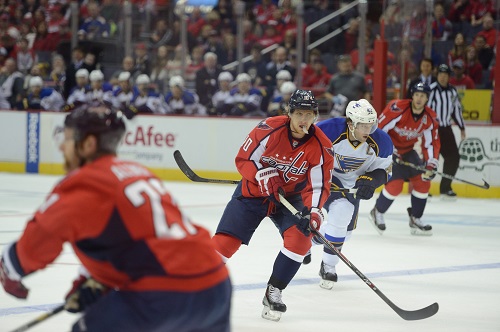 Evaluating the current trade status: Erat wins. This seems to be a bit of a trial and error relationship that was better off never starting. Unfortunately for the Capitals, their acquisition of Erat and their 2012-2013 attempted cup-run did not pan out, losing prospect Filip Forsberg in the process. But all relationships require a bit of a risk, right? The risk was much greater for Capital's GM George McPhee (who recently lost his job), and Erat was fortunate to get out of Washington as they figure out their identity and if they're going to be a cup-contending team in the coming years. The Phoenix Coyotes, however, have been rebuilding for a while, and although Erat isn't the goal scorer he once was, he is allowing himself access to a team with the potential to become great, especially amongst the likes of Oliver Ekman-Larsson. There are still a few big names that have requested trades, but are yet to be traded. Included in the summer trade request camp are Vancouver Canuck Ryan Kesler, New Jersey Devil Martin Brodeur, Ottawa Senator Jason Spezza, and most recently Columbus Blue Jacket R.J. Umberger. It will be interesting to see where these players land in the off-season and how teams like Vancouver will adjust to the rebuilding phase. Overall, I'd say it's been a Marty Party as Martin St. Louis is within 5 games of his second Stanley Cup on top of a gold medal in Sochi. Sorry, Arty it's a Marty Party.
It's #ArtyParty time! #CBJ pic.twitter.com/hkdMbvlBTy — Stinger (@StingerCBJ) March 9, 2014
Marinna is a Chicago-land native who was introduced to hockey in the form of an Aztec Keith Tkachuk jersey. Currently living in Illinois, she recently earned her Masters degree in Professional Counseling from Philadelphia's La Salle University. You are likely to catch her wearing memorabilia from various teams because she can't pick just one. A former Wildcat at Northern Michigan University, she is an avid member of the fitness group November Project, a fan to all levels of hockey, and she hopes to bring a fresh perspective to the game. Follow her on Twitter @marinnamil.