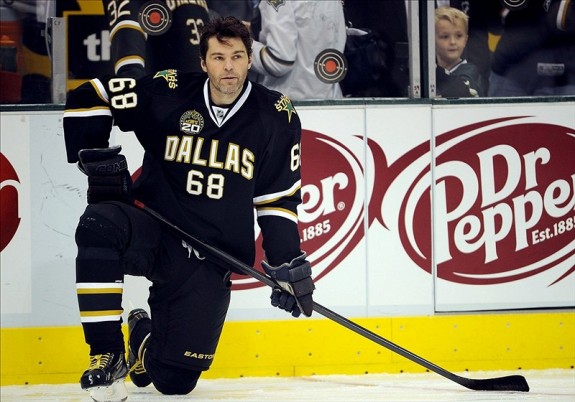 Opening Night: Dallas Stars 4, Phoenix Coyotes 3
The Dallas Stars kicked off their season on Saturday night against the Phoenix Coyotes in front of a sold out and frenzied crowd at the American Airlines Center and even in dreams, things could not have played out any better than what reality gave us. Jaromir Jagr dominated in his Dallas Stars debut, proving that he remains one of the most dangerous players in the NHL. It may have been a sloppy victory (featuring some questionable defense, but more on that later), but it was a victory nonetheless.
Jagr scored the first goal of the Dallas Stars season and the 666th of his career and never slowed down from there:
The Stars shot themselves in the foot repeatedly in the second period, allowing the Coyotes to score two power play goals after gifting them four power play opportunities in an eight minute span. Then, as the script called for, Jagr scored the equalizer with a power play goal of his own near the end of the middle frame. The Stars regained the lead 30 seconds into the third period with a power play goal from Ray Whitney, assisted by (wait for it) Jaromir Jagr.
The Coyotes evened the game at three-all after a truly tragic defensive miscue from rookie defenseman Jordie Benn, but it was Loui Eriksson who had the last laugh, as his go ahead goal with seven minutes remaining in the game would be enough for the victory. Jagr had the primary assist on the goal too, by the way.
Full Highlights:

Back-to-Back: Dallas Stars 0, Minnesota Wild 1
The Stars returned to the ice on Sunday night against the Minnesota Wild, who were coming off an opening night victory of their own. The only bright side of this game, at least from a Stars point of view, was the stellar performance of rookie goaltender Christopher Nilstorp, who was playing in his first NHL game after spending the lockout with the AHL's Texas Stars. There is quite literally not another kind thing to say about the Stars performance. They were unable to generate sustained pressure and produce quality scoring chances throughout the game and when it mattered most. Zach Parise scored the only goal of the game, his first as a Minnesota Wild, and the rest of the match consisted of stalled defensively-minded play. Succinctly, it was quite boring.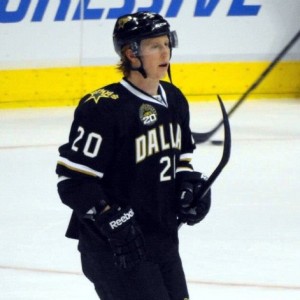 There's two big things that can be taken from the first two games of the Dallas Stars season; first and foremost is that Jamie Benn is sorely needed. Tom Wandell has been given the chance to play up in the lineup as the second line center between Michael Ryder and Ray Whitney and it is just not working. Tom Wandell is not a second line center and never has been at the NHL level. This team cannot win with one line able to generate offense.
Cody Eakin, who has been centering a fourth line with Reilly Smith and Ryan Garbutt that has done everything but score, deserves a look in the second line center spot. At the very least, he's a better option than Tom Wandell, who's playing third line minutes with no presence on special teams despite being a top six forward.
Second is that the Dallas Stars defense remains worrisome. Jordie Benn is trying to adjust to a full time role in the NHL and it's been bumpy so far. Stephane Robidas should not be a top pairing defenseman at this stage of his career but he remains one for the Dallas Stars. Aaron Rome is recovering from an injured groin and could bring some much needed veteran stability into the bottom pairing when he's healthy, but it's hard to see the Dallas Stars being a playoff contender with the defense as it currently is.
All it takes is quick look at their defensive depth to understand just how much the Stars need their rookies to succeed. Brenden Dillon has been solid thus far, but with a shaky Jordie Benn the Stars could end up recalling 2011 first round draft pick Jamie Oleksiak from the Texas Stars to get some NHL time. One of these three (Dillon, Benn, or Oleksiak if given the opportunity) need to make an impact in a big way, there's just no other options.
Looking Ahead: Dallas Stars vs. Detroit Red Wings (Tuesday, January 22nd)
There's a lot of work to be done for the Dallas Stars and couple uneasy questions that need answering. When will Jamie Benn return? Will the Stars stick with this defense and hope for the best? It's not an easy situation and this team will have to prove themselves in the meantime. Their next test comes Tuesday against the Detroit Red Wings, who have a myriad of issues of their own. We'll find out soon if the Stars can recover from their deplorable performance in Minnesota. Expect Kari Lehtonen to get his second start in net and don't be surprised to see Aaron Rome get a spot in the lineup in lieu of Jordie Benn if he's healthy enough to go.