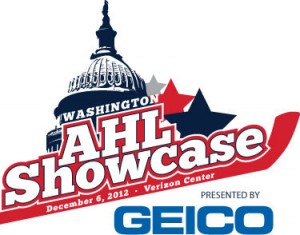 Last evening professional hockey returned to the Nations' Capital; however; this game did not feature the Washington Capitals or a visiting NHL club. The Verizon Center played host to the Capitals AHL affiliate, the Hershey Bears, and the Ducks AHL affiliate, the Norfolk Admirals.
The AHL Showcase presented by Geico was played in front of 18,506 fans who partook in the Bears 2-1 victory.  On the surface, professional hockey in Washington looked to be alive and well with fans chanting in unison "Fire Bettmen!"
Norfolk opened up scoring for both sides just seconds into the tilt when Admirals Brandon McMillan beat Hershey goalie Braden Holtby.  McMillan commented on his goal declaring, "It was a great pass by Sami Vatanen across the ice. Came down the wing with some speed and kind of used a defenseman as a shield."
Hershey didn't sit idle for long as Evan Barlow zipped a shot past Admirals goalie Frederik Andersen to knot the tilt at 1-1 in the big house at the 13:54 mark of the 1st.  Just moments after the Barlow goal, Admirals Forward John Kurtz and Bears tough guy, Alex Berry, engaged in a fight at center ice that drew applause from the 18,000 plus fans. As the 1st stanza came to a close, Hershey held the upper hand in shots outshooting Norfolk 13-8.
After a scoreless middle frame, Hershey's Ryan Potulny bombed a slap shot past Andersen to break the stalemate which gave the Bears a slim 1 goal margin at the 4:26 marks of the 3rd .  Potulny's marker was enough to seal a Bears 2-1 victory.  The final shot count read 30-27 in favor of the Bears.  Both clubs were unsuccessful with the man advantage.  Hershey locked up all three Stars which were Potulny, Barlow, and Holtby.
Norfolk's Head Coach Trent Yawney gave his thoughts on the AHL showcase saying, "I think it was really neat. That's where players in the American League want to play, in the National Hockey League, and our guys are no different and to get that experience and to see what it's all about is pretty neat."
Admiral's goal scorer Brandon McMillan commented on the AHL showcase stating, "The guys were ready to play. A lot of guys haven't played in front of 18,000 people so I know it was a good experience for them to go out and play like that. When you're playing in front of a crowd like that your blood should be flowing.
Norfolk now turns their focus to the Binghamton Senators, the AHL affiliate of the Ottawa Senators.  The two Eastern Conference rivals clash Saturday night at the Broome County Veterans Memorial Arena. The puck drops at 7:05.
Follow Ted on Twitter @bauerhockeydude
Ted grew up in Virginia. Warren has a passion for the AHL and dishes out articles about the Norfolk Admirals and the AHL. Follow him on Twitter @bauerhockeydude