With the first-place and undefeated Chicago Wolves off for the weekend, the rest of the American Hockey League's Central Division had a chance to play catch up. This weekend featured some non-divisional games, which are extremely rare during this season. With the shortened schedules, teams don't have very much time to get things on track if they want to compete for the Central crown.
Weekend Recap
Friday, Feb. 12
Rochester Americans 7, Cleveland Monsters 3
After being delayed a week, the Monsters finally made their 2020-21 season debut at Rocket Mortgage FieldHouse. They are going to have to wait a little longer to get in the win column after the Americans were too much to handle in a very rare non-division game.
Things started well for Cleveland as veteran Nathan Gerbe scored the first goal of the season just 62 seconds into the game. Zac Dalpe doubled the score later in the period with a power-play goal as the Monsters held a 2-0 lead at the first intermission.
C.J. Smith got the Americans on the board just 41 seconds into the middle frame and his goal was quickly followed up by tallies from Nicholas Welsh and Mattias Samuelsson. Dillon Simpson evened up the score for the Monsters late in the second period, but Smith struck again before the end of the frame to restore Rochester's one-goal lead. In the third period, Andrew Oglevie sandwiched a goal in between Jean-Sebastien Dea's power-play and shorthanded goals to pull away.
The Monsters got 46 shots on goal, but Buffalo Sabres' top goaltending prospect Ukko-Pekka Luukkkonen kept 43 of them out.
"When you look where the shots were, 46-26, you look at the 46 as a positive," head coach Mike Eaves said after the season-opening defeat. "We want to have a shooter's mentality. We want to have over 30 shots a game. Unfortunately, the breakdowns that we had were pretty high-grade. And those shots that they made, I have to be honest with you, were some pretty good shots. That was the difference in the game."
San Jose Barracuda 5, Texas Stars 2
After winning two out of three games in Iowa last week, the Stars returned home for a weekend set with the Barracuda out of the Pacific Division. The visitors from San Jose were not very good house guests in a 5-2 victory.
The Barracuda opened a 2-0 lead, midway through the first period, with goals by Kyle Topping and Jeffery Viel just 42 seconds apart. Adam Mascherin got the Stars on the board in the final seconds of the period by popping home a rebound for his second goal of the year.
Captain Cole Schneider tied the game with an early second-period power-play goal. He deflected a shot from Nikita Scherbak past goaltender Sam Harvey for his first goal with Texas. Unfortunately, it was Barracuda from here. Jayden Halbgewachs scored a power-play goal during a mad scramble in front of goaltender Colton Point, 10 minutes after Schneider evened the score. Robbie Russo and Ozzy Wiseblatt both scored in the third period as San Jose pulled away.
"It's the home opener and I think we could have played a little better," Schneider told reporters. "We've got to play a full game. We had it in spurts but you're not going to win many games when you aren't playing the whole time. Luckily, we don't have to sit on it too long and we get another chance tomorrow."
Saturday, Feb. 13
Grand Rapids Griffins 3, Monsters 1
The Griffins continued their four-game road trip to open the season and picked up their first victory by taking down the Monsters 3-1.
After a scoreless opening frame, Cleveland struck first for the second game in a row when Trey Fix-Wolansky converted on a power play midway through the second period. Less than four minutes later, Evgeny Svechnikov tied the game with a power-play goal of his own as he took advantage of a fortunate bounce off the glass to beat goaltender Brad Thiessen. Kyle Criscuolo had the primary assist to extend his point streak to three games.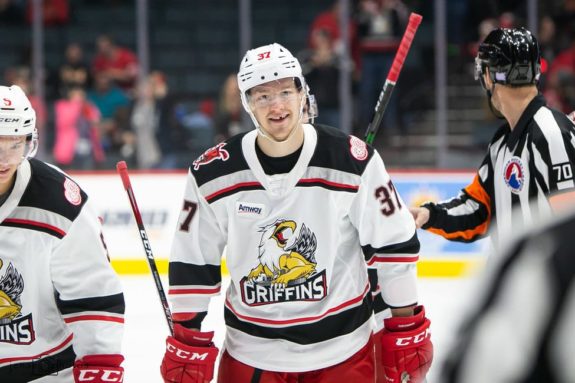 Riley Barber, who also had an assist on the first goal, scored his first goal as Griffin less than two minutes into the final period. Dominic Turgeon added a late empty-net goal to ice the game. Turner Elson assisted on both third-period goals to give him 150 career AHL points.
"We need games," Eaves admitted after another loss. "We need to get the rust off. It's been 11 months since our last game. Practice just doesn't give you what you need. These are competitive young men and they want to win. But, at the same time, we have to take a look at what we're doing and how we're doing it to take steps forward so we can get closer to getting those Ws."
Iowa Wild 3, Rockford IceHogs 2 (OT)
Things started off well for the IceHogs as they looked to capture their first win of the season. Brad Morrison was inserted into the lineup for the first time and he made an immediate impact. He scored a pair of first-period goals. The first came when he drove to the net and tipped a pass from Chad Yetman in over goaltender Dereck Baribeau. His second came 10 minutes later when his centering pass hit off the skate of an Iowa defender and found its way into the back of the net. Morrison was acquired by the Chicago Blackhawks, back in October, from the Los Angeles Kings for veteran defenseman Olli Maatta.
"They looked good together," Rockford head coach Derek King said of his new first line of Morrison, Yetman and Mitchell Fossier. "First time putting them as a line. Good for them. Solid first and third period, but we need to clean up our second."
As King said, the second period belonged to the Wild. They outshout Rockford 18-8 during the sandwich stanza and drew even on the scoreboard. Gabriel Dumont got Iowa on the board with his fourth goal of the season, tying Wolves' rookie Seth Jarvis for the most in the league. Less than four minutes later, 2018 fifth-round pick (155th overall) Damien Giroux scored his first professional goal off a rebound to knot things up.
The game remained tied a 2-2 through the third period and headed into overtime. At 3:12 of the extra sessions, Will Bitten was awarded a penalty shot after being taken down on a breakaway, but IceHogs goaltender Matt Tomkins came up with the stop. Just 17 seconds later, Adam Beckman's scored to give Iowa a 3-2 win. It was the second goal of the season for the Minnesota Wild's 2019 third-round pick (75th overall).
"With a 34-game schedule, every point is so important so getting that extra point was big," said Wild head coach Tim Army. "We're really happy with the compete and attention of the group tonight. We stayed with it and got a big overtime win."
The Stars were able to flip the script on the Barracuda, just 24 hours later, by beating them 5-3 on Saturday night. An exciting first period saw the two teams trade goals before Texas took a 3-2 lead into the locker room.
Defenseman Joe Cecconi's first pro goal from the right corner caught San Jose netminder Sam Harvey by surprise and opened the scoring less than six minutes into the game. Jake McGrew even the score on a 2-on-1 rush two minutes later. The teams combined for three goals in the final five minutes of the frame. Ben Gleason broke the tie as Scherbak's shot hit off his skate and went into the net. After Joakim Blichfeld tied the game, Anthony Louis gave Texas a 3-2 lead by blasting home a one-timer with 39 seconds left in the period.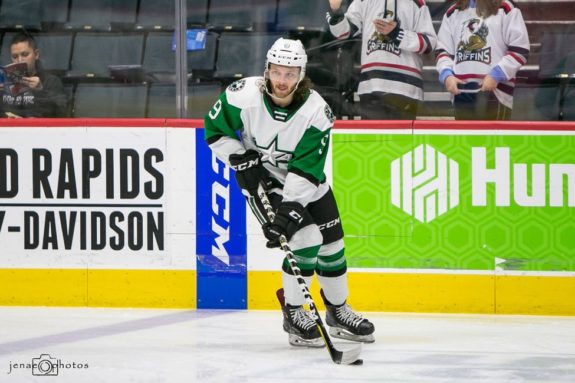 Things settled down in the second with Blichfeld's second goal of the night and third of the season being the only tally of the middle period. Schneider scored the game-winning goal about eight minutes into the third period, with a one-timer from the left circle set up by Josh Melnick. Thomas Harley scored an empty-net power-play goal in the final minute to seal the deal. Goaltender Thomas Sholl made 26 saves to earn his first career AHL win.
"It's a really awesome feeling," Sholl said during his postgame interview. "I'm a fourth-year pro and this is my first AHL win, so it's been a long time coming and a lot of hard work. It's a real satisfactory feeling, but a lot of credit goes to the team for playing such a great game in front of me."
Three Stars of the Weekend
First Star
So far, Texas is getting exactly what they wanted out of Schneider when they signed him in the offseason. He is providing offense as well as veteran leadership, all while being a player who is very hard to play against. He scored in both games versus the Barracuda this weekend and added an assist as well.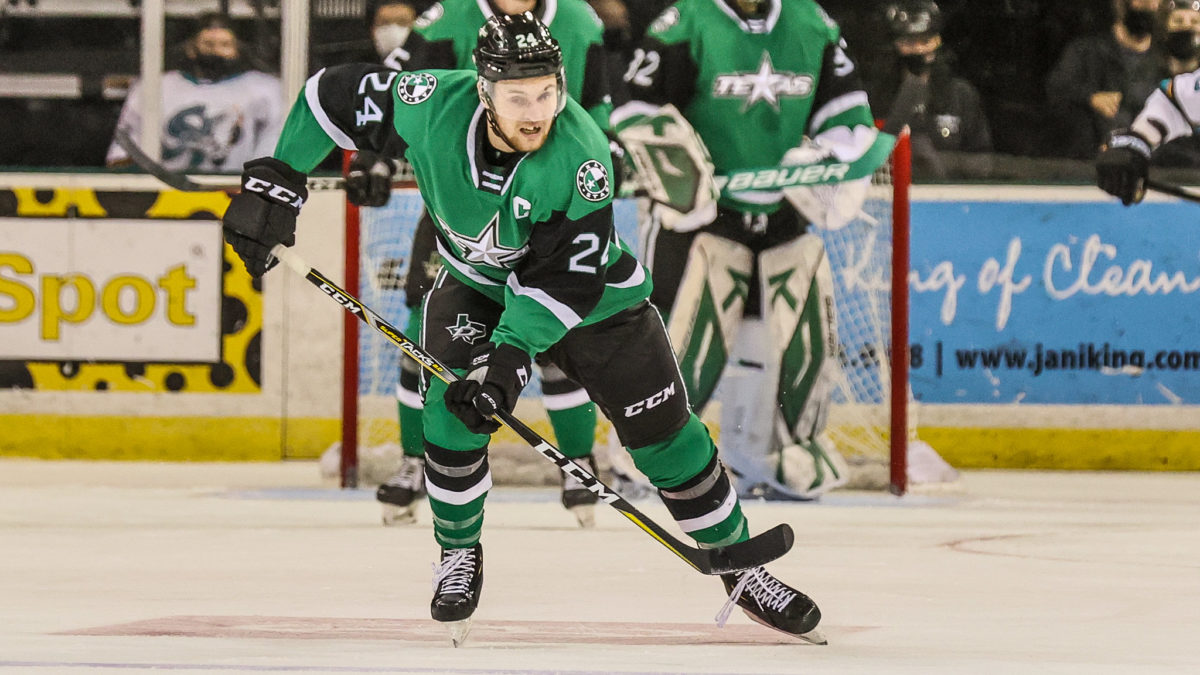 The 31-year-old team captain now has 170 goals and 414 points in 548 career AHL games with the Binghamton Senators, Americans, Hartford Wolf Pack, Milwaukee Admirals and Stars.
Second Star
Beckman had a huge 2019-20 season with the Spokane Chiefs of the Western Hockey League, scoring 48 goals and 107 points in just 63 games. He had his first multi-point AHL game on Saturday in leading Iowa to an overtime win. He was, by far, the most noticeable player on the ice. He could have easily had two or three goals if it wasn't for some big saves by Tomkins. It was the rebound from his shot that set up Giroux's game-tying goal before winning it in overtime.
Third Star
Morrison made quite the first impression on his new team. After being a healthy scratch for the IceHogs' first two games of the season, he was put right on the top line and quickly produced two goals.
The 24-year-old former fourth-round pick of the New York Rangers still has aspirations of an NHL career but will be a big help to a very young Rockford team.
Central Division Standings
Wolves – 4-0-0-0, 8 pts
Stars – 3-2-0-0, 6 pts
Wild – 2-1-1, 5 pts
Griffins – 1-2-0-0, 2 pts
IceHogs – 0-2-1-0, 1 pt
Monsters – 0-2-0-0, 0 pts
Upcoming Mid-Week Schedule
Tuesday, Feb. 16: Wolves @ IceHogs; Barracuda @ Stars
Thursday, Feb. 17: Griffins @ IceHogs
---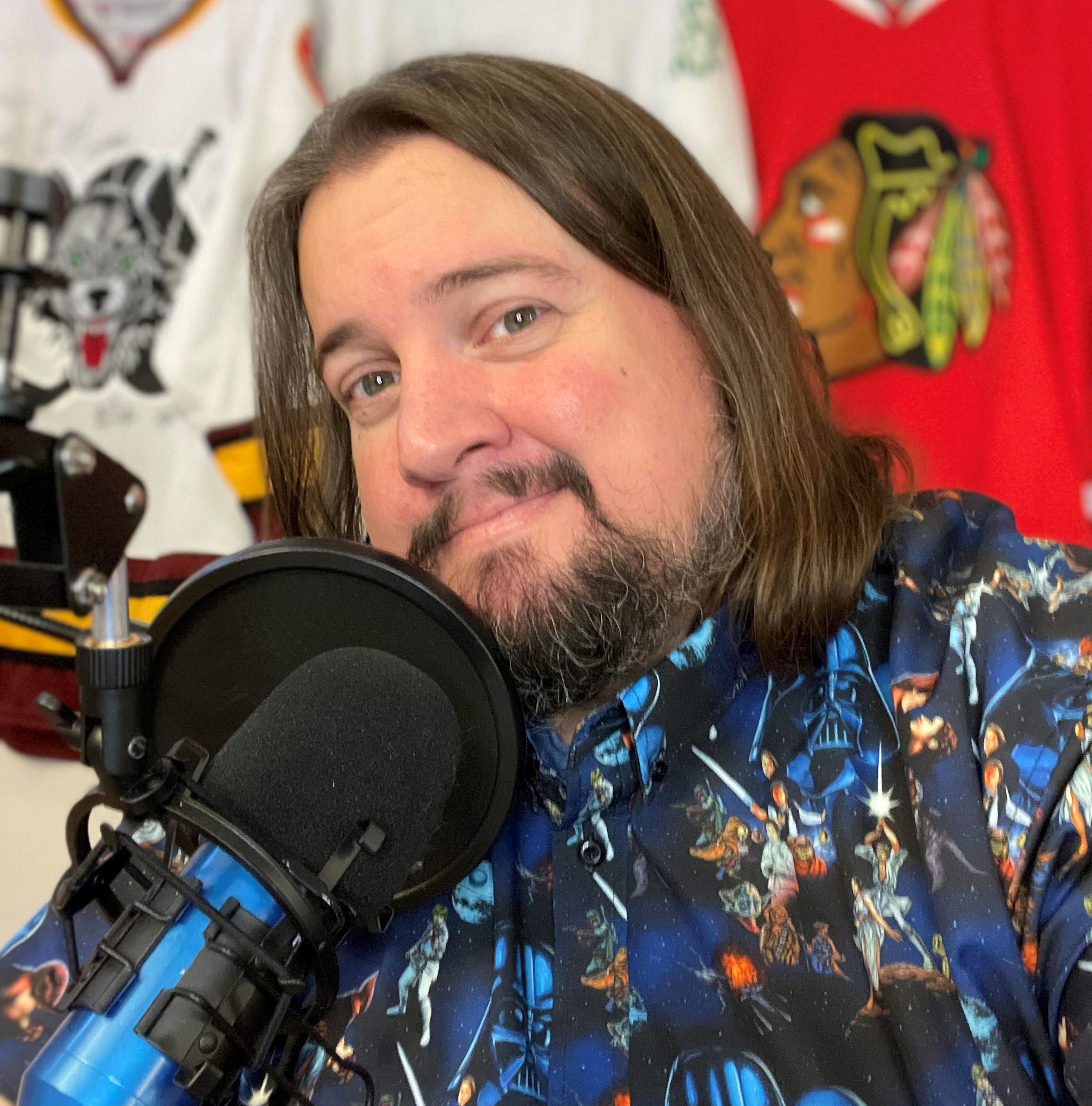 Greg Boysen has been writing about the Chicago Blackhawks since 2010 and has been a site manager for both FanSided and SB Nation. He has been published in The Hockey News and was fully credentialed for the 2013 Stanley Cup Final. Among his various roles with The Hockey Writers are covering the Blackhawks, the AHL, writing the daily "Today in Hockey History" column, serving as a copy editor, and appearing and hosting multiple YouTube shows, including Blackhawks Banter. He is credentialed with the Chicago Wolves, Rockford IceHogs, and Milwaukee Admirals, while also being a regional scout for the NAHL. And, just because his plate isn't full enough, Greg hosts trivia in the Chicago area two nights a week. For interview requests or to provide topic suggestions, follow Greg on Twitter and reach out.