Imagine the gall you would have to have to suggest you were ignored and cheated by the NHL's Department of Player Safety after two-handing a player with a vicious overhead slash like you were an axe murderer wielding your weapon of choice. Imagine you almost got away with it consequence-free by receiving only a one-game suspension. Then, imagine trying to excuse that action by suggesting the forward you hit was faking it, even though you could have badly injured one of the best players in the world. Finally, imagine doing all of that after the only excuse you could come up with was that it happened because you were targeted as a threat by your opponent so they hit you a lot, and you simply snapped.
---
---
Folks… let me introduce you to Alex Pietrangelo.
What Did Pietrangelo Say?
Pietrangelo spoke with the media on Saturday and ahead of Game 6 between the Oilers and Golden Knights. He wasn't too pleased with the decision by the NHL Department of Player Safety to suspend him for a game and practically ignore what led up to his decision to slash Leon Draisaitl. Pietrangelo had choice words for the Edmonton Oilers and the NHL's DoPS for choosing not to take into account what the Oilers had been doing in the series up to that point. Essentially, he tried to paint himself as the victim.
Pietrangelo noted, "It's pretty obvious what's been going on. It was premeditated stuff, I'm pretty sure. (DoPS) didn't seem to care, but I'll get up and take it. I'm not going to lay on the ice like what's going on." The suggestion here, of course, is that the DoPS was told by the player that he'd been on the receiving end of multiple hits and that they should take that into account. They didn't when determining supplementary discipline and he's not happy about it. He then suggested that Draisaitl (and other Oilers players) have been laying down to encourage a call and that perhaps Draisaitl faked being hurt so that the NHL might take a closer look at the infraction.
What The Heck Is Pietrangelo Talking About?
Acknowledging that Evander Kane's cross-check to Pietrangelo a few minutes earlier was also pretty nasty and could have easily been called a penalty (but wasn't), it's incredible that this is the hill Pietrangelo is choosing to take a stand on. Not only does being run into the boards not provide permission to hunt down an innocent player and two-hand him as hard as you possibly can away from the play, but that he's crying foul or that 'They hit me too much' as the defense would be downright laughable if it wasn't so pathetic.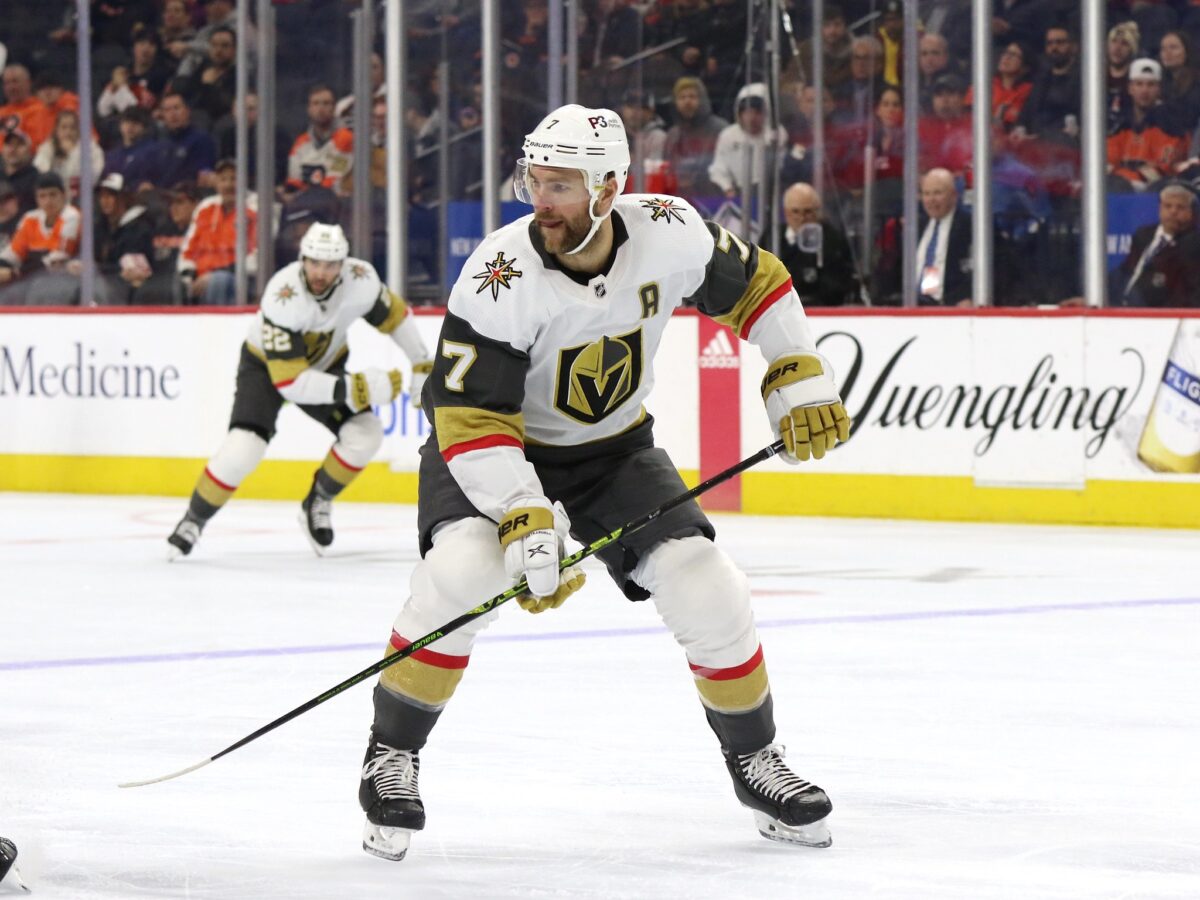 This is a veteran of over 1000 NHL games, 120 of which are playoff games. He knows how this works and to say he's being treated unfairly and suggest the Oilers have been taking liberties in a series where everyone is hitting every good player that moves is extremely dumbfounding. Not only that, but Pietrangelo is under the assumption that his teammates are on his side and that he's the true professional here. The aura coming off of him during the presser is that he believes his slash was probably justified and that he's not the one the NHL DoPS should be looking at. One look at social media or any news broadcast following his decision to do that to Draisaitl would clearly demonstrate how much he's in the minority. Even a number of Vegas fans were shocked he only got one game.
Related: Oilers Robbed if NHL Evens Out Nurse & Pietrangelo Suspensions
To make matters worse, it almost sounds like he's going to look to settle the score. When asked if he had extra motivation heading into Game 6, he responded "Oh yeah. Absolutely. I'm sure the rest of the guys do too."
Pietrangelo Should Thank Draisaitl For Not Faking It
Some fans will hear or read what Pietranelgo is saying and think, 'What is he talking about?' Considering it was a vicious slash that got him suspended and part of the reason it was only one game was because Draisaitl didn't stay down or act like he was injured, it's odd that Pietrangelo would call out the player or the NHL DoPS for being suspended. Some will suggest Pietrangelo got off lucky. I am among them.
---
Latest News & Highlights
---
Draisaitl could have easily gone to the room in a game that was out of reach for Vegas, and played like he'd been nearly decapitated. The coaching staff could have stayed quiet on his health and the NHL DoPS could have laid the hammer down thinking an injury was possible, if not likely. Draisaitl and the Oilers didn't do that. In fact, Leon sat on the bench and encouraged his own teammates not to try and retaliate.
To accuse the Oilers of trying to embellish calls by faking the serious nature of something so flagrant and intentional shows how out to lunch Pietrangelo is and how little effect the DoPS' ruling will have on others moving forward. If the NHL really wants to take those kinds of plays out of the game, they need to hand down the types of punishments that make it clear to the player they screwed up. Instead, Pietrangelo is walking away from this with an axe to grind as though he's the one who got shafted.
And, we already know how good Pietrangelo is at swinging something like an axe. The fact that he's playing the victim here would be comical if it wasn't so potentially unhealthy for the game.