The Los Angeles Kings are coming off a season that showed a lot of promise. At points, they looked like they were ready to compete as one of the best teams in the Western Conference. The elephant in the room all season was the goaltending. They were able to patch things together to still be competitive but didn't answer any of the long-term questions that they had about the position. There are some different ways that they can address this, and they should explore every avenue this summer in order to find the best goaltender available.
Re-Signing Korpisalo
The Kings made the trade for Joonas Korpisalo ahead of the deadline, and it worked out great for the rest of the regular season and the playoffs. He saved 6.54 goals above expected in just 11 appearances. In the playoffs, he started out the series by saving 108 of 116 shots in the first three games and had his team up 2-1 in the series. It would be harsh to put the next three games, all losses, on the goaltending by itself.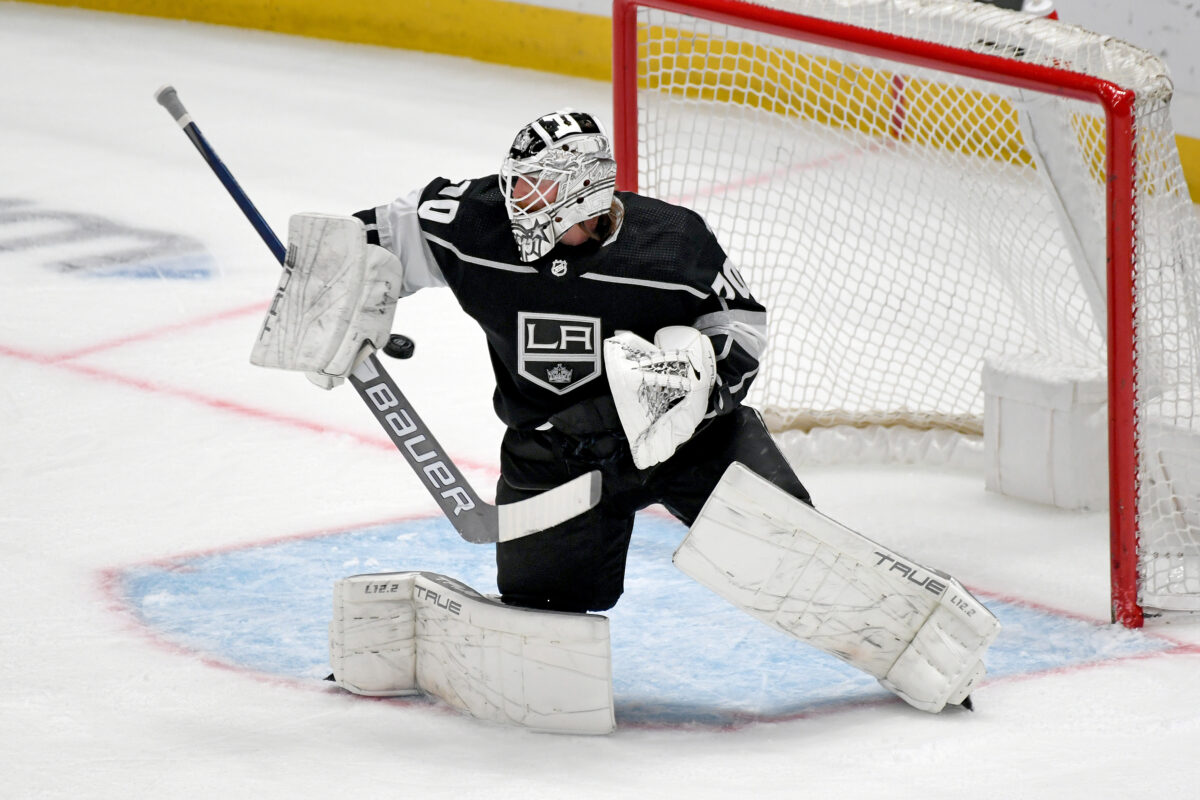 Korpisalo could have been just a rental player, as he's an unrestricted free agent in the offseason. This has both advantages and disadvantages. The Kings didn't inherit a large contract that they have to concern themselves with moving forward. This is a particular concern with goaltenders, as the position has a lot of volatility in performance. The Kings know that all too well, considering how Cal Petersen has performed after getting his new contract. That's one of a few things to consider when thinking about a Korpisalo re-signing.
Related: Kings in Dilemma After Waiving Petersen
---
Latest News & Highlights
---
You also have to look at the body of work from Korpisalo before this season when thinking about giving him a long-term contract. Looking over the two seasons before this one, he was the worst goalie in the NHL in allowing goals above expected. This metric takes into account the danger of the chance, so being on a Columbus Blue Jackets team that was porous defensively does not give him an excuse. This is a reason that, if possible, the Kings should be looking to give Korpisalo as short of a deal as possible, with three years probably being the max he should get.
Unrestricted Free Agency
The Kings could look to sign a goaltender in unrestricted free agency that isn't Korpisalo. This is a fairly weak class of free agents in terms of skaters, but there are some players available in net. Unfortunately, there aren't many players that the team should feel comfortable committing more than one or two years to on their contract. If the Kings want to go the one-year deal route, older goalies like Frederik Andersen, Semyon Varlamov, or Cam Talbot make sense.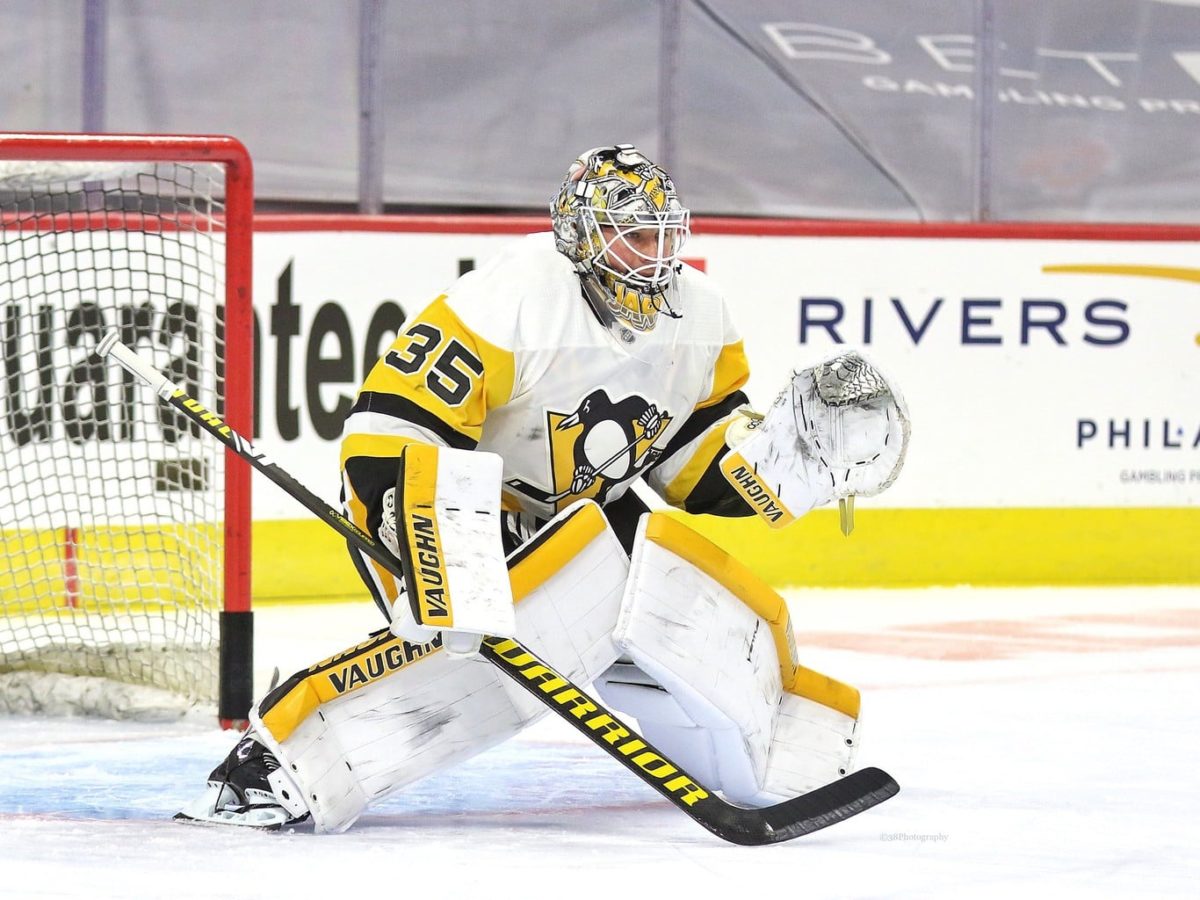 The one goalie that is set to hit free agency that is a bit younger and an established starter is Tristan Jarry. He has saved more goals than expected over each of the last two seasons. He just turned 28, young for this crop of free-agent goaltenders. The Pittsburgh Penguins might want to re-sign him, but they don't necessarily have the best salary cap situation. If they can't come to an agreement, it would make sense for the Kings to target him as a goalie they could sign.
Trade Options
The final option the Kings have to address their need in net would be a trade. This is probably the most unlikely option of the three, but it's always fun to speculate and make trade proposals. There are a few options that could make some sense, both for the Kings and the team they would be trading with. Some of the names out there are big ones coming off great seasons.
The most rumored goaltender to be traded would be Connor Hellebuyck of the Winnipeg Jets. There has been a ton of talk about him getting dealt after he said he didn't want to be part of a rebuild. The Jets are in a bit of turmoil with the leadership core being called into question again, so it seems unlikely that Hellebuyck would sign a new contract after his deal expires in 2024. Winnipeg could look to trade him, and the Kings have the prospects to make an offer worth their while.
Another option that just had a big year is Linus Ullmark. It would seem nonsensical for the Boston Bruins to want to move him after he was arguably the best goalie in the league this season. However, there are some reasons for Boston to deal him. He has a no-movement clause which kicks in at the start of next season and has two more years left at a $5 million cap hit. His backup, Jeremy Swayman, is a restricted free agent with arbitration rights. He finished 10th in goals saved above expected this season, saving 20.99 in 39 games. That wasn't a huge drop off from what Ullmark did, as the Swede was third in this metric. If the Bruins want to save some money, and they are going to have to when addressing some players that will need contracts, moving Ullmark makes some sense.
What the Kings Have in Net Already
The Kings did re-sign Pheonix Copley to a one-year deal at just $1.5 million. This is a nice salary for him as the backup goalie, and if he plays like he did in his first season as a King, he can be used in a tandem and be effective. It's hard to bet on that continuing considering this was by far Copley's best season as a pro. Giving him this new contract looks like it will work to fill one of the goaltender positions.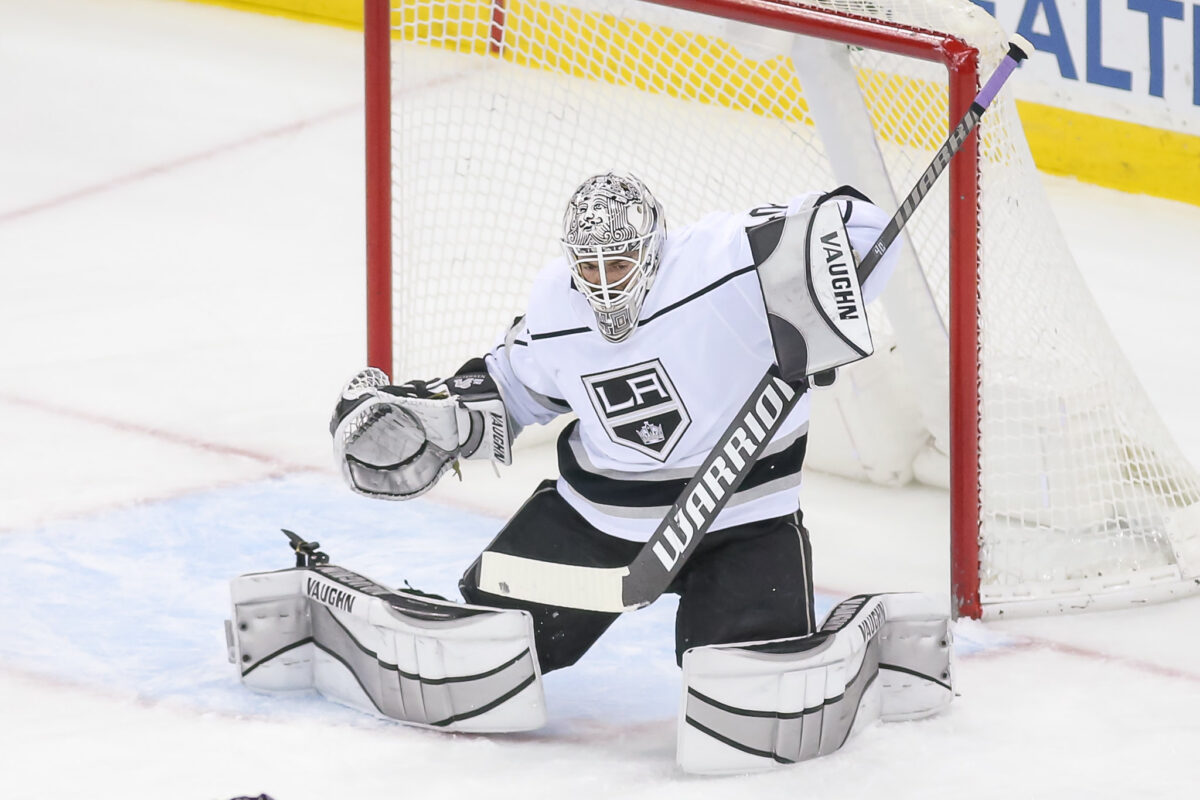 The thing looming over the Kings heading into the next two seasons is Cal Petersen and his contract. He has two years remaining on his deal at $5 million per year. After his previous two seasons have been extremely poor, the club would love to be able to get out from under the contract. It's going to be difficult to move Petersen; his contract has negative value at his point and likely would need the Kings to attach a draft pick and not get much back in any potential trade. They may try to work with him during training camp, using goalie coach Bill Ranford's expertise to build him back up to the level he was at during the 2021 shortened season. The problem with this is that Petersen's cap hit is too large to let him compete for the job, and the Kings likely will have to make a decision on him before the 2023-24 season starts.
There is one intriguing prospect in the Kings' system that could get a chance if the options ahead of him fail. That prospect is Erik Portillo, who is coming off a nice three-year stint at the University of Michigan. After this latest college season, he signed an entry-level contract. He is considered one of the top 10 goalie prospects in the NHL, so there is some hope that he can be a starting netminder in the future. Portillo will probably start in the American Hockey League, and be waiting in the wings if the Kings need another option.
It will be fascinating to see what the Kings do at the most important position in hockey this offseason. There are many options on the table, and choosing the right one will be vital for next season and beyond.
---
---