Much like our gifts, the Blue Jackets need to wrap up these players.
If general manager Jarmo Kekӓlӓinen is Santa Claus, or Joulupukki if you subscribe to Finnish Christmas traditions, then consider this a wish list. According to Cap Geek, 13 Blue Jacket contracts are set to expire at the end of the season with seven of those players set to become unrestricted free agents.
Feel free to follow the Cap Geek link to see the full list, but we'll be narrowing down the most imperative contracts. These are the guys who need to have their names on a contract much sooner than later.
Sergei Bobrovsky
I know what you're thinking: "Well duh." His statistics may be down this season, but even the greatest goaltenders  would struggle when faced with 34 shots per game. During Columbus's December run, Bobrovsky has faced 349  shots, an average of 34.9 per game, including 55 against Florida on Dec. 4. He has allowed only 21 goals through  ten games, good for a save percentage of .939. Translation: Bob is the man to thank for Columbus's recent success.
His résumé also speaks for itself. Prior to this season, Bobrovsky had accumulated a .928 save percentage and a  2.14 goals against average during his first two years in Columbus. His 2012 season concluded with him accepting  the Vezina Trophy as the league's top goaltender.
Bobrovsky's annual average salary of $5.25 million ranks 12th among all goaltenders and he is set to become a restricted free agent, meaning Columbus can match any offer sheet made by another team to Bobrovsky. If that term sounds familiar to Jackets fans, it's because Ryan Johansen was an RFA last summer as well.
Back-up goaltender Curtis McElhinney is set to become an unrestricted free agent at the season's end, so securing the franchise goaltender should top the priority list. None of the 11 goaltenders ahead of Bobrovsky in average salary are set to become free agents, so it will be interesting to see if Bobrovksy's salary creeps into the top ten in the category.
Nick Foligno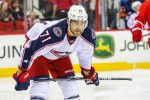 Once again, no shocker here. Foligno recorded his second-best season as a professional last season with 39 points  and is on pace to eclipse that total this season. In 32 games this season, Foligno tallied 16 goals and 14 assists,  meaning he's on pace for 40 goals and 35 assists, which would shatter his personal record of 47 points.
Foligno established his spot in Columbus sports lore with last season's game four winner past Marc-Andre Fleury and  has become part of the league's best post-win hugging tandem with Bobrovsky.
Foligno's average annual salary of $3.03 million ranks 36th among left wingers, though he currently ranks second in points among left wingers behind Rick Nash, the league's highest-paid left winger. Given his productivity and youthful age of 27, Foligno's next contract should be fairly hefty.
Mark Letestu
Injuries have put a damper on Letestu's 2014-15 season, but make no mistake: Letestu plays a vital role on the third  and fourth lines. Injuries have caused plenty of shifting along the bottom lines which have not produced a  tremendous amount on the offensive end. Letestu has accumulated 84 points in 188 games as a Blue Jacket and he  continues to recover from groin and abdominal surgery.
His current two-year deal is scheduled to make him $2.5 million richer heading into unrestricted free agency.  Should the Jackets be able to re-sign him for a similar price, it would leave room for the potential extensions or new  deals of Foligno and Bobrovsky.
#CBJ C Mark Letestu takes his first twirl post-surgery today. "Without incident," he smiled.

— Aaron Portzline (@Aportzline) December 15, 2014
Cam Atkinson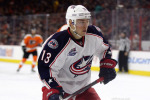 Atkinson has been the most productive right winger over the past two seasons, racking up 54 points. That total is 43  points better than Corey Tropp's, the club's next most productive right winger over the same span. The additions of  Adam Cracknell and Jack Skille added depth to the position, but both of those players are slated to become  unrestricted free agents at the season's end.
Should both Cracknell and Skille leave Columbus, Tropp and Jared Boll would stand as the only other right wingers  on the roster. Atkinson's current contract will top out at $2.3 million and his value could increase should he have a  successful season. If Atkinson does continue to have success, it may cost extra to secure a first-line right winger.
Brad has been with The Hockey Writers since November 2014 and currently attends Ohio University's E.W Scripps School of Journalism. During the summer of 2014, he served as an intern with the Columbus Blue Jackets digital media department.