Around Christmas time last year, the Canucks looked like they could continue their success under John Tortorella.
Now, it is hard to fathom having the words Canucks, success, and Tortorella all in the same sentence together. If only they knew at the time what 2014 was going to bring.
During the Christmas break last year, the Canucks sat eighth in the Western Conference with 50 points through 39 games. They were holding down the first wild card spot, ranked 14th in goals per game, and were fifth overall in goals against per game.
Safe to say that the first half of 2014 wasn't too kind to the Canucks, and many changes were made to the organization after the team's demise in the second part of the season.
Quite a few players have departed Vancouver since last Christmas. Some former Canucks will be spending Christmas in warmer pastures this year. Ryan Kesler, Jason Garrison, and R0berto Luongo can all greet Santa Claus while wearing flip-flops this holiday season.
Here is a look at some players who were donning a Canuck jersey last Christmas.
Ryan Kesler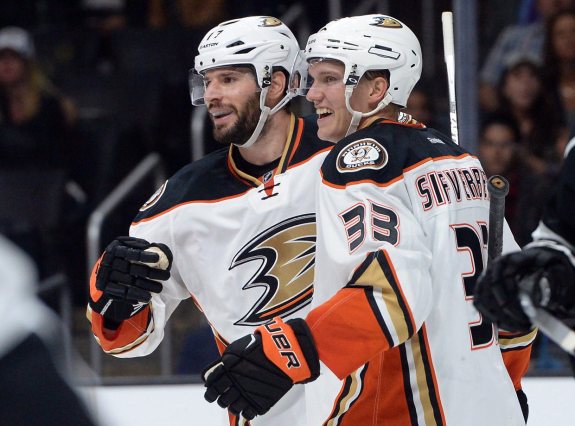 | | | | | | |
| --- | --- | --- | --- | --- | --- |
| GP | G | A | PTS | +/- | PIM |
| 36 | 12 | 15 | 27 | -1 | 38 |
Kesler is likely grinning from ear to ear this holiday season. He got out of Vancouver where he didn't want to hang around for a rebuild, and also went to the only team he wanted to play for. His new team, the Anaheim Ducks, sit first overall in the NHL heading into the break. If that doesn't put a smile on Kesler's face, I'm not sure what does.
Kesler is a big reason why the Ducks have sustained their success throughout the early part of the season. He is averaging almost a point-per-game, and his presence has helped ease the loss of Corey Perry from their line-up. As the number two centre behind Ryan Getzlaf, it arguably gives the Ducks the most formidable one-two punch at centre in the league.
Jason Garrison
| | | | | | |
| --- | --- | --- | --- | --- | --- |
| GP | G | A | PTS | +/- | PIM |
| 35 | 3 | 14 | 17 | +12 | 8 |
"I wanted to stay in Vancouver. It was a little bit of a tough couple of weeks. It goes back and forth and there is a business side of things you don't really see, and while I had a no-trade contract, there are certainly things a team can do that make you think you don't have a no-trade clause at all. But I'm glad it's over with and it all worked out."
Garrison said that in an interview with The Province when the Lightning visited the Canucks in October. It was a bit of a surprise to see Garrison shipped off at the trade deadline, since the White Rock B.C. native had a no-trade clause and signed long-term to stay with the Canucks. He originally nixed a trade to St. Louis, but ultimately accepted a deal back down to the sunshine state to play for the Lightning.
So far the deal has worked out for Garrison. He was one defenceman brought to Tampa Bay to improve the depth on their blue line. The addition of Garrison in the off-season along with Anton Stralman has solidified the top four on defence for the Lightning, who are among the best teams in the NHL thus far.
Mike Santorelli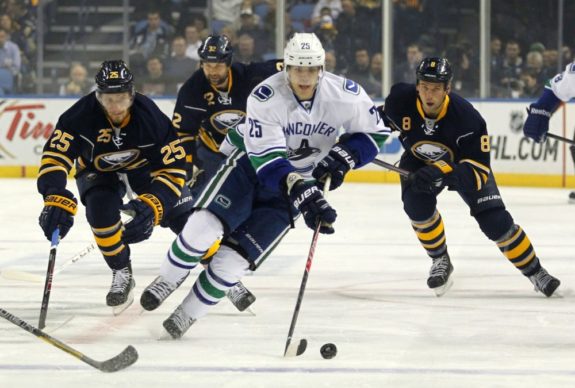 | | | | | | |
| --- | --- | --- | --- | --- | --- |
| GP | G | A | PTS | +/- | PIM |
| 34 | 6 | 16 | 22 | +13 | 6 |
Mike Santorelli was arguably one of the only Canucks who exceeded expectations under Tortorella last season. His performance landed him in Toronto on a one-year, $1.5 million contract during the summer. Canuck fans knew the deal would be a steal if Santorelli could replicate the same success he had during his brief stint in Vancouver.
The deal has paid off for Toronto so far. Santorelli has proved that he can play in Toronto's top six. He sits fourth in team scoring behind Phil Kessel, Tyler Bozak, and James van Riemsdyk. He also leads the team in plus/minus, showing that his offensive production isn't the only attribute that warrants more ice time.
David Booth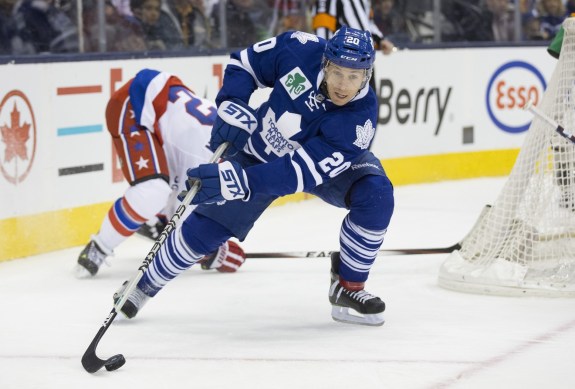 | | | | | | |
| --- | --- | --- | --- | --- | --- |
| GP | G | A | PTS | +/- | PIM |
| 13 | 1 | 1 | 2 | 0 | 0 |
Another Canuck cast-off who landed in Toronto, Booth started his tenure with the Leafs by suffering an injury. Sound familiar Canuck fans? He  broke his foot during preseason play, which sidelined him for the first 21 games of the season.
He has played on Toronto's fourth line since he came back from injury. However injuries seem to have taken their toll on Booth, who has seen his point production slide in recent years and could use a clean bill of health for Christmas.
Dale Weise
| | | | | | |
| --- | --- | --- | --- | --- | --- |
| GP | G | A | PTS | +/- | PIM |
| 31 | 4 | 7 | 11 | +6 | 16 |
The Dutch Gretzky has found a home in Montreal after being shipped to the Habs in exchange for Raphael Diaz last season. He made a name for himself during their playoff run last spring by scoring timely goals and annoying Lucic to the point where he threatened him in the handshake line at the end of their series.
Not sure if Weise will receive a Christmas card from Lucic this year, but at least the Canadiens are happy with his play. He is a mainstay in their bottom six, and is playing nearly four minutes more per-game this season than he was under Tortorella last year.
Roberto Luongo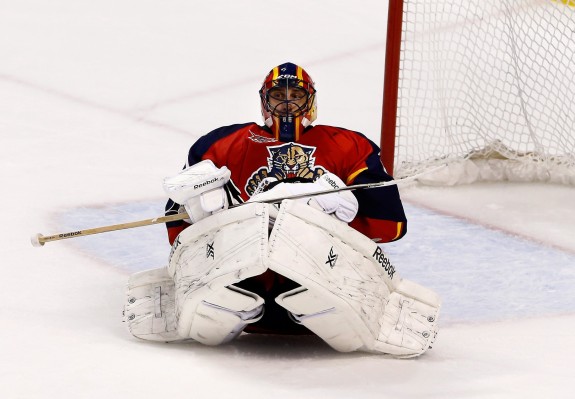 | | | | | | |
| --- | --- | --- | --- | --- | --- |
| GP | W | L | OTL | GAA | Sv % |
| 26 | 13 | 7 | 6 | 2.30 | .924 |
Of course in this holiday season of reflecting, how can we forget about Luongo. He who couldn't be moved for two years until Torts snubbed Luongo during the Winter Classic. Before we knew it he was off to the Panthers in the blink of an eye.
Luongo was a great addition for the Panthers. Since he has solidified their crease, the Panthers are in the running for a wild card spot thanks to Luongo's play. Who would have thought that the Florida Panthers and the Boston Bruins would be tied in points at the Christmas break?
Aside from his stellar play with the Panthers, Luongo also discovered his talents as a model during 2014 as well.
Let me tell ya…. Wasn't easy holding that stick there with all that oil on…… pic.twitter.com/eV0gHgXLOQ

— Strombone (@strombone1) November 13, 2014
Happy Holidays to all those former Canucks who changed jersey's over the past year. Yes, even you Zac Dalpe.
KPU Journalism Graduate. Trevor has been writing for The Hockey Writers since October 2014. He has contributed articles related to the Ottawa Senators, Vancouver Canucks, and other issues/stories regarding the game of hockey. Trevor currently lives in White Rock, B.C.