Heading into Detroit, the Sabres will be missing a good portion of their lineup due injury and illness.  The next few games may be a glimpse into the future for Buffalo.  Players who the Sabres are counting on to carry the team in the next few years will get some valuable NHL experience over the next few weeks.
The Injury Bug Bites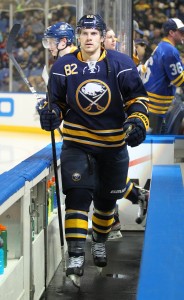 Going into the game against Detroit the Sabres will be without 8 regulars.  Here are the players the Sabres will be without for the near future and in some cases long term:
Marcus Foligno (months)
Tyler Myers (weeks)
Tyson Strachan (weeks)
Brian Gionta (weeks)
Cody McCormick (day to day)
Mike Weber (day to day)
Matt Moulson (illness- day to day)
Torrey Mitchell (day to day)
The most significant of the injuries sounds like the one to power forward Marcus Foligno.  Foligno, injured his hand fighting Matt Bartkowski Sunday night after a questionable hit to captain Brian Gionta.  According to Coach Ted Nolan, Foligno is going to miss a few months.
Gionta, Strachan, and Myers are all likely on the same time table.  On his weekly appearance on WGR 550 Sports Radio in Buffalo, Nolan said Myers injury is in terms of weeks.  He later clarified that Myers has a chance to play this weekend.  Gionta's injury stems from the Bartkowski hit, but it's not a concussion.  His return is up in the air still, while Strachan, like Myers may have a chance to return this weekend.
Glimpse Into the Future
To fill the vacancies throughout the lineup the Sabres will have a team full of high end prospects.  Mikhail Grigorenko will continue his stint with the club and try to show he has raised his game to the NHL level.  Mark Pysyk will see time on the Sabres blue line for the next few games.  Pysyk has struggled a little in Rochester this season, but he always seems to play better at the NHL level, than AHL.  Lastly Joel Armia will make his NHL debut in Detroit.  Armia has dominated at the AHL level this season and is well deserving of a chance to prove himself in the NHL.  The 6'4 Finish born winger will have a chance to make an instant impact as he'll skate on the top line with Girgensons and Ennis.
The Sabres will have a total of six first round picks from 2010-2013 in the lineup tonight:
Zemgus Girgensons
Mark Pysyk
Rasmus Ristolainen
Nikita Zadorov
Mikhail Grigorenkp
Joel Armia
Sabres fans should enjoy the glimpse into the future for the next few games.