Trevor Daley was supposed to be among the most important acquisitions made by the Chicago Blackhawks this past offseason. After all, Stan Bowman traded Patrick Sharp and top defensive prospect Stephen Johns to acquire the freewheeling blue-liner from Dallas. And with a void in the top-4 created by the departure of Johnny Oduya (also to Dallas), Daley was seen as a potential solidifying force behind the dependable trio of Duncan Keith, Brent Seabrook, and Niklas Hjalmarsson.
Instead, the 32-year old Toronto native has been more of a liability than anything and has seen his former top-4 spot seized by a surging Trevor van Riemsdyk. Daley has failed to play more than 15 minutes in any of the Hawks' last four games – two of which were played without the services of an injured Keith. His season average, of just over 16 minutes of ice time a night, actually ranks sixth among regular defensemen for Chicago and is a full minute less than what Viktor Svedberg has averaged.
Offensive Decline
Daley's calling card in Dallas was his ability to create offense and contribute on the power play. Those skills were evident last season when he scored 16 goals and had five points in six playoff games. This season however, Daley has only three points in 18 games and has yet to score his first goal for the Blackhawks.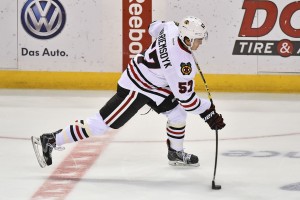 Those numbers are especially disappointing when considering that 41% of all his zone starts have come in the offensive zone (thanks puckalytics.com). Additionally, Quenneville has actually given Daley the second most power play minutes of any defenseman on his roster, making his inability to create offense all the more confusing.
Where's the Defense?
And it certainly isn't as if his lack of offense can be accounted for by an improved defensive presence either; Daley has been a defensive liability all season for Chicago.
This is clearly seen on Tarasenko's first goal for the Blues the other night when Daley did essentially nothing to prevent a chance from being generated by the odd-man rush coming in his direction. A play of this kind can occasionally be excused for veteran players across the league, but Daley has made plays like this all season without showing any sign of improvement. The bottom line is that Daley needs to contribute in at least one area of the ice, and so far he hasn't been able to do so.
Contract Situation
And in case anyone is wondering whether things can be any worse for Daley than they already are, consider his contract situation. His deal has a $3.3 million cap hit that runs through the end of 2016-17. His cap number is reasonable compared to the salaries of many other depth defensemen around the league, but it does put the Hawks in a difficult cap situation for the summer of 2016.
This coming summer, both Andrew Shaw and Marcus Kruger – two of the most valuable role players on the roster – will be free agents and could be looking for raises from their current salaries. As of right now, the salaries of Daley and the demoted Bryan Bickell seem to make the possibility of having both Shaw and Kruger return at a fair price impossible.
Trade Options
Thankfully for the Blackhawks, it appears that Stan Bowman may receive a 'mulligan' on this acquisition in the form of yet another trade. For reasons unknown to me, it appears that the Ottawa Senators have been making a recent push to acquire Daley for a young depth forward and a draft pick. It remains to be seen whether these rumors will come to fruition, but given the disappointing level of Daley's play through the first quarter of the season, I think a change of scenery would be best for both parties.
David is entering his final year as a sport management and operations and information management double major at UMass Amherst. Originally from the West Suburbs of Chicago, David has enjoyed watching the Blackhawks for as long as he can remember. When not watching or writing about hockey, he can be found working on the McCormack Future Leaders Conference on the UMass campus.