For NHL teams, Thanksgiving Day in the United States is more than just a holiday. As Anaheim Ducks fans and other NHL fans are aware, it's the unofficial deadline that determines whether or not a team is playoff material. After a period of sustained success from 2005 to 2018, including a Stanley Cup title in 2006-07, the Ducks are on the brink of major changes and the next two weeks or so will help decide what those changes will be.
Ducks Facing Western Conference Gauntlet
Anaheim's 3-2 victory Wednesday night over the Calgary Flames was just their second in 10 games. It moved them within two points of a top-three spot in the Pacific Division and tied them in the wild card in points, although they've played two more games than the other teams and as a result are still not technically in a wild card spot.
Between yesterday and the Sunday following Thanksgiving, eight out of the Ducks' next nine games are against Western Conference foes. Seven of those games feature opponents currently in playoff contention — including one against the Eastern Conference juggernaut Toronto — and only one comes against a team near the bottom of their conference in the Vegas Golden Knights.
To say these games are crucial, especially considering where the Ducks sit in the standings, would be an understatement. Since the start of the 2016-17 season, the Ducks are 22-15-8 against the teams they have yet to play over this stretch, including Nashville, Vancouver, Edmonton, Toronto and Minnesota. But their recent play, even with two wins in their last three games, does not inspire confidence.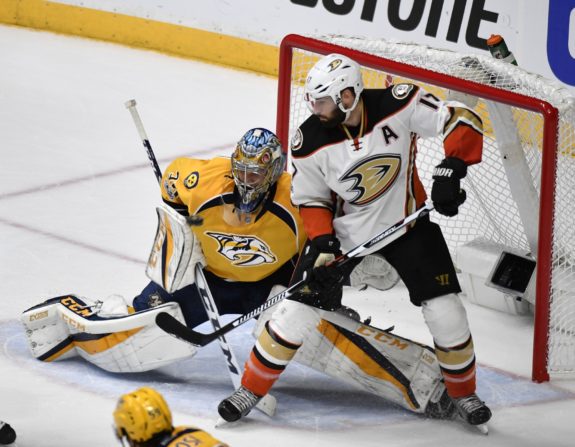 There is one crucial number to consider when assessing just how close to the edge of a cliff that the Ducks are treading. Since the 2005-06 season, no Anaheim team has made the playoffs when they had fewer than 18 points through 20 games. Right now, they have 17 points in 17 games.
Two Ducks teams have qualified for the playoffs in a season where they had 18 points through 20 games. Both needed incredible hot streaks to qualify. The 2015-16 team went 16-3-1 in their next 20 and won a staggering 11-straight games between February and March. The 2005-06 team went 15-7-0 through their final 22 games.
Carlyle Feeling the Heat
It's safe to say Randy Carlyle is coaching for his job. He's seen the Los Angeles Kings let go of John Stevens and the Chicago Blackhawks fire Joel Quenneville, who has won the second-most games all-time by an NHL coach. He also led the Blackhawks to three Stanley Cup titles since 2009-10. Considering his team's recent performance, Carlyle must know he's on the hot seat but understandably, he's focusing on his team's play and preparation instead of discussing his job security. At the beginning of the week, Carlyle told reporters,
"You learn that over the years. You cannot change what's happening in the moment. The time you change that is in the preparation. During the week, I think that you coach people and during the game, you manage people." (from 'Ducks' Randy Carlyle feels sympathy for fired coaching brethren', Los Angeles Times – 11/6/18)
With the Ducks' injuries this season, especially to their forwards, it makes sense that Bob Murray is giving Carlyle a longer leash, but could Joel Quenneville's availability change things?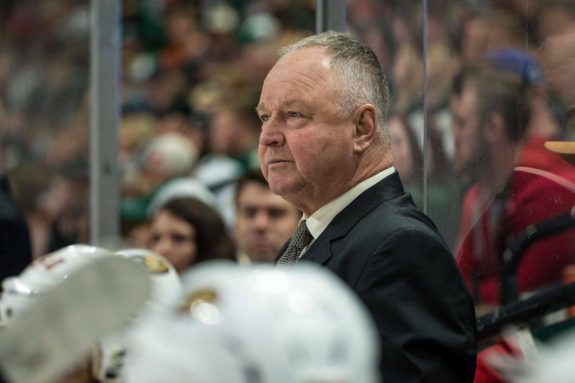 It's happened before in the NHL. In February 2017, the Boston Bruins fired longtime coach Claude Julien. The Montreal Canadians seized the opportunity to fire their head coach Michel Therrien and rehire Julien citing their poor performance in the months of January and February. They were, however, still in first place in the Atlantic Division.
But before they make a coaching decision, the Ducks should determine what direction their franchise is headed in including if they will be buyers or sellers at the NHL trade deadline. A team stocked with younger inexperienced players needs a different type of coach than one who prefers coaching NHL veterans. Carlyle is the latter.
The next two weeks will help Murray to decide if he needs to keep his coach. If he does decide to keep Carlyle, then it will help to determine just how long.
Ducks Buying or Selling?
It's been a long time since the Ducks were sellers at the trade deadline. They've only missed the playoffs twice since the 2005-06 season. During the two years they missed the playoffs, 2009-10 (the last time they fired a coach midseason) and 2011-12, they still had a strong core. Corey Perry and Ryan Getzlaf were still young.
With aging and often injured veterans, a new crop of youngsters coming along well, and strong pieces locked up long term, the Ducks could go either way. If the Ducks turn it around in the next two weeks, Murray may once again find himself in the buyer's position, but he's never been much for making a big splash.
With Perry on long-term injured reserve, the Ducks have gotten themselves some temporary relief from salary cap jail. With Perry on LTIR, the Ducks have more than $7.5 million at their disposal, which is certainly enough to pay an impact player.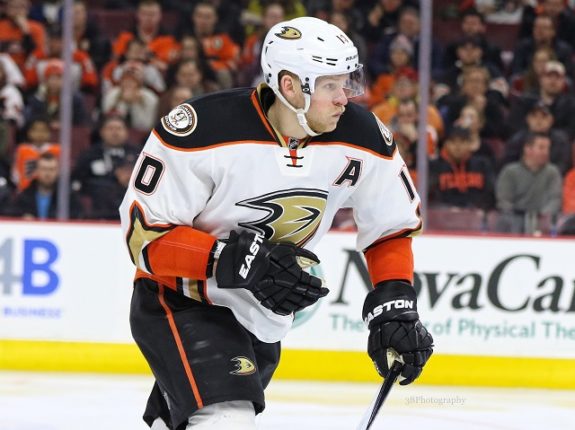 However, depending on when Perry returns, his contract will come back on the books making the situation more complicated than it seems. That is probably enough to keep Murray from taking on a big contract.
Which Ducks Are on the Market?
If the Ducks fall out of contention and become sellers, they do have some contracts they'd probably like to rid themselves of. Perry's contract ends after next season, and Ryan Kesler's ends the season after that. Both players are declining in production, increasing in age, and are racking up injuries.
Perry is owed more than $8.5 million per year until his contract expires while Kesler is paid close to $6.9 million. If the team continues to show they are no longer Stanley Cup contenders, it would be smart to free up cap space by jettisoning both forwards.
Unfortunately, both players have no movement clauses and the problems that should motivate the Ducks to trade them are also enough to keep potential trade partners away.
The Ducks do have players that would be valuable to other teams at the trade deadline. With his scoring ability, Jakob Silfverberg would be an attractive rental player heading into unrestricted free agency.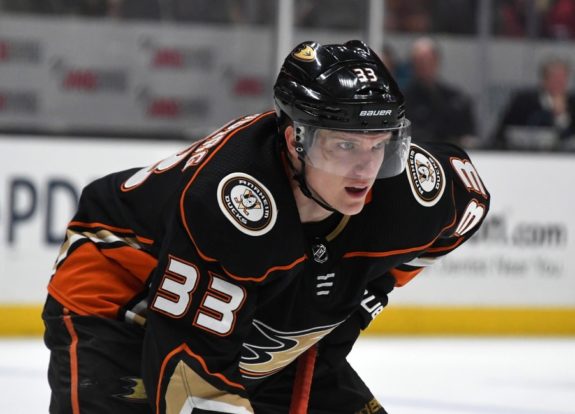 Brian Gibbons would be an appealing depth player headed into free agency as well. Pontus Aberg may even have some value, although he's probably sick of moving.
It's been a long and fun run of sustained success for the Ducks and their fans over the past 13 years. Although it's still early in the season, the next two weeks may determine if the Ducks are willing to enter full rebuild mode that fans have not had to deal with in a long time.