Detroit Red Wings forward Tyler Bertuzzi has proven to be an integral part in the team's rebuild since a mid-season call-up last December.
It was his second chance after a scoreless, seven-game stint with Detroit in 2016-17. Upon his return to the AHL that year, he led the Grand Rapids Griffins to the 2017 Calder Cup Championship and was honored as the postseason MVP.
Bertuzzi was expected to make a push out for a spot out of training camp in the fall of 2017, but an injury forced him to return to Grand Rapids. Not long after, he showed he was NHL-ready after posting 14 points (7 G, 7 A) in 16 games with the Griffins.
Earning a Top-Six Role
Bertuzzi's similar style to that of his uncle, former Red Wing and past premier power forward, Todd Bertuzzi, earned head coach Jeff Blashill's trust promptly. To elaborate, Bertuzzi is the full package as an annoying, tenacious workhorse with an offensive flair and a high compete level.
It's not unlike Brad Marchand, Corey Perry, or Brendan Gallagher. After being an off-the-radar second-round pick in 2013 (he was ranked No. 207 by NHL Central Scouting ahead of the draft), Bertuzzi found the same balance as those three; agitating physically, vocally, and on the scoresheet during his Ontario Hockey League (OHL) career.
He continued his offensive development in his two-plus years with the Griffins, scoring 121 points (55 G, 66 A) in 179 regular season and playoff games while staying true to his gritty brand of hockey.
The 23-year-old's acceleration to the NHL and all-around game earned him a top-six role with the Red Wings, alongside none other than Henrik Zetterberg.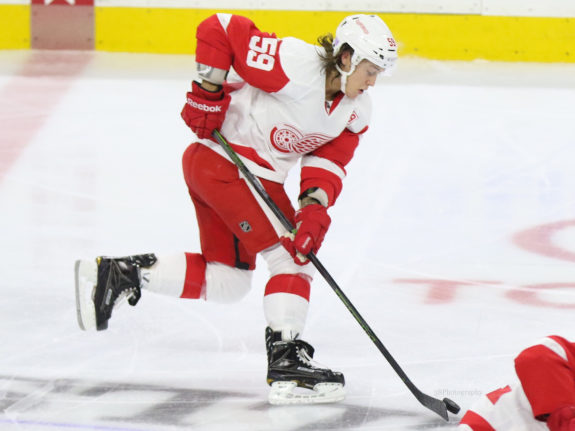 Per Corsica Hockey, Bertuzzi spent 72 percent of his 376 total minutes playing with Zetterberg and Gustav Nyquist. The offense began to show through and Bertuzzi offered a decent defensive game, but the underlying stats suggested his linemates carried him. However, while the other two were favored more heavily in the offensive zone, Bertuzzi himself started 55.6 percent of his shifts in the defensive zone.
Bertuzzi posted nine points (2 G, 7 A) through his first 11 games last season, looking like he was cutting down his learning curve, before posting just four assists over his next 18 games.
He then finished the season with 10 points (4 G, 6 A) in his final 17 games with all four goals coming in the final eight games. Bertuzzi's strong conclusion resulted in general manager Ken Holland opting not to return him to the Griffins for their playoff run, instead telling him to take the summer to train for a guaranteed spot in 2018-19.
A Full Season in Detroit
The full summer of training produced immediate results in Bertuzzi's first full campaign, even without the opportunity to lean on Zetterberg following the captain's retirement to long-term injured reserve.
His offense has been prominent from opening night. The winger has been a consistent factor, be it with offense, grit, or late-game grinding. He currently sits third on the team in scoring with eight points (5 G, 3 A) through 15 games, behind only Dylan Larkin (15 points) and Nyquist (13 points).
Slick hands from Tyler Bertuzzi 👏🏻 pic.twitter.com/YIeIP59RpY

— Sportsnet (@Sportsnet) October 9, 2018
Bertuzzi is sixth in team plus-minus (minus-three) among players to have skated in a minimum of 10 games. His possession stats remain a work in progress, with a 43.9 Corsi For percentage (CF%). However, his most common linemates are Luke Glendening (42.1 CF%) and Justin Abdelkader (39.7 CF%), which suggest he's actually pulling the most weight toward the offensive zone.
Conversely, Bertuzzi remains bolted to his own zone, starting 59 percent of his shifts in there. That's third-most among active Red Wings.
With a handful of more shifts up the ice, Bertuzzi would likely see a rise in his underlying stats in addition to his lowly shot output of 1.2 per game. A chance to play with higher quality linemates would also suit him well.
The chips seem to be stacked against him. Blashill is favoring a handful of other players more, but Bertuzzi is still producing and taking the next step, even as he's held to a limited role in Detroit. He's gained muscle, confidence, offensive awareness, and even appears quicker on his feet than a year ago.
Bertuzzi's tenacity and versatility to play anywhere in the lineup is seeing him succeed; it's only a matter of time until the coaching staff begins to recognize his importance moving forward.
I offer opinions and insight on the Detroit Red Wings organization and its prospects.