The Montreal Canadiens are placing Tomas Plekanec on unconditional waivers at 12 p.m. EST on Saturday, Nov. 10 for the purpose of terminating his contract, the team announced Friday. This comes just a few months after Plekanec signed a contract to return to Montreal after he was traded to the Toronto Maple Leafs at the trade deadline last season.
Tomas Plekanec to be placed on unconditional waivers.

DETAILS➡ https://t.co/q2fPnVRdrF#GoHabsGo

— Canadiens Montréal (@CanadiensMTL) November 9, 2018
In three games this season, Plekanec scored one goal. While he was once a focal point of the Canadiens team both offensively and defensively, his usage was significantly diminished during this stint with the team. With the Canadiens moving towards a younger and faster approach highlighted by players like Max Domi, Jesperi Kotkaniemi, Jonathan Drouin and Brendan Gallagher among others, Plekanec's role became less of a necessity and more of a luxury.
Though it wasn't clear why the two sides decided to part ways and end a historic era, it's appeared to be a double-edged sword that started with Plekanec wanting more than a part-time role with the club. The other factor would have been Plekanec's desire to finish his career with Kladno in the Czech League – a prospect that's even more intriguing with Jaromir Jagr already on the team, per Arpon Basu on Twitter.
Basu would later confirm, however, that Canadiens' general manager Marc Bergevin called the decision a hockey decision, which indicates that this wasn't a mutual parting of ways.
"I always wanted to retire a Montreal Canadien" – Tomas Plekanec, who said Bergevin approached him about a trade.

This was a question of leaving room for the young players, most notably Jesperi Kotkaniemi.

— Аrpon Basu (@ArponBasu) November 9, 2018
When Plekanec signed a contract with Montreal this season, it was clear that both sides were committed to bringing the veteran back to play his 1,000th game in a Canadiens' uniform.
He would eventually play in 1,001 regular season NHL games, including his 1,000th and potentially his last both in a Montreal uniform. Though he ultimately fell short of playing in 1,000 officially with Montreal as he finished with 984 games in a Habs' uniform, this contract served its purpose nonetheless.
Related: Plekanec Signs With Canadiens
A Successful Career for Plekanec
In his 1,0001 games in parts of 15 seasons in the NHL, Plekanec scored 233 goals and 608 points. He would score upwards of 20 goals seven times in nine seasons, though one of those non-20 goal seasons came during the 2012-13 lockout-shortened season when he would still score an impressive 14 goals.
He'd also play in 94 playoff games, scoring 18 goals and 53 points.
There aren't many third-round picks who make the NHL in the grand scheme of things but Plekanec proved to be one of the best selections in history in that range. Playing in 1,000 NHL games is a very impressive accomplishment, as is scoring over 200 goals and 600 points. He may have never won a Stanley Cup but it's hard to look at Plekanec's career in the NHL as anything but successful.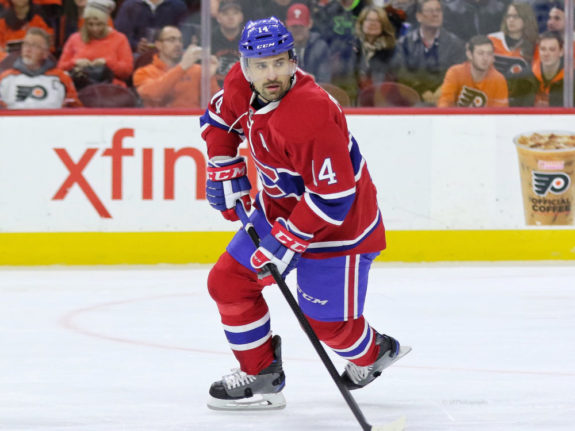 Plekanec's best season in the NHL from a goal-scoring perspective came in 2007-08 when he would score 29 goals and 69 points. He'd top that career-high point total just a few seasons later in 2009-10 when he'd score 25 goals and 70 points.
Outside of his offensive ability, it was Plekanec's defensive ability and his inherent leadership that made him such an integral piece to the Canadiens roster for over a decade. Whether it was on the ice or off the ice, Plekanec's ability to impact the team was felt from the top of the organization all the way to the bottom. He was a fan-favorite throughout his entire career as a result.