While having an "enforcer" on the payroll is a slowly diminishing concept in the NHL, the "agitator" role is one that many teams do not want to get rid of. In today's NHL, you need to be able to skate, produce and defend to earn a roster spot. The enforcer role is drifting away and that is paving the way for agitators such as Antoine Roussel to make some noise in the league. Roussel is one of the most trusted players in head coach Lindy Ruff's arsenal and gets put on the ice in a variety of situations. His ability to get under the skin of opponents has continued this season as he continues to try to toe the line between being a pest and hurting his own team.
Roussel isn't perfect. He received a suspension last season for cross-checking Adam McQuaid and a fine last season for punching Justin Braun. He will occasionally take a minor penalty that makes you shake your head. Outside and in-between those occurrences, however, Roussel has been a bright spot on the Dallas Stars' roster. I've watched a ton of Stars hockey in the past few seasons and I truly cannot recall a game where Roussel was not the hardest working player on the ice. He is up to his annoying ways once again this season and is doing everything that Dallas needs him to do.
 Racking Up Penalty Minutes
If you play in a fantasy hockey league that rewards penalty minutes, Roussel might just be a good stash for your team. In the past three seasons since his debut in 2012, Roussel has finished 12th (2012-13), 3rd (2013-14) and 5th (2014-15) in penalty minutes for the entire NHL. In fact, only Chris Neil has more penalty minutes than Roussel since the Frenchman's debut in the NHL. His penalties even out for the most part, as only Jamie Benn and Ryan Garbutt have drawn more penalties on the Stars than Roussel since 2012. Since his debut, he has taken 61 penalties while drawing 50 in that time span. A good amount of the time, Roussel is taking someone to the box with him. That is a problem for many teams as they often fall for the Roussel trap. Here is a quote on Roussel from Philadelphia Flyer Ryan White, following a loss to the Stars: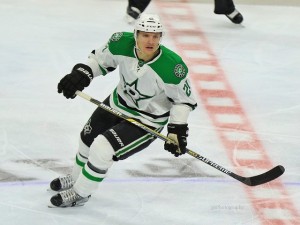 It doesn't surprise me. I talked with Simmi [Simmonds] before when Gags [Gagner] went after him. He just said you've got to be smart with him. Obviously we weren't smart enough with him.
Roussel has been a well-known pest ever since the 2014 playoff series with the Anaheim Ducks. For a large chunk of that series, the Ryan Getzlaf and Corey Perry duo was shut down and frustrated thanks in part to Roussel. He poked at Getzlaf's face shield that was guarding stitches and drew Perry into a fight in the dying minutes of a close game. Roussel is an excellent pest, but it isn't everything in his game.
Greasy Points
Dallas Stars analyst Daryl "Razor" Reaugh brought up the proximity to the net when talking about a majority of Roussel's goals. Roussel scores a good amount of them so close to the goaltender that he can probably smell the goalie's pregame meal. He is so consistently speeding towards the net that it has gotten him into trouble in the past. That isn't going to stop Roussel from going to the net hard as he continues to cash in near the crease. Both of Roussel's late game-winning goals this season have him firmly planted next to the net and just willing the puck past the goal line.
Many thought the above goal might be the goal that got Bruce Boudreau fired but he remains behind the Anaheim bench for the time being. I'm not quite sure the world of hockey could handle Roussel getting an Anaheim coach fired anyway.
Since the beginning of the 2012-13 season, nobody comes close to matching Roussel's production in relation to his penalty minutes. I mentioned his 466 PIMs are good for second in the NHL since the start of that season. He has also accumulated 74 points in that same time frame. Dion Phaneuf's 95 points and 333 PIMs is the only situation where anybody is even in the vicinity of Roussel's agitating production. The closest forward is none other than former Star Steve Ott with 61 points and 303 PIMs since the 2012-13 season.
Roussel creates most of his opportunities with his speed, net-drive and physicality. He outworks a lot of players and gets rewarded for it. While he does throw in some skill goals sometimes (sorry Chicago), a majority of his goals come from the crease area.
Not Afraid of a Fight
Many agitators around the league seem to receive a reputation that they are often unwilling to fight when a strong player takes an exception to their antics. Roussel does not appear to be one of those agitators. He has racked up 32 fighting majors since coming into the league and has gone toe-to-toe with some pretty big players. Among those are Shea Weber, Brent Seabrook, Chris Stewart, Jarome Iginla, Corey Perry and Phaneuf.
Roussel probably "wins" about half of his fights, so it is clear he isn't an enforcer with one thing on his mind. He won't win every bout, but one thing is for sure, it will be an incredibly spirited fist exchange. Just ask Kevin Klein.
Not Going Away
Roussel is currently playing in the second year of a four-year deal worth $2M per season. During this "accelerated rebuild" period for the Stars, general manager Jim Nill highlighted Roussel as an important piece of the puzzle moving forward. Looking at the recent Stanley Cup winners, the Chicago Blackhawks had Andrew Shaw, the Los Angeles Kings had Dustin Brown, the Boston Bruins had Brad Marchand and the Pittsburgh Penguins had Matt Cooke. Granted, some of those players are slightly more offensively gifted than Roussel but the role is similar. Championship teams have clearly benefited from players who can stir the pot and Roussel is fitting that role nicely in Dallas.
Jordan has been covering the Stars for The Hockey Writers since February 2015. He is originally from Iowa City, Iowa. You can follow Jordan on twitter @jordan_dix