Before the season started many fans, writers or 'experts' didn't believe the New Jersey Devils would be a playoff team this year and nearly every preseason prediction had them in the bottom-five of the NHL again. Not an unreasonable choice considering that there was so many new faces in the organization, not only on the ice but also off the ice as well. Believe it or not the players read those things, or hear about them, through a family member, a friend, or a team employee. Winger Kyle Palmieri admitted as much to The Hockey Writers before the season had even started, and back then it seemed like it could be a rallying cry for the team.
"We had a meeting the other day to open up camp and, I mean, none of us are blind; we see the things that people say, and the projections, you can read into them," Palmieri said, confirming that the team is well aware the pundits are predicting another lost season in New Jersey. "But for us, we have the mindset of the underdog and you can't ask for much more. It's fun to play like that and it's going to be us going out there and trying to surprise people. People aren't going to be expecting much and when you put people (players) in those kind of positions they usually come out on top. I think it's an opportunity for us to prove to everybody else in this league that we're going to come here and we're going to compete every night; at the end of the day you know that we are going to play hard."
Flash forward to October 31 when New Jersey pulls out a 3-2 shootout win over the New York Islanders, which was the Devils' second win in a row and sixth in seven games to end the month.
Along Came A Schneider
Following the game, Cory Schneider's comments almost echoed Palmieri's: "I think we've talked about that we have good pieces here. I think a lot has been said or written about us this summer, but I don't think we've really believed it at all," said the franchise netminder.
"The new coaching staff has really got us playing a certain way that suits our style and suits our personality. This league — it's anybody can beat anybody. You look at Anaheim and their stuck with one win, who would have though that? We're not getting too high on ourselves, we're not satisfied or happy with where we are at; we just have to keep pushing and keep climbing the standings."
Coach John Hynes and his staff have made the players believe since day one that they could be a competitive team if they play together as a team. It's no secret that New Jersey's best player is their goalie. They don't have that impact scoring threat since the departures of no. 9 and then no. 17. They don't posses an all-pro caliber defenseman, yet. Adam Larsson is on his way there though. This is a team that like Schneider said, has good pieces which includes a first line of Mike Cammalleri-Adam Henrique-Lee Stempniak that combined for 28 points (11 goals). But for the most part it will have to be a different player step up every night to be the hero on that particular night, and that's exactly how they've gotten off to a fast start.
The one loss in the past fourteen days was to Columbus, after they dominated a scoreless game through two periods before losing the game in the third period. In the victory over the Islanders, the scenario was reversed and they blew a two-goal lead and managed only two shots in the third period of a tie game. "That Columbus game was pretty disappointing for us (3-1 loss on October 27), it kind of wiped out any good feeling we had from that (our winning streak), but not our confidence at all," explained Schneider. "We came back and had a big win against Philly and again a big win tonight; I think that loss really stuck with us and disappointed us. So I don't think it feels like we've won six of seven, we feel like we should've had maybe seven of seven — but we can't get ahead of ourselves. We can't be too confident or think that we can just show up and play. We know what our identity is and we know how hard we have to work to get these points."
The goalie went on to explain in further detail his team's current mindset, "You can look at it like, well it was a little lethargic there in the second half of the third period; when you lose you analyze and dissect it, which we are going to do anyways. We did some really good things and some things that we can improve upon before we play them (the Islanders) again on Tuesday. Winning, it brings the whole (team's) spirit up; you get the two points and you forget about any negative feelings pretty quickly about your game."
Giving The Devils Their Due
No one, not even a gypsy, could have predicted that the Devils would find success in the shootout and the NHL's new 3-on-3 overtime format. But they were successful in overtime during the preseason for what that is worth (nothing really). "We keep games close. we can dictate the play. The fact that we've won them (4-1 record in overtime/shootout games) is great, it means we're opportunistic; the guys, when there's a big moment in overtime or a big moment in the shootout and we need a goal or we need a save, we are getting it right now," Schneider told reporters after his second shootout win of the season. "Hopefully that is something we can continue to do; I know it's sometimes not sustainable, but I think if you believe and you have the personnel to do it, which I think we do, that there is no reason that we can't."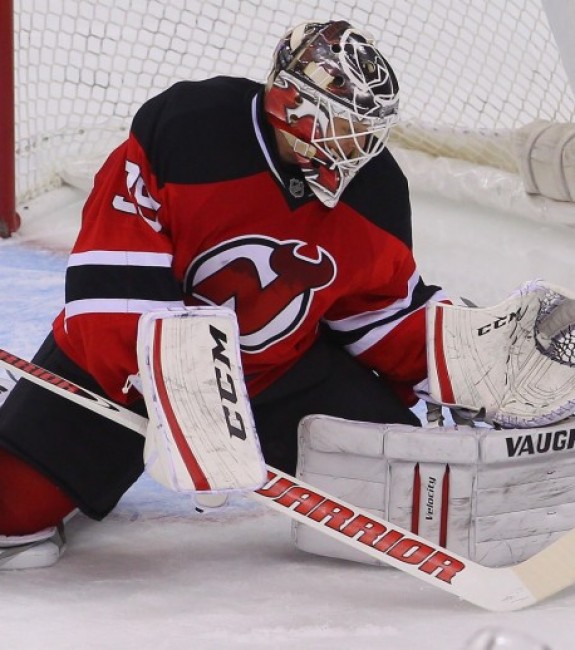 He also noted the importance of winning divisional games, as they improved to 3-2-0 within the Metropolitan Division in October. "These are the points, early in the year, that you have to bank; especially against your own division. That matters at the end (of the season). It's tough to give a divisional opponent another point, but we will definitely take the two (points) anytime. We have to let these teams know that we play four or five times a year that we're a tough out and that they really have to work to beat us."
People who know more about probability and math and the NHL standings will tell you that teams that find themselves in a playoff position by Thanksgiving will generally be playing playoff hockey in April more times than not. The Devils have a tough twelve games on their November schedule that includes a trip through western Canada (Calgary, Edmonton, Vancouver) as well as a home and away matches against both the Montreal Canadiens and Chicago Blackhawks, but on the plus side they only have one back-to-back scenario (at the end of the month).
Cory Schneider picks up his sixth win despite giving up a goal he admitted he should have stopped:
Schneider knows he has to stay within himself, as does the team, and none of them can get too far ahead of themselves after a nice two-week stretch. He was very honest and critical of his play following the Halloween win over the Isles. "That second goal is one I, really shouldn't have let in. I think I was leaning a little bit and I saw the guy driving the net. I was just…you lean for a split-second towards the middle and they snap it by you; and I just didn't get a glove on it," he said recalling the shorthanded goal by Frans Nielsen. "That's one I normally stop and it's frustrating but the guys picked me up with playing well and limiting their chances. He just beat me clean. Once you start leaning, you don't put the glove out, you sort of go to that elbow and (laughs) by then you're done. Again, that's one I normally stop. I didn't handle it properly. That's two games in a row where there has been one that I haven't really liked, so I can't let that creep into my game. We're winning, but I can't lose sight of that fact."
If they keep winning in the month of November, they just may set themselves up for a very nice season, perhaps even this year's version of last year's surprise team – the Calgary Flames. One thing is for sure, New Jersey has been an entertaining, hardworking team so far, and a team that fans have enjoyed supporting in the infancy of the 2015-16 season.
Dan Rice can be reached via Twitter: @DRdiabloTHW or via Email: drdiablo321@yahoo.com. 
Dan Rice is in his 9th year of reporting for THW & has covered NJ Devils home games for 15+ years at various websites. He began his journey working for legendary broadcaster/writer Stan Fischler from 2002-04 & completed an internship at the ECHL; he also has been writing features for the NWHL (nwhl.zone) website since 2016.